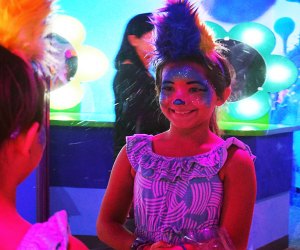 New Trolls Experience in Midtown Is a Fun-Packed Party for Kids
What's rainbow-hued, covered with yards of soft, pettable fur, and sprinkled with just the right amount of sparkly glitter? The brand-new Trolls Experience in Midtown West.
While it's part kid-centric, photo-friendly wonderland, there's definitely more to this installation than other recent Instagram-friendly pop-ups like Candytopia, The Museum of Pizza, and others. (For starters, there's actually a coherent, kid-friendly story to help guide your visit—it doesn't feel like a random collection of rooms.) You and your family are invited to a magical, fun-filled world where energetic staff members excitedly await your arrival, and are ready to help you prep for Poppy's Best Day Ever Party.

Get your sparkle on as the experience begins.
As you and your kids enter the interactive, Troll-inspired wonderland, your entire experience is centered on a story: You've been invited to Poppy's Best Day Ever Party, but first you have to prep—and that means transforming yourself into a Troll, helping mix music for the playlist, gathering glitter, and inviting friends. You'll do it all en route to the big shindig, while you explore the 12,000 square-foot space.
The experience starts in the Hair We Go Salon, where you'll nab a Troll hair piece inspired by popular characters including Poppy, Guy Diamond, and Branch. You can also opt for the more generic (but supremely popular) "Rainbow Troll" look, as my daughters did. Your general admission tickets include a cardboard hair piece and a temporary tattoo in the salon, but a $50 upgrade unlocks access to a professional makeup artist for full-face paint and a fancier, furrier Troll-hair headband.
RELATED: 15 Must-Do Holiday Events for NYC Kids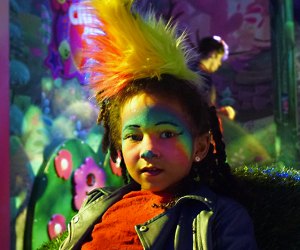 Transform into a sweet Troll for the big party.
Once you've transformed into your favorite Troll character, it's off to the next stop: Branch's Musical Mashup, where a room full of whimsical music-making characters beg to be petted, touched, and tapped. Work together with your friends new and old to activate a fun-filled soundscape and music video.
RELATED: Best Dance Parties for Kids in NYC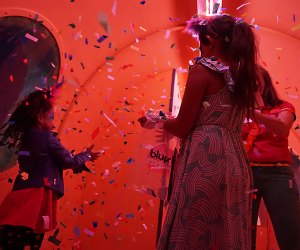 Dive and jump to grab confetti in the Caterbus.
As you make your way closer to the party, it's time for a ride aboard the famed Caterbus, which, though it doesn't actually move, is the size of a real-life school bus and covered with more than 150 yards of fur! Inside, a fan lifts confetti into the air as young party goers attempt to catch it and corral it, ready to deliver to Guy Diamond when they depart the bus; he promises to transform it into party decor.
Now that you've gotten yourself party ready, and helped Branch and Guy Diamond with their tasks, just one more mission remains: Find more friends to bring along! Invites are handed out by high fives, and you'll get in on the action, with a room-sized video wall that allows party goers to play an interactive high-five video game while you wait to party.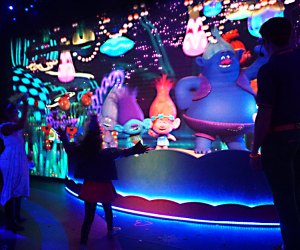 The highlight just might be Poppy's Best Day Ever Party.
While everything from the makeover to the glitter chasing, music making, and high-fiving is tons of fun, you've now finally arrived at the big moment: Poppy's Best Day Ever Party. With technology from 3D Live, the party centers on a 10-by-25-foot 3D screen where Poppy, Branch, Guy Diamond, and many of their friends take turns rocking out to your favorite tunes from the Trolls soundtrack. A disco ball, flashing lights, and plenty of space to dance along make this a memorable (almost) finale.
Though the party does seem to end too quickly, the fun isn't over. You're ushered to the after-party, where you'll pose for a family photo in the photo booth. That's printed out on-site and can also be sent via text message to your phone. You'll take the photo, plus four other mementos you've collected along your journey, to one of the tables shaded by the Troll tree, where four scrapbook pages beg to be decorated. When you're done, you'll have a tangible parting gift and memory of your Best. Day. Ever.

Take home a souvenir of your fun day with the Trolls.
And finally, as you make your way to the Rainbows and Cupcakes Cafe (and gift shop...be warned), there's one more big surprise around the corner: A larger-than-life Poppy makes sure to send all guests on their way with a hug, photo op, and plenty of praise for all the help planning her party. Whether you're a glitter fan or not, it's silly, sweet, irresistible fun.
Trolls: The Experience is currently selling tickets through May 12, 2019. Tickets are timed-entry. Basic admission is $40 per person. Upgrades are available for the VIP salon experience and a premium scrapbook. See more details and purchase tickets online. The entire experience takes a little over an hour to complete. Strollers are not allowed, but can be checked in the lobby, so plan accordingly.
Photos by Jody Mercier