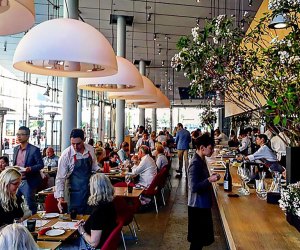 Restaurants for After Your Whitney Museum Visit with Kids in NYC
New York City has tons to offer—and that it can be overwhelming at times. Knowing where to catch a break and grab a bite to eat can be a daunting endeavor, even for the native New Yorker. The Whitney Museum of American Art is a treasure for families, but how can you avoid the tourist traps, fancy froo-froo, and kid-adverse eateries once you're done with your tour?
That's why we've rounded up 10 of the best spots where you can grab a quick bite or even sit down for a full meal. For more family-friendly eateries, check out our NYC Restaurant Guide.
Sit-Down Restaurants
High Street on Hudson
637 Hudson Street
In this age of anti-reservations, it's nice to see a restaurant that can hold a table for your family—especially if you're a big one. This sunny and airy location includes some great eats like fish and chips, baked gnocchi, and roast turkey sandwiches. It also typically participates in NYC's Restaurant Week, so check back in with updates. Visit the website to make a reservation.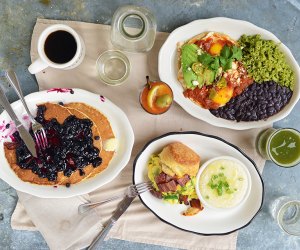 Bubby's serves large portions at a great price.
OUR LATEST VIDEOS
Bubby's
73 Gansevoort Street
Open for breakfast, lunch, and dinner, this super-close location is a great bet for a solid eat, and one of our longtime favorites in the nabe. Pancakes, fried chicken, and burgers are sure to satisfy. You can't leave Bubby's without a slice of pie, from Banoffee to Mississippi Mud. But if the kiddos aren't pie-types, like my kids (insane!), there's an ice cream parlor attached next door (see below).
RELATED: MoMath: The NYC Museum That'll Make Kids Fall in Love with Math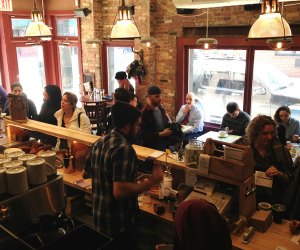 The Grey Dog has lots of options for kids, including vegetarian options.
The Grey Dog
242 West 16th Street
With an extensive menu, this traditional American-cuisine restaurant offers plenty of options for even the pickiest of eaters. Although not a full-vegan establishment, it offers a solid veggie burger, quinoa bowl, and vegan spaghetti carbonara.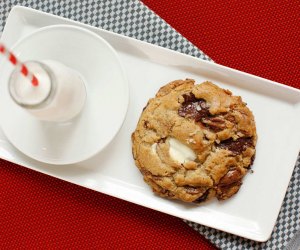 If you just a need a quick pick-me-up you can stop in to the Studio Cafe for a cookie and milk.
The Studio Café at the Whitney
99 Gansevoort Street
The easiest and most convenient choice because it's right inside the museum, this higher-end café offers light-fare like pastries and coffee, salads and soups, and a few hardier options like popcorn chicken and herb butter. A bit on the pricier side and surely busy during peak-season, this is a good option if you want to eat with little fuss. During the warmer months, the cafe offers outdoor seating with some amazing views.
RELATED: 12 NYC Food Courts and Markets That Make Family Mealtime Easy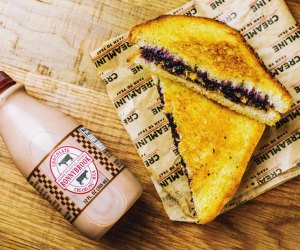 You can't go wrong with a PB and J and a chocolate milk at Creamline.

Chelsea Market
75 9th Avenue
You can spend hours in Chelsea Market, perusing its shops and eateries, but it's also a great place to grab lunch. Our favorite choices are:
Cappone's Salumeria – My family CANNOT say no to a good Italian hero, stuffed with fresh mozzarella and prosciutto. This place hits the spot, and it's no wonder it's a neighborhood favorite.
Creamline Farm to Tray – The milkshakes alone at this eatery will make your mouth water. Top that with a decadent grilled cheese or a juicy burger and you've got yourself a kid-pleasing meal. But don't fret, parents, as the food is locally sourced with plenty of organic ingredients.
The Green Table – If you're looking for a healthier option, stop in at The Green Table, where the seasonal menu offers fresh and clean options. The kids will still have fun with mac and cheese and parents can enjoy pumpkin risotto or the fresh catch of the day.
Snacks and Desserts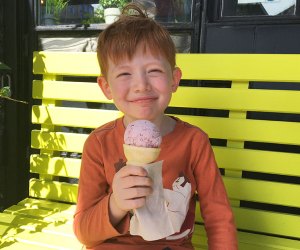 Replenish the calories The Whitney burns with a cone. Photo by the author
Ample Hills Creamery
73 Gansevoort Street
Tucked at the far end of Bubby's, with its own exterior entrance, Ample Hills offers some of the best ice cream in NYC. Creamy and classic, this little counter is a great way to finish of a hardy meal. Walk the adjacent High Line afterward to complete your Chelsea itinerary.
Myers of Keswick
​634 Hudson Street
If you're looking for a meal on-the-go, stop in at this quaint British shop. Pork pies and Scotch Eggs are traditionally eaten at room temperature so you can buy in the shop and take a stroll with your lunch on the High Line. And for all you BBC-obsessed, there's also a nice array of British groceries and products to take home.
The High Line
Entrance at Gansevoort and Washington St.
When the weather picks up, if you have the energy after your visit to the Whitney, take a stroll down the High Line. There are a number of eateries in this elevated public park/botanical garden, both sit-down and food-cart style. This is also a good place to stake out a free table and eat your packed lunch from home.
Pro tip: When the weekend arrives and the weather is beautiful, ANY restaurant in the vicinity of the Whitney will get packed. If you can make a reservation, do so. If you can't, try eating during off-peak hours before 12pm and after 2pm, or settle for an early-bird dinner. It's your best chance to score a table with minimal wait.
Want more? Check out our Chelsea guide to see what's shaking nearby.
Photos courtesy of venues unless otherwise noted