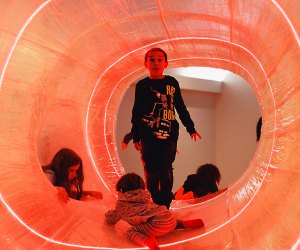 TapeScape Opens at the Brooklyn Children's Museum
As the weather cools and those freezing playground slides become less appealing, we're all scrambling for indoor activities to keep our little ones entertained. Luckily, the Brooklyn Children's Museum has added another family-friendly NYC activity to the to-do list.
TapeScape, open now through December 30, 2018, is an explorable structure made from scaffolding and 480 rolls of packing tape. My daughter and I had the pleasure of visiting the museum's newest exhibit and it's exactly as promised. We loved climbing through the tens of thousands of feet of clear tape that is intricately woven around a metal frame. There are many tunnels and passageways to explore, which inspired my three year-old's sense of adventure. She even asked if we could replicate the structure in our own kitchen. Uh, no.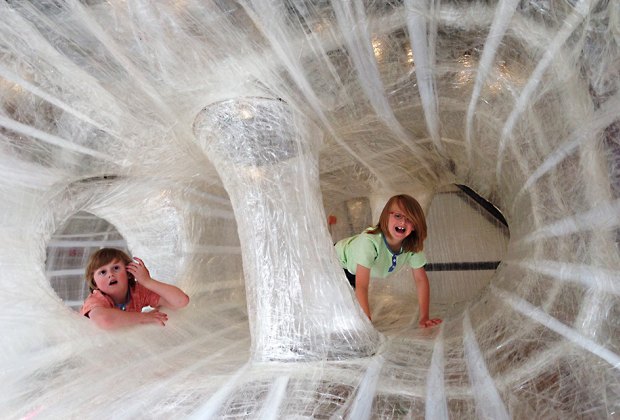 TapeScape's creator captured this image at the Manitoba Museum. Photo by Eric Lennartson
Part museum exhibit, part playground, TapeScape features climbable tunnels that pulse with spirals of LED lights. TapeScape creator Eric Lennartson says, "We can showcase simple scientific concepts that even the youngest kids can understand and still be interesting to an adult that is an engineer. Does it look like a spider web, the human circulatory or nervous system, or some science fiction galactic wormhole? No matter your age or education, there is something almost everyone relates to and finds interesting."
RELATED: Family Art Studio Color Lab Is Now Open at the Brooklyn Children's Museum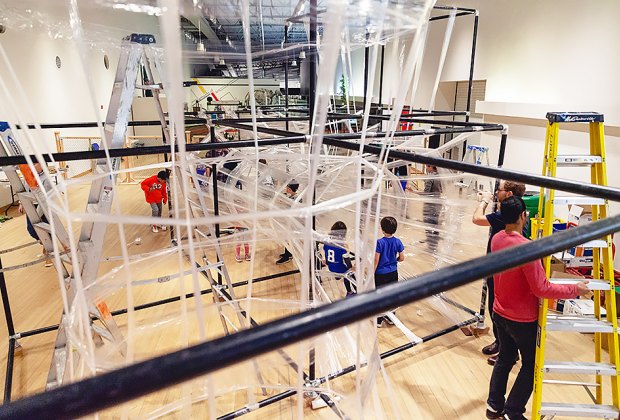 TapeScape is seen under construction.
While little ones will likely be the most impressed by the exhibit, it is indeed appropriate for the entire family. As my sore legs can attest, adults and older kids are encouraged to climb in and explore this remarkable structure made out of household materials. Expect to spend about 45 minutes climbing and playing before moving on to other parts of the museum.
TapeScape will be open Thursdays and Fridays, 2pm through 5pm, and Saturdays and Sundays, 11am through 6pm. For more information, visit the museum website. All programs are included with museum admission. General admission to the children's museum is $11 per person and infants under the age of 12 months are free.
Unless noted, photos courtesy of the museum