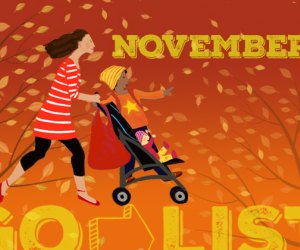 Best Things To Do with NYC Kids: November GoList
Fall in NYC has well and truly arrived—the days are crisp and cool, and the leaves are changing color all around town. While the holiday season is creeping up on us, too, there's still plenty of fall fun to pack in, including the annual Canstruction, celebrations of Día de Los Muertos, a musical about taco-loving dragons, and of course, the unstoppable juggernaut that is Baby Shark live.
If your family kicks into Christmas mode the minute your Halloween costumes come off, we're not judging—in fact, we're right there behind you in the Santa hats! Reserve your spots for Polar Express train rides and Macy's Santaland, which is by (FREE) reservation only again in 2019. Meanwhile, the NYBG's holiday train show returns this month with new creations, along with the beloved Macy's Thanksgiving Day Parade, brand-new holiday lantern festivals, and an immersive holiday installation at Saks Fifth Avenue featuring the characters from Frozen 2.
Read on for the best family outings in November, and for more options, check our Event Calendar and Fall Fun Guide.
As always, be sure to click through to our event listings for all the details, including address, time, and pricing. Keep in mind that the really cool (and no-cost!) kid stuff in NYC books up quickly—especially as the holidays approach—so buy your tickets ASAP or, in the case of FREE events, arrive as early as possible to try to beat the crowds.
Be sure to sign up for our FREE newsletters to receive our weekend picks delivered to your inbox.
Día De Los Muertos Celebrations — Citywide
Friday, November 1 through Sunday, November 3
The traditional holiday commemorating and celebrating family members who have passed on inspires an annual series of events and festivals around the city, including two events just for kids: the Día de los Muertos Festival at the Brooklyn Children's Museum, and a day-long festival at the American Museum of Natural History.

The displays at Canstruction are always creative and always for a good cause. Photo by Janet Bloom
Canstruction — Battery Park City
Thursday, November 7 – Thursday, November 21
Architects, engineers, and contractors come together in this unique design competition in which participants use unopened cans of food to create large-scale installations. The annual competition celebrates its 27th anniversary this season and once the exhibition is dismantled, all the cans are donated to City Harvest. Visitors are encouraged to bring cans of food for the charity, too. FREE but bring cans of food to donate.
Baby Shark Live! — Flatbush, Brooklyn
Friday, November 8
The earworm to end all earworms is now a live theatrical production for the toddler and preschool set, coming to Brooklyn for one night as part of a national tour. Check out our full preview of the show, and be ready to dance in the aisles to the famous song as well as other little-kid favorites like Five Little Monkeys and Wheels on the Bus. We're guessing this will be the funnest night of your toddler's life, and the most surreal night of yours.
Battle of Fort Washington — Inwood
Sunday, November 17
Kids can experience history at the reenactment of this epic Revolutionary War battle, which celebrates its 243rd anniversary this year. Head to the stunning Fort Tryon Park to see members of the Brigade of the American Revolution perform drills. Find out what life was like during the war by watching blacksmithing demos, listening to live 18th-century music, making crafts, playing games of the era, and touring the battlefield with heroine Margaret Corbin. Dress up for the occasion: Celebrants in the most authentic costumes win prizes. FREE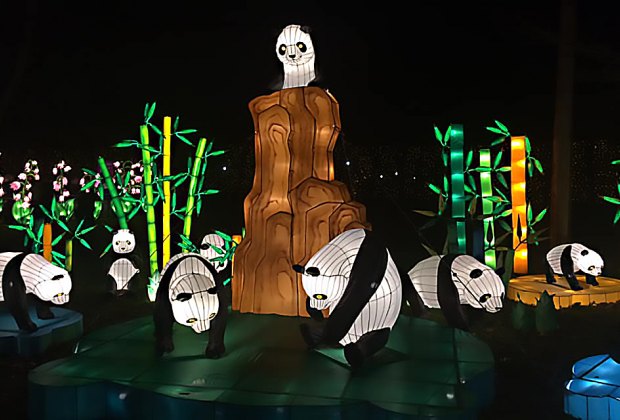 NYC Winter Lantern Festival at Snug Harbor on Staten Island. Photo by Raven Snook
Holiday Lantern Festivals — Staten Island, Randall's Island, the Bronx
Wednesday, November 20 – January 2020
NYC gets not one, not two, but four special new holiday light festivals this year, and three open this month. The return of the NYC Winter Lantern Festival at Snug Harbor on Staten Island opens November 20 with a special FREE sneak preview in Liberty Park by the World Trade Center from October 28 through November 16. The 12-acre Luminocity Festival opens on Randall's Island that same day, and the very next night the Bronx Zoo's Holiday Lights display returns after a ten-year hiatus. Read our preview of the holiday lantern festivals coming to town this year to decide which one your family should hit—although no one would blame you for trying to get to all four.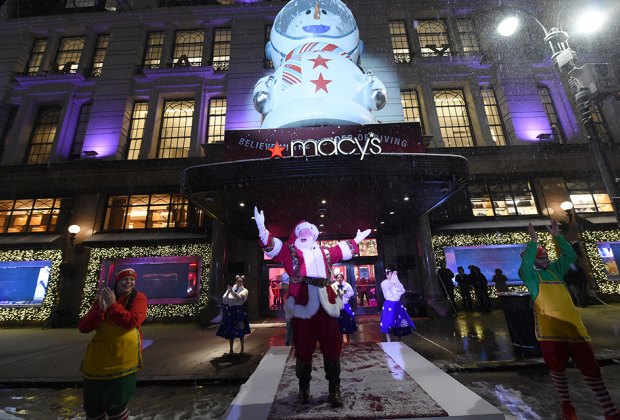 Macy's Herald Square Holiday Windows. Photo by by Diane Bondareff
Holiday Windows Walk — Midtown East
Thursday, November 21 – New Year's Day
All of the major department store holiday displays (including Macy's, Saks Fifth Avenue, Lord & Taylor, Bergdorf Goodman, and Barneys) are up by the week of Thanksgiving at the latest. While we can't share photos from this year's holiday windows yet, we do know that Macy's holiday windows will be unveiled on November 21, and the Saks Fifth Avenue windows, inspired by the new Frozen 2 movie, light up November 25 with a special event featuring a performance by Idina Menzel (more on that below!). In the meantime, you can check out details from last year's windows. Put this on your family calendar for Thanksgiving weekend and work off some of that turkey on your tour. FREE
Brooklyn Children's Book Fair — Prospect Heights, Brooklyn
Saturday, November 23
This annual fest at the Brooklyn Museum celebrates its 13th anniversary in 2019, with book readings, illustrator demonstrations, and hands-on art-making activities. Author appearances include John Patrick Green (Kitten Construction Company), Tad Hill (Duck and Goose), Lori Richmond (Pinky Got Out!), and more. FREE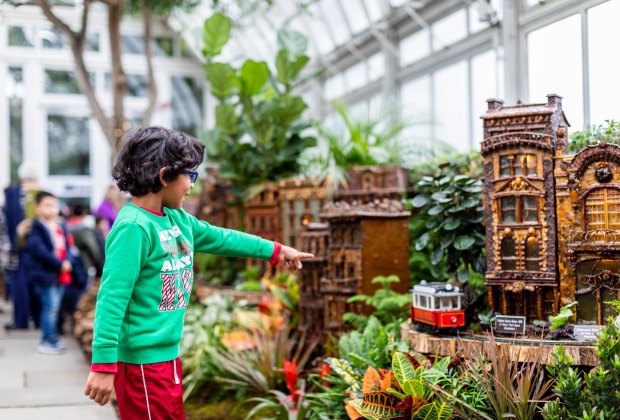 It's all about NYC at the New York Botanical Garden Holiday Train Show. Photo courtesy of NYBG

New York Botanical Garden Holiday Train Show — Bronx Park, the Bronx
Saturday, November 23 – Sunday, January 26, 2020
The NYBG's annual holiday train show is a must-see for tourists and locals alike. In fact, it's No. 39 on our list of 100 things to do with kids in NYC. More than 25 model trains go whizzing by approximately 150 NYC landmarks meticulously made out of acorns, twigs, bark, berries, and leaves. Afterward, kids can hit the Evergreen Express in the Everett Children's Adventure Garden to make train puppets, march in musical parades, and craft miniature scented sachets. Word to the wise: Even though timed advance tickets are required, it gets super crowded. If at all possible, go early or late in the season on a weekday.
Disney's Frozen 2 Enchanted Forest Experience at Saks — Midtown East
Monday, November 25 – Tuesday, December 24
In anticipation of this month's release of Frozen 2, which hits movie theaters November 22, Saks Fifth Avenue will unveil its Elsa-and-Anna-inspired holiday windows with a special event on November 25, featuring a performance by Elsa herself, Idina Menzel. After the big reveal, kids can explore an Enchanted Forest on the store's ninth floor that runs through Christmas Eve, with characters and experiences from the movie. Timed-entry tickets for the Enchanted Forest are $5, which supports the children's hospital at New York Presbyterian.
Macy's Thanksgiving Day Parade & Balloon Inflation — Upper West Side to Midtown West
Wednesday, November 27 and Thursday, November 28
We probably don't need to sell you on this world-famous NYC tradition. The only thing that isn't family-friendly about this procession of pop-culture inspired floats and giant balloons is the fact that you need to arrive around 6am to stake out your spot. Unfortunately, there is no secret to snagging a good viewing location unless you're willing to splurge on a hotel room overlooking the route. There is, however, a great trick for beating the lines at the annual balloon inflation the night before: spend the day at the American Museum of Natural History and take in the balloon inflation sights while you're there! As for the parade itself, arrive early or watch from way in the back. You'll still see something. Wherever you watch, expect a thrilling lineup of celebrities, marching bands, colorful floats, kooky clowns, and massive balloons. FREE
RELATED: NYC Holiday Fun Guide: Santa Fun, Train Shows, Theater, Holiday Lights

Dyker Heights puts on an epic light show every year. Photo by Marley White

Dyker Lights — Dyker Heights, Brooklyn
Thanksgiving–New Year's Day
Another seasonal sight that goes up around Thanksgiving? The over-the-top holiday displays in Dyker Heights, Brooklyn. While paying to go on a guided bus tour may be most convenient if you live outside of Brooklyn, the neighborhood is accessible via public transportation, just be prepared to walk a bit. As someone who loves all things outrageous and colorful, Dyker Heights is a destination I visit year after year, even though most of the displays don't change that much. If you've been and want to see something different, try the Christmas House in the Bronx or Santa's Corner in Whitestone, Queens. You won't find a critical mass of Christmas lights in either of those neighborhoods but those one-offs are worth traveling for. FREE if you go on a do-it-yourself tour.
RELATED: 100 Things to Do in NYC with Kids Before They Grow Up

The magic never fades at Macy's Santaland. Photo by Mike Coppola for Macy's
Santaland at Macy's Herald Square — Midtown West
Friday, November 29 through Tuesday, December 24
Many of our NYC staff and their families head to Macy's to sit on Santa's lap annually and have the photos to prove it. It's amazing to see all of those pictures and how our family has grown! In an effort to contain the lines again this year, visits with Santa are by (FREE) reservation only. Head online or visit an in-store kiosk to grab a pre-selected time slot between 30 minutes and five days in advance of your visit, which might help minimize the wait time. We're assuming you'll be in and out earlier in the season and during the week, but even if you do end up in a line during more popular times, there's so much to gawk at the kids don't mind the wait (much). Once you finally do make it to the front, you're rewarded with face time with the one true Santa. Wink, wink.
Dragons Love Tacos — Tribeca
Saturday, November 30
TheaterWorksUSA presents a revue of mini-musicals based on popular picture books at the Tribeca Performing Arts Center. The tuneful tales include Adam Rubin's Dragons Love Tacos, David Ezra Stein's Interrupting Chicken, Peter H. Reynolds' The Dot, Kate DiCamillo's Mercy Watson Goes for a Ride, and Erica Silverman's Cowgirl Kate and Cocoa: School Days.
Honorable Mentions
NYC always has so many incredible things going on, it's difficult to choose: Here are additional family-friendly events around town that are worth considering for your November calendar.
Say goodbye to your Halloween jack-o-lantern by taking it to Clement Clarke Moore Park on Sunday, November 3, and smashing it to smithereens. Once it's crushed, NYC Compost Project will compost it.
Run off to the Big Apple Circus, with performances at Lincoln Center featuring a new ringmaster, Storm Marrero, plus lots of female-driven acts.
Strap on your ice skates at the Winter Village in Bryant Park, with its FREE skate rink open daily (skate rentals are available for a fee). It may get crowded, but it's still one of our favorite outdoor ice skating rinks in NYC.
Salute and honor our service men and women at the NYC Veterans Day Parade on Monday, November 11, which marches up 5th Avenue from 26th Street to 53rd Street.
Climb into the old family station wagon and head off to the coolest indoor summer camp you can imagine when the much-loved play space and toy store CAMP opens in Brooklyn's City Point this month.
Head to Circus Warehouse in Long Island City, Queens on Sunday, November 17 for the annual New York Regional Youth Circus Festival where circus wannabes can try their hand at various circus arts. No experience necessary, but purchasing tickets in advance is a must.
Stroll through the award-winning GingerBread Lane when it opens for the holiday season at the New York Hall of Science, Saturday, November 23.
Head across the river to New Jersey's just-opened American Dream Mall when its massive indoor waterpark opens on November 27, and check out the new indoor Nickelodeon Universe Theme Park while you're there.
See one of the many versions of The Nutcracker that are dancing into town.
Skip Black Friday mayhem in favor of a holiday day trip to cut your very own Christmas tree.
This post is updated annually