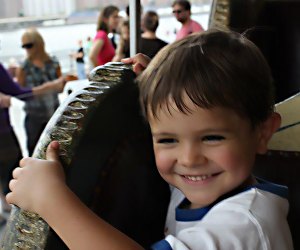 5 Brooklyn Adventures Perfect for Preschoolers
A New York City day with a preschooler is likely to be full of adventure and excitement, but those short attention spans can be downright exhausting. Thankfully, the borough of Brooklyn is filled with non-stop kid fun, even for the most rambunctious little ones.
Of course, there's no shortage of fantastic zoos and gardens, museums, and playgrounds for spending a day out and about in the city, but we've developed five parent-tested, Brooklyn-based itineraries that are perfectly tailored to the younger crowd.
Planning ahead? Check out what special events might be taking place during your visit with our always-up-to-date NYC Event Calendar.
Sign up for our FREE newsletters to get posts like this delivered to your inbox.
A Preschooler's Perfect Day in Dumbo
The stunning waterfront neighborhood Dumbo, located between the Manhattan and Brooklyn Bridges, has no shortage of action. While the city views are a major thrill for tourists, locals are also drawn to this photogenic hood.
Start your day by heading to Brooklyn Bridge Park. Enter at the Main Street Playground section and check out the nautical-themed playground that sits almost right under the Manhattan Bridge (kids can watch the trains overhead as they hit the slide). Next, walk along the water's edge for views of Manhattan and the harbor and go for a spin on the famed, glass-enclosed Jane's Carousel at the foot of the Manhattan Bridge.
Take bikes, a stroller, or the kids' scooters to wind your way through the paved path of the park toward the enormous playground, sprayground, and sandbox at Pier 6. Along the way, you'll pass ice cream kiosks, grassy parklands where you can stop for a picnic and a roller skating rink, temporary art exhibits, and sports fields.
If the day is drizzly, hot, or chilly, you could pop into the Brooklyn Children's Museum's Dumbo outpost or the small but FREE and interactive Environmental Education Center instead of the playground. Grab lunch at one of the many nearby family-friendly eateries before returning to the train or car.
RELATED: 25 Top Things to Do in NYC Before Your Preschooler Turns 5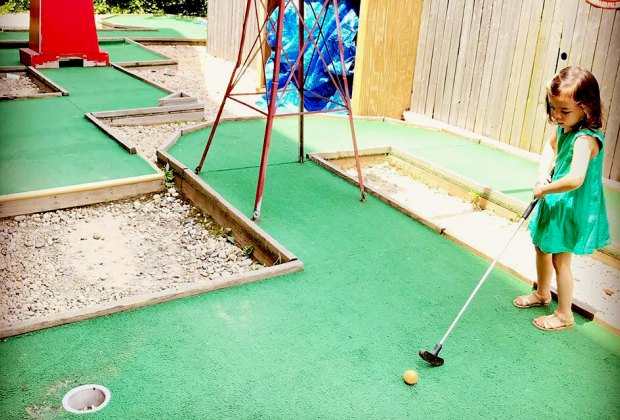 Brooklyn Crab is an oasis of food, fun, and games in Red Hook. Photo by Janet Bloom
A Preschooler's Perfect Day in Red Hook
This industrial waterfront neighborhood has transformed into a family-friendly destination over the past few years. Once a shipping center, Red Hook is a hike from the nearest subway, but the quiet vibe and stunning water views definitely make it worth the trip.
Start the adventure off by teaching your pre-k kid the joy of indoor golf (and vintage arcade games) at pirate-themed play palace Shipwrecked. Next, hit Brooklyn Crab for lunch and some time in their kid-friendly outdoor courtyard, complete with cornhole, mini-golf, and sandbox. Afterward, share a chocolate-dipped Key lime pie on a stick at Steve's Authentic Key Lime Pies, and explore two of Red Hook's pocket-sized waterfront parks: Louis Valentino, Jr. Park, and just a few blocks south, the Pier 44 Waterfront Garden, both of which overlook the harbor and Statue of Liberty. Wrap up with a cruise on the water taxi from IKEA for some toddler-friendly seafaring.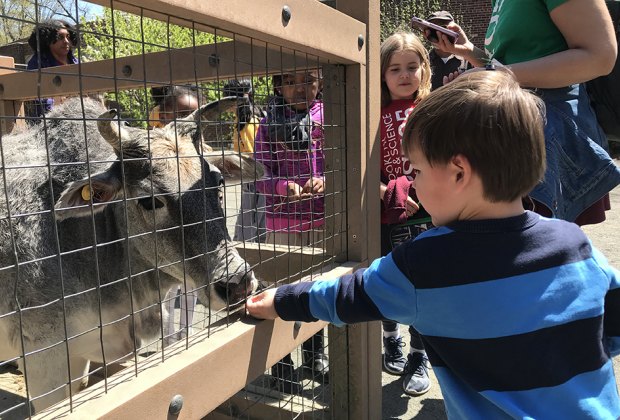 Feed the animals at the petting zoo in Prospect Park Zoo. Photo by Louise Trapasso
A Preschooler's Perfect Day in Park Slope
Thanks to the abundance of families and green space, Park Slope is one of the most kid-friendly neighborhoods in New York City, with no shortage of activities tailored to little ones. Start the day by feeding sheep at the Prospect Park Zoo. Next, ride the lion, giraffe, or dragon-pulled chariot on the Prospect Park Carousel and then head to Lakeside in Prospect Park to run through the splash pad fountains or learn to skate at the LeFrak Center. You can even rent a pedal boat as a family to cruise around Prospect Park Lake in the warmer months.
If they still have energy to get out, encourage the kiddos to play with a water pump and hop from stump to stump at the nature playground. Wrap up by feeling the spray from the giant Bailey Fountain at Grand Army Plaza, and if it's Saturday, meander through the Greenmarket for a snack and see a street musician or puppeteer. Consider catching a free show by a kids' band at the Brooklyn Public Library's Dweck Center.
RELATED: Best Amusement Parks for Preschoolers in and Around NYC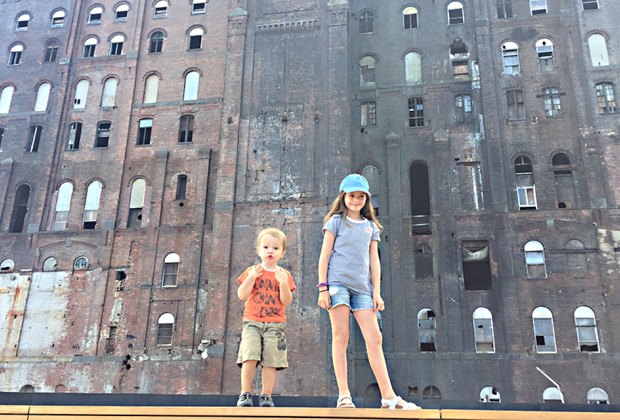 Roam around the huge, new-ish Domino Park. Photo by Ros Muggeridge
A Preschooler's Perfect Day in Williamsburg
Williamsburg has a hipster rep, but it's also home to lots of young families, and a surprising variety of family-friendly fun. The culturally-rich neighborhood boasts plenty of space for little ones to run, loads of toy stores, and family-friendly restaurants.
Start the day at McCarren Park, a 35-acre park with playgrounds, sports fields, and a pool. Next, see, smell, and taste the exhibits at the Museum of Food and Drink. Be sure to check out the fortune cookie machine. Climb the colorful sugar plant-inspired structures at Domino Park and head to Tacocina for tacos and guac afterward.
If the weather takes a turn, head over to Twinkle, an indoor play space for kids under age six, or Brooklyn Bowl on Saturday and Sunday afternoons for family-friendly bowling—and the weekly kids' dance parties hosted by Rock and Roll Playhouse are not to be missed!
Wrap up the day by catching a flick with your little ones at one of Nitehawk Cinema's kid-friendly movie series.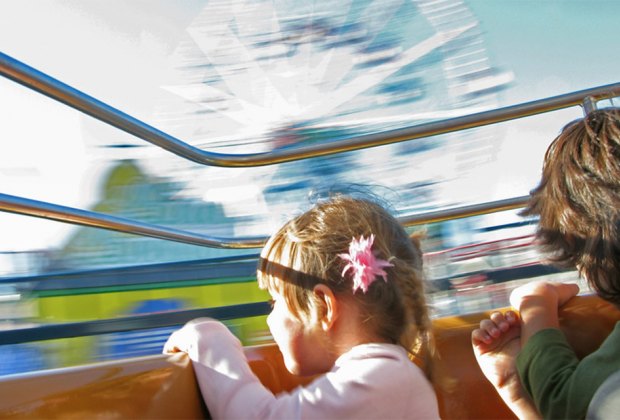 My kids would spend every day at Coney Island if they could!
A Preschooler's Perfect Day in ​Coney Island and Brighton Beach
Magical days spent on the shores of Coney Island and Brighton Beach are some of the highlights of growing up in NYC. The beaches open for the season on Memorial Day weekend, but the amusement park rides start spinning the first weekend of April, and the boardwalk and New York Aquarium are open year-round, making this the perfect Brooklyn day-cation.
Kick off the day at Luna Park's new circus-themed section, with plenty of high-flying, ropes-course style fun. Enjoy old-school favorites like the carousel and Deno's Wonder Wheel, visit the Coney Island Museum or Circus Sideshow, and scarf down a Nathan's Famous hot dog. Indulge in artisanal ice cream at Coney's Cones.
Don't forget to say hello to the sharp-toothed residents and catch a sea lion show at the New York Aquarium. Splash in the waves and stick around for Friday night fireworks.