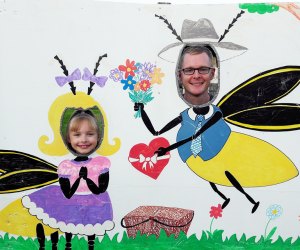 Top Things To Do in New Jersey This Weekend With Kids
This last weekend of June looks to be a berry good one with the debut of the Blueberry Summer Fest Markets at Whitesbog and the annual Red, White, and Blueberry Festival in Hammonton. Celebrate the end of the school year with fun for the whole family at State Fair Meadowlands, Keansburg Family Fun Fest, and Terhune's Firefly Festival.
If you need a night off—or a night out—Boonton's All Children's Arts Center has a too-good-to-pass-up deal for you: Book the kids into a Friday night arts, crafts, and open mic session, and enjoy your evening guilt-free knowing they're having a rocking good time.
More seasonal fun includes taking in drive-in and outdoor movies statewide or embarking on a summer day trip to our favorite beaches or nearby water parks.
If you still want more, our Summer Fun Guide is packed with picks, and our Activity Calendar gets constant updates; plus, we've compiled a list of 85+ FREE things to do in New Jersey this summer with kids.
As always, if an event piques your interest, click through to our listing for all the details, including addresses and times. And keep in mind: Really cool things to do with kids often book quickly, so register or buy your tickets ASAP.