Tot Lots and Toddler Playgrounds in New Jersey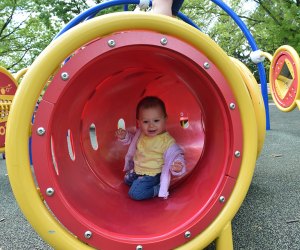 4/10/22
- By
Kaylynn Chiarello Ebner
Toddlers may be tiny, but their sense of adventure is enormous. On the playground, this can mean near-heart attack moments for parents and caregivers! Luckily, New Jersey has a bunch of great tot lots with age-appropriate equipment for the littlest daredevils. Here, we've rounded up some of the best toddler playgrounds in New Jersey.
No matter the age of your kids, we've got plenty more places to play in our Guide to Parks and Playgrounds in New Jersey.
Subscribe to our newsletters to get stories like this delivered directly to your inbox.
Best Toddler Playgrounds in Northern New Jersey
This shady park has some neat options for toddlers, including bongos to bang on, climbing features, a disk swing, and even an adult/child tandem swing. Sit face-to-face to watch your little one's expression when you soar together toward the sky!
This farm-themed playground in Cedar Grove Park is a blast for little kids. There's a giant cow and pig to climb on and a huge play structure that looks like a barn. Ramps and a small staircase lead to the slides on one side (with more challenging climbing features on the other side for older kids). If this area is too overwhelming, a separate toddler climbing area and swings (including bucket and backed styles) are right next to the barn.
RELATED: Worth the Drive: 12 Destination Playgrounds in New Jersey

The playground at Brookdale Park has plenty of climbing and swinging options for tots.
Whether you want to soar on a butterfly, ride on a turtle, or enjoy snack time on a mushroom, Brookdale has plenty of options for little ones (some under a built-in sunshade!). This whimsical park has a slide for kids under 5, and even a platform swing that accommodates wheelchairs, strollers, and assistive devices. A slightly larger structure has a climbing wall with large footholds instead of rocks, a short ladder, a swinging bridge, and side-by-side slides for buddies.
Your little ones definitely won't be bored at the toddler playground near Lot 7 in Liberty State Park. There are two structures with some unique features for sliding, climbing, and balancing. Try the suspension bridge, crawl over a whale, or pretend to sail a ship.
RELATED: New Jersey Playgrounds Cool Enough for Big Kids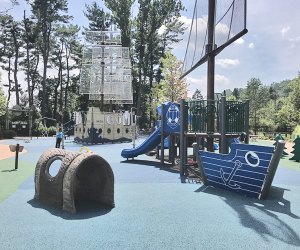 The pirate-themed playground at South Mountain is an all-ages crowd pleaser! Photo by Rose Gordon Sala
Ahoy, mateys! Regatta Playground features an enormous pirate ship, and toddlers will love peeking through the portholes, slipping down the slides, running over the bridges, climbing short ladders, and scaling a small rock-climbing wall. One side of the ship has larger slides and a higher rock wall for older kids. If the pirate ship is too intimidating, there's also a smaller toddler slide and climbing structure nearby, complete with a telescope. Little ones love the musical play area and bouncing and balancing on a trail of tree stumps and mushrooms.
This massive park is truly a boredom-buster, complete with a mini-train ride, carousel, pony rides, and the charming Bergen County Zoo. The playground is not to be missed. There are mushrooms to bounce on, small slides, bridges, and even a splash pad in the summer. Pack a picnic lunch and spend the day!
RELATED: 35 Things To Do With New Jersey Preschoolers Before They Turn 5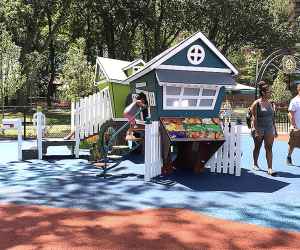 Kids can climb into the playhouse at Watsessing Park. Photo by Mommy Poppins
This modern all-access playground is perfect for kids of all abilities. There's a section with a large xylophone and a drum to make music, high-backed and double-seater swings, and a high-backed teeter-totter. It won't be easy to pry little ones away from the cute little playhouses either!
This super-cute neighborhood playground is the perfect size for toddlers. Climb through a fire truck, slide down a pirate ship-inspired slide, or climb on a mini rock wall. Whichever one your little picks, you're bound to have a great time.
RELATED: 10 Awesome Accessible Playgrounds for New Jersey Kids

Daring tots can tackle the spider climb at Colonial Park's playground.
Top Tot Lots in Central New Jersey
This park is definitely worth a day trip. Enjoy pedal boats, mini golf, and, of course, a super fun playground with inclusive equipment. Your toddler will love the tunnels, slides, climbers, and music toys. Caregivers will love the spongy rubber floor and the plentiful seating! The large platform swing is great for little ones in strollers, as well as grandparents. For more daring toddlers, try the spider webs and ropes with low platforms to practice balance.

Little ones can drive the wooden truck at KidStreet Playground.
This awesome playground stirs the imagination with a huge wooden pirate ship and cars to climb on, an amphitheater structure, a vibraphone, a "play city," and more. But, what's really nice about this large playground is a separate area for toddlers with a large sandbox, swings for the younger set, playhouses, low slides toddlers can climb by themselves, tire climbers, and even a mini zip line! The area is fenced in on three sides, with a small opening in the fourth side to keep kids somewhat contained. There are other areas for older siblings to burn off energy, too. Bonus: The toddler playground is next door to the bathrooms, which are pretty clean. If you want to grab a bite nearby, the Bridgewater Commons Mall is less than a mile away.
RELATED: 10 Great Beachfront Playgrounds in New Jersey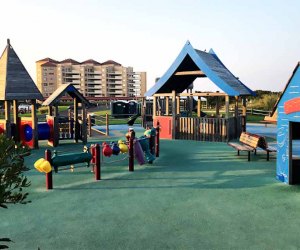 Tony's Place playground is a short walk from the beach. Photo courtesy of Seven Presidents Oceanfront Park
Top Toddler Playgrounds in South Jersey and on the Shore
For a memorable day in the sun, it's hard to beat Tony's Place. This huge playground is just a two-minute walk to the beach. It boasts several bucket and chair-style swings, tunnels, sea animal-inspired climbers, a music station, and more. The spongy, rubberized flooring makes it safe for anyone to enjoy.
RELATED: 16 Stroller Walks in New Jersey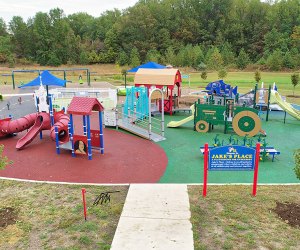 Jake's Place Playground is for kids of all ages and abilities. Photo courtesy of Jake's Place
Jake's Place – Cherry Hill and Delran
This accessible playground, intended for people of all abilities, has ramps that lead to play areas and slides so kids in wheelchairs or with assistive devices can play beside others with ease. You'll also find bridges, a balance beam, stepping circles, swings with backs, and more. The play areas are fenced in, and there is lots of shade to enjoy.
Photos by the author unless otherwise noted
Sign up for the Mommy Poppins Newsletter today!