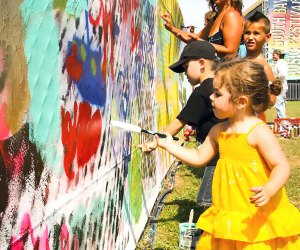 13 of Long Island's Most Walkable Main Streets
Compared to city life, suburban life on Long Island can often feel tethered to the car. So, we've highlighted the most walkable Main Streets on Long Island where children will love to ride their strollers, tower on mom or dad's shoulders or
walk
hand-in-hand through these charming and lively villages. These Long Island Main Streets are great for watching a festive parade or strolling a farmers' market or craft fair. From children's theaters and local museums to historic sites, Long Island culture is easily accessible. For shopping and places to eat, there's no shortage of unique children's boutiques, quirky toy stores, family-friendly restaurants, irresistible ice cream parlors and vintage candy shops.
This young Farmingdale friend enjoys live music and bubbles at Music on Main. Photo courtesy of Marketing Masters NY
Nassau
Farmingdale Village ranks high on the walkability scale with its centralized restaurants and shops and the village's proximity to the Long Island Railroad (LIRR) Farmingdale station. On Main Street there's always something to celebrate: summertime sizzles with the
Music on Main
festival, a
Memorial Day parade
and live music and
outdoor movies
on the
Village Green
. In the fall, there's
Art in the Park
, the
Farmingdale Fall Street Fair
and
Fall Family Fun
, which includes a Halloween parade, petting zoo and face painting. Farmingdale's restaurants overflow on Main Street with an eclectic variety of cuisines to choose from.
The Rolling Spring Roll
dishes up authentic Vietnamese food.
The Meetball Place
serves, you guessed it, meatballs and other Italian dishes, and on Sundays, children 12 and under eat free with the purchase of an adult entree. For a unique take on the classic pizzeria,
Creations Pizza, Yogurt and More
lets you create your own pizza that is then cooked in a 120 second oven. And save room for the do-it-yourself tasty frozen yogurt and toppings.
Wings Over
is another great spot for fast and yummy food: choosing from the ample sauce menu will take longer than actually eating the meal. An extensive Greek menu, including children's pita pizza, is on offer at the family-friendly
Grecian Grill
. At
Thyme on Your Side Artisan Market and Cafe
, take time to replenish the family with a green machine juice from the juice bar, chocolate PB&J smoothie, acai bowl, panini or salad. If your family's more interested in chocolate cake than chocolate smoothies, don't miss
The Chocolate Duck
. Locally owned by Harry Cohen for 30 years, he and his daughter Christina create masterful cakes and chocolates. Another gem of Farmingdale is
Fancy Free
. Families who shop mindfully will appreciate this exceptional gift shop dedicated to empowering artists of all abilities.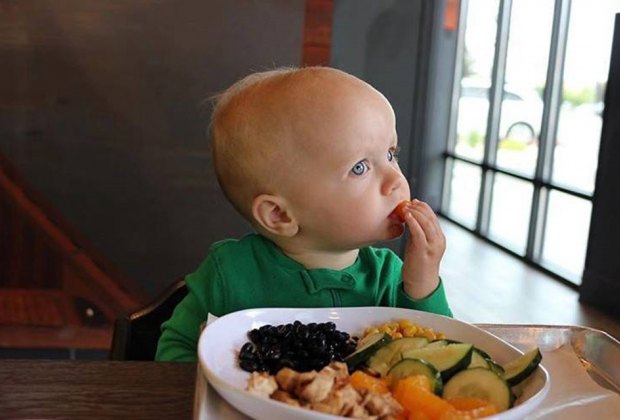 In Garden City CoreLife Eatery's young foodie is loving their Kids Power Plate in Garden City. Photo courtesy of CoreLife Eatery
Garden City is best known to families for
museum
row's Long Island Children's Museum or the Cradle of Aviation Museum and, of course, shopping at Roosevelt Field. But Garden City has a bustling downtown that's ideal for families ready to stroll the streets. Avoid driving and take the LIRR to Garden City: it's about a 10-minute walk to Seventh Street and Franklin Avenue, Garden City's hub. Walk to the nearby
Garden City Public Library
and browse the children's section. There's a new
special needs
collection of books and an enchanting mural of
Alice in Wonderland
,
Curious George
and
Madeleine
in the story time room: library program registration and participation is prioritized to Garden City residents. Walking is a great way to a healthy lifestyle, but nutrition is important too. For the health-conscious family,
CoreLife Eatery
proves that you don't have to sacrifice flavor to eat healthy. You won't find chicken nuggets on this kids' menu: the Kids Power Menu reminds kids (and adults) that food is fuel. From power pasta to cranberry poppy salad, children will embrace these fun and healthy options. Families will love
Walk Street's
sidewalk seating or friendly indoor dining room and
The Burger Spot's
made-to-order burgers and salads, perfect for when hunger can't wait. Brooklyn's finest pizza can be savored at
Grimaldi's
Garden City location or visit
Garden City Pizza
for a slice of local, neighborhood pizza.
Friday Night Promenades
make Friday nights in the summer even more fun: these themed-nights are filled with food, live music and children's activities. For a combination of shopping and classes, visit
Kidville's
boutique with irresistibly fun toys and birthday gifts. Kidville members enjoy music, art, dance and gym classes as well as open play space in the gym. Sign up for a free trial class to try it out before you join. Children unleash their creativity and parents get back in touch with their creative spirit at
Muse Paintbar
where children and parents paint masterpieces together. Sign up online in advance for the instructor-led painting and crafting sessions that guide students through the creative process. No need to paint hungry, Muse Paintbar doubles as a restaurant and is open to all ages. Express your creativity and eat it too at
Cold Stone Creamery
: here you customize your ice cream by choosing your favorite toppings and ice cream flavor then they're combined on Cold Stone Creamery's signature frozen granite stone.
Oyster Bay's walkability is enhanced by its proximity to the LIRR Oyster Bay station. The
Theodore Roosevelt Memorial Park
is located between the train station and the scenic Oyster Bay Harbor. The park is home to the
Oyster Bay Oyster Festival
held annually in October: it's the East Coast's largest waterfront festival. The park offers year-round fun at
Beekman Beach
. There are numerous tennis, handball and basketball courts; children's playgrounds and winding paths perfect for a stroll with the family. A short walk brings you to the village's restaurants and shops. Stop by the
Bonanza Stand of Oyster Bay
for a hot dog and homemade Italian ices. Or indulge in an artisanal oatmeal latte at
Southdown Coffee
. Hop across the street for a photo op with the
Funni Business
toy store's greeters, Gumby and Pokey, and shop inside for floor to ceiling top-rated toys, gadgets and gifts. For a treat,
Carvel Ice Cream
is prominently located in the center of Oyster Bay. Further along on East Main Street, grab a tasty slice of pepperoni pizza at
Nino's Pizza
. And if the kids are ready to do some of their own cooking,
What's Cooking
offers cooking classes for children and adults. The
Oyster Bay-East Norwich Public Library
is a welcoming space for Oyster Bay visitors and residents to settle into a great children's classic book: library card holders enjoy creating a craft or listening to a captivating story at story time.
Suffolk
Babylon's walkability is bolstered by the convenient LIRR Babylon station just a few blocks from the village. This bustling town appeals to the fast-paced lifestyle of Manhattanites as well as the slower-paced beach-town lifestyle of Long Islanders. With so many families in Babylon, many eateries cater to children. Sunday through Thursday children eat free with the purchase of an adult entree after 4 p.m. at
Cooper Street Neighborhood Grille
. On Tuesday (or any day ending in y) enjoy tacos at
Swell Taco
. This restaurant's welcoming Southern California
beach
vibe dishes up family-friendly bites.
Glen's Dinette
is a Babylon institution serving up traditional breakfast and lunch items that kids are guaranteed to love.
Jack Jack's Coffee House
is ideal for a quick coffee or for savoring their Instagram-post worthy lunch items. If you're hankering for something sweet, stop into
Kilwins
,
Sweet Sensations Ice Cream and Yogurt
, or
Torta Fina Bake Shoppe & Patisserie
. Fueled and ready to shop, visit
Bubble Boutique & Learning Center
, owned by Babylon native Jenny Dellafranca. In addition to an adorable collection of children's items, this boutique offers an array of children's classes; a Bubble Craft Bar that fosters children's unrivaled creativity (walk-ins are welcome but reservations are preferred) and special events and birthday parties for kids. The newly opened Bubble East is tailored to adults, including a craft studio and retail area with apparel, gifts and jewelry. Babylon Village Chamber of Commerce hosts the
Fall Harvest Festival & Street Fair
in October and the Beatification Society hosts an
annual fair
in September. Culture abounds year round in the heart of Babylon Village. Theatergoers will love the newly renovated historic
Argyle Theatre
with a robust children's show lineup. For parents interested in showing children what life was like before fast-food and iPads visit the historic
Conklin House
. Attend
events
and take tours for an up-close look at this restored historic home built in 1803. To stretch their legs, children can play at Argyle Park, minutes from the village. Families enjoy the playground, waterfall and lakeside trail during all four seasons.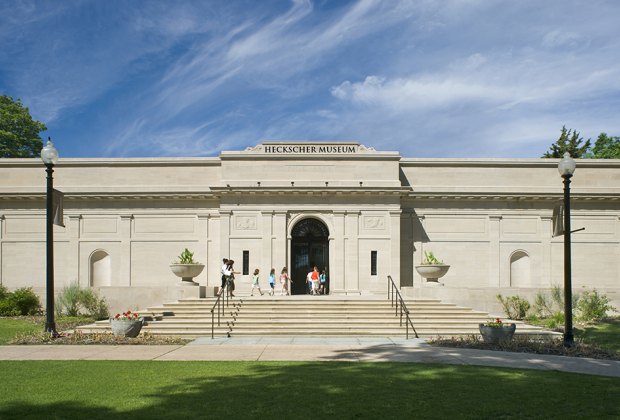 Amid blue skies brushed with clouds, Heckscher Museum of Art in Huntington welcomes visitors. Photo courtesy of Heckscher Museum of Art
Huntington Village swells with local families and visitors from all over Long Island on holidays and weekends. Huntington Village is brimming with fantastic family-friendly restaurants, shops and activities. The beautiful
Huntington Public Library
boasts unique programs for residents. Children clamor to peek inside
Little Switzerland Toys and Dolls
, established in 1981, or
Bon Bons Chocolatier
, which has an array of candy, chocolate, toys and gifts. Be sure to walk toward the back of the shop and peer into the window to see how the chocolate's made. This is especially fun during Easter time when enormous bunny molds fill the factory. The
Birkenstock Depot
is the best spot to indulge in cozy new slippers or sandals for everyone's tired feet.
Hatch
is Huntington's hottest new
brunch spot
and just off Main Street families will love dining indoors or al fresco at
The Shed
. When temperatures are cooler, guests can cuddle up with the fleece blankets provided. Children stay occupied with their very own chalkboards to draw on and children's books to read.
Old Fields Barbeque
serves up authentic barbeque and comforting cornbread, and there's an old-fashioned phone box for the kids to make important mock phone calls.
Munday's
offers kid-friendly breakfast, lunch and dinner items, and the restaurant's charm kicks into high gear during the holiday season with endless holiday decorations. Families can play games and have drinks at the new
Main St. Board Game Cafe
. For the artistic family,
Claytime
, just off Main Street, provides the perfect opportunity for families to express themselves and paint ceramic pieces from hedgehogs to coffee mugs. Visit Long Island's largest independent bookstore,
Book Revue
, on New York Avenue. Celebrity visitors include Dr. Seuss' The Cat in the Hat and Mo Willems' Elephant and Piggie. Thursday's toddler time is a musical story time of dancing and singing with guitarist Jeff Sorg. The children's area includes a wooden fire truck book reading nook, a display dedicated to local children's book authors and an adjacent cafe with freshly baked cookies and specialty sandwiches.
The Paramount's
live family shows delight young audiences with top-quality entertainment.
Heckscher Park
and
The Heckscher Museum of Art
are the exclamation point at the end of the Huntington Village sentence. The museum's two 55-inch touchscreens inspire children to create beautiful works of digital art. Heckscher Park's play area appeals to children of all ages and the lake's ducks and swans mesmerize children and adults. In October, the park transforms for the
Long Island Fall Festival
with carnival rides, games and vendors. The
Huntington Summer Arts Festival's
free concerts make for a magical summer night at the Chapin Rainbow Stage in Heckscher Park, with family shows on Tuesday evenings. In May, tulips take over Heckscher Park at the annual
Tulip Festival
and
The Huntington Village Art Walk
dots the village every fall.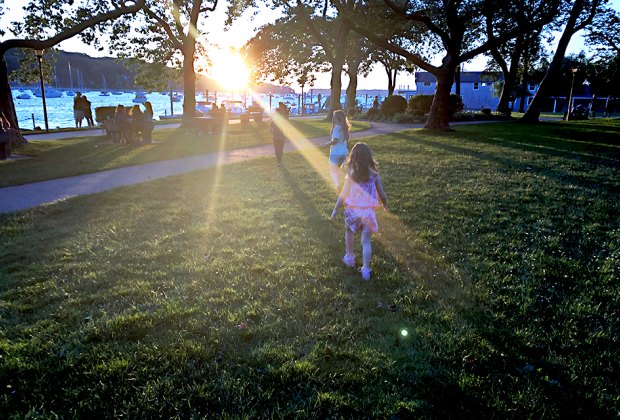 Families gather at Northport Park as the sun sets on the scenic Northport Harbor. Photo by the author
Northport Village's waterfront views and quaint shops and restaurants make for a quintessential Main Street. Located at the end of Main Street, Northport Park and Cow Harbor Park have play areas, pathways and benches, perfect to enjoy the scenic harbor. Whether you grab a hot tea and mouthwatering pastry at
Copenhagen Bakery
or a gourmet grilled cheese sandwich from
Brew Cheese
, these Northport parks are great for a family picnic. For a nautical-themed dining experience,
Tim's Shipwreck Diner
serves up classic diner fare (come prepared though, it's cash only).
Carl's Candies
will stop you in your tracks with their elaborate candy-creation window displays, and inside you'll discover the candy mosaic mermaid with a cutout face—a photo op that can't be missed. If your sweet tooth aches for nostalgia and delicious homemade ice cream, checkout
Northport Sweet Shop Luncheonette
, family-owned since 1929. As you walk up Main Street's incline, you'll want to visit Northport's village theater:
The John W. Engeman Theater's
spectacular productions for children include
Flat Stanley
,
Frosty the Snowman
and more family favorites. June through November, Northport has a robust
farmers' market
and the annual
Cow Harbor Day
celebrations include the Great Cow Harbor 10K, a lively parade, music, boating contests, food, vendors and more.
Patchogue is one of Long Island's revitalized communities: now more walkable than ever, it's well worth a visit. The LIRR Patchogue station is close to all of the restaurants, shops and activities that Patchogue Village has to offer. Children and adults alike will enjoy
Smith Point Archery
. The 39-lane indoor shooting range offers lessons for children ages 7 and up. Reservations, although not required, are recommended. When hunger strikes, Southern barbeque at
Bobbique
satiates: on Tuesday, children 10 and under eat for free with the purchase of an adult meal. The cherished
Hometown Bake Shop
of Centerport now has a new location in Patchogue. When one child's craving sweet and the other wants savory, Hometown Bake Shop's array of fresh-baked pies will do the trick. Hometown Bake Shop is notably peanut-free and offers gluten-free items. And for a bite of Americana
Flo's Famous Luncheonette
, serves breakfast, lunch and dinner. What day out with family is complete without a special sweet treat.
Berry Good Yogurt Cafe
has 21 flavors of frozen yogurt and vegan sorbets with plenty of toppings to choose from.
Smallcakes Cupcake and Creamery
offers decadent items from a new take on pushpops (cupcakes layered in frosting) to a cupcake smash (ice cream sandwiched between a cupcake). Patchogue's
Shorefront Park
is home to the annual
Great South Bay Music Festival
in July. The kid zone includes big name children's musicians and an expansive art wall. Just a short walk and you'll find art and culture year round at
Patchogue Arts Council
. In June, the annual festival
Arts on Terry
transforms Patchogue Village with arts, crafts and music for children to enjoy. Children's entertainment abounds from reading and activities at the
Patchogue-Medford Library
to attending a children's show across the street at the
Patchogue Theatre for the Performing Arts
. Recent family shows include
Sing-a-Long with Alan Muraoka
and
Scrooge
for the holiday season.
Port Jefferson, steeped in maritime history, is one of two ports on Long Island for access to Connecticut. The 350-foot pier and pristine promenade along the shoreline are minutes from Main Street. Nearby,
Long Island Explorium
celebrates all things STEM and is located in the historic Chandlery building. Families can go from science to skating within minutes.
The Rinx
at Harborfront Park is situated on the harbor: in the winter season, skaters glide on the outdoor ice while gazing at the spectacular Port Jefferson harbor views. Take a break from ice skating to warm up inside and soak up the maritime culture and history at the Port Jefferson
Village Center
and
Bayles Boat Shop
. Along the shoreline walk, you can't miss Port Jefferson's famous photo spot, the Big Chair. Ready to tantalize your taste buds?
Sweet 'n' Savory
, on the corner of West Broadway and Main Street, serves up comforting rice pudding and a variety of sweet and savory crepes. The silly names and unique flavors like holy cannoli and chiquita banana rice pudding are both memorable and tasty. And chances are, if you walk by
Roger's Frigate
with the kids, you're going in. It's a candy and ice cream haven. Let the children run-off their sugar rush at
Rocket Ship
park. The Boater's Maritime Festival in June, Fourth of July parade, fall harvest fest and
Santa parade
keep this downtown area buzzing all year. In the summer season, Harborfront Park is home to Port Jefferson's busy
farmers' market
.
The Charles Dickens Festival
, complete with Scrooge and Father Christmas, enchant Port Jefferson spectators every December.
Theatre Three's
children's theater captivates young audiences with original one-hour musicals:
Barnaby Saves Christmas
and
Peter Rabbit
are among the lineup. Theatre Three encourages all families to embrace live theater and is proud to offer sensory friendly performances, complete with house lights on and lowered sound, clean blankets and stuffed animals in the lobby for children who need a break and an opportunity for audiences to meet the actors after the performance. When hunger strikes, visit
Z pita
: the extensive menu is great for families with a variety of tastes. For kid-friendly places to eat,
Pasta Pasta
and
The Pie
offer crowd-pleasing classic children's menus.
The Steam Room's
harbor views and outdoor seating attract locals and visitors. And with rice bowls and ramen on the kids' menu at
Slurp Ramen
, this is the perfect spot for families to refuel.
Sayville's Summerfest carnival rides light up the warm night sky. Photo by Ryan Sweezey for the Greater Sayville Chamber of Commerce;
Sayville is more than a spot to catch the ferry to Fire Island. Historically known for its oyster and timber, today, Sayville is one of Long Island's most walkable villages. Sayville's seasonal festivals in Gillette Park aren't to be missed. Gillette Park is only about a 10-minute walk from the Sayville LIRR station. At the
Spring Fest
children's activities abound with a petting zoo, magician, jugglers, arts and crafts and more. During the winter,
Miracle on Main
transforms Sayville into a winter wonderland with a parade in the morning and an evening of tree lighting, live reindeer, trains, a gingerbread contest and a Lego display. In summer months, families listen to free live music on Wednesdays and Fridays are Family Friday at
The Common Ground at Rotary Park
. Sayville's
Summerfest
in August is the ultimate carnival and concert experience.
Sayville Falls Miniature Golf's
beautifully maintained course scores big with families. (They're closed during the winter.) For indoor fun nearby,
Sayville Cinemas
can't be beaten. Films are all first run, and although the theater is small, 4 screens, the savings is huge: daily bargain matinees are $5 and on super Tuesdays all tickets are $5. For shopping, visit the enchanting
Tiggy Winks
for beautiful communion, flower girl or special occasion dresses. To find unique handmade gift items, toys and gourmet items, visit
Sayville General Store
, located in the historic Oysterman's bank. After all of these activities and shopping, Sayville's Main Street has no shortage of great, family-friendly restaurants. Enjoy Japanese cuisine at
Koi
, a taste of Italy at
Sayville Pizza
, a refreshing acai bowl or smoothie from
SoBol
and a variety of appetizing dishes at
Parlor House Grill
.
La Tavola Trattoria's
cozy indoor dining and beautiful outdoor patio cater to families, serving traditional Italian fare with a modern influence. There are ample dessert options in Sayville. Visit
Sayville Chocolatier
or
Ralph's Italian Ice
to put the cherry on top of a fun visit to Sayville.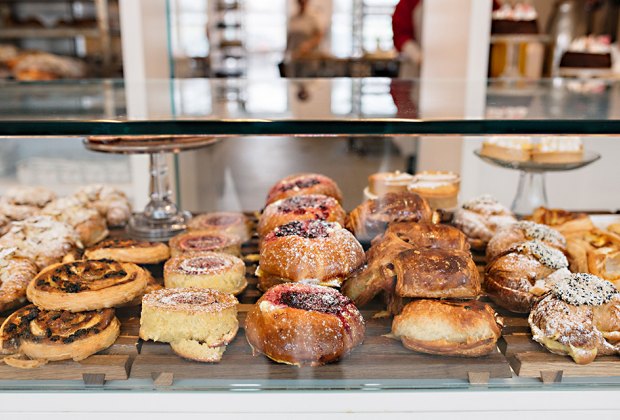 Carissa's Bakery in East Hampton displays delectable baked goods, fresh out of the oven. Photo by Jen Satinsky for Carissa's Bakery
East End
Although the
Hamptons
are best known as summer destinations, East Hampton's Main Street is easily enjoyed year round. On cold or wet days, what's better than a tub of popcorn and a movie with the family.
Regal UA East Hampton
is located right on Main Street. If popcorn has left you hankering for candy, head to the famous
Dylan's Candy Bar
. The colorful array of candy captivates candy lovers of all ages.
Carissa's Bakery
, just off Main Street on Newton Lane, serves fresh-baked breads, pastries, cakes, pies and more. Try the salty soured pickled rye bread, and ask about this unique bread's local history. East Hampton eateries line Main Street and Newton Lane and are easily walked to from the East Hampton LIRR station.
John Papas Cafe
is a mainstay for locals and serves home-style Greek cuisine. Families can relax and enjoy themselves at
Blue Parrot
, a Tex-Mex restaurant.
Rowdy Hall
combines French Bistro with English Pub, serving fish and chips to French onion soup. The lovely courtyard and indoor, roaring fire make for a warm atmosphere, great for families.
Sam's Bar & Restaurant
is family-run for three generations. This East Hampton establishment is casual and perfect for families ready to tuck into pizza and other Italian fare. For a gourmet picnic, order a boxed lunch from
The Golden Pear
and venture off Main Street to
Herrick Park
. If you're craving more outdoor activities,
East Hampton Village Nature Trail
is a few minutes walk from Main Street. Ready to shop? Visit
Petit Blu
toy store for a fine selection of children's apparel, imported toys and art and crafts sets. Children won't want to miss their super slime Saturdays and drop-off movie nights (for children ages 7-14).
Stevenson's Toys & Games
carries both nostalgic and modern toys and gift wrapping is complimentary. For more nostalgia, East Hampton's rich history is kept alive by the
East Hampton Historical Society
located on Main Street in the
Osborne-Jackson House
, built around 1723. The house museum is open to the general public for tours. There is a $5 fee and the office is open Monday through Friday from 10 a.m. to 4 p.m.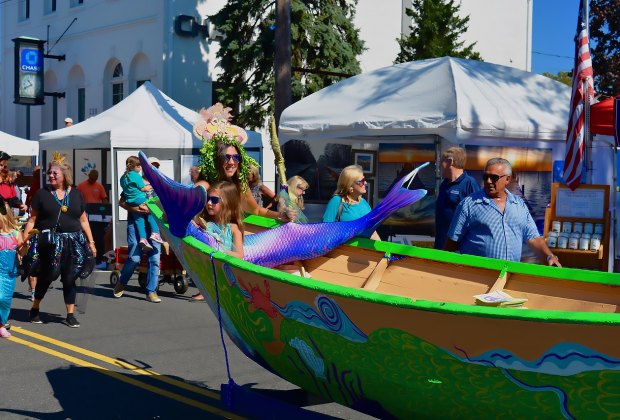 Mermaids float through the village in Greenport's East End Maritime Festival parade. Photo by Joe Maddalone for the East End Seaport Museum
Greenport
A favored historic North Fork village, Greenport is perfect for taking a family stroll. Greenport's walkable streets are nestled among waterfront views of Shelter Island and the Peconic River. Children who dream of being a train engineer, firefighter or captain of the sea will love the
Railroad Museum of Long Island
,
Fireboat Fire Fighter Museum
and
East End Seaport Museum
. (Be sure to check the museums for closures and seasonal hours.) Nearby, at
Mitchell Park's
plush green grass, children run around and cool misters keep the hot summer heat at bay. Tucked away next to the Schoolhouse Museum is the
Village Blacksmith Shop
; on weekends there's a blacksmith hard at work, and he sells his wares. Children ask questions and watch intently as hooks, horseshoes, nails and other metal objects are made. From Memorial Day weekend through October, locals and visitors shop the
Greenport Farmers' Market
for locally grown food direct from farmers and fisherman. Children never seem to turn down pizza, and Greenport has plenty of Italian dining options: family owned and operated
Emilio's
and the rustic
1943 Pizza Bar
both serve up wood-fired, brick-oven pizza.
Claudio's
boasts several options: families can dine at Claudio's Waterfront, Claudio's Restaurant, Crabby Jerry's or Claudio's Pizzeria.
Little Creek Oyster Farm and Market
offers the freshest oysters from their farm in the Peconic bay. The Bait & Tackle building and outside seating overlook the waterfront. Of course, after dinner delights can't be missed. Visit
Hampton Chocolate Factory
or
Greenport Creamery
(open seasonally) with over 20 flavors of homemade ice cream. For a free scoop of ice cream, tag Greenport Creamery on Instagram or leave a review.
Sweet Indulgences
offers delectable candies and lovely gift items. With full bellies, cuddle up with a book at
Burton's Bookstore
. There's a dedicated children's section and events include book readings from children's authors.
Shop Flying Point Surf and Sport
for all of your beach essentials, including new pairs of Toms shoes for the whole family.
Goldsmith's Toys & Electronics'
rubber ducky collection and toys captivate children and parents. Need to put your feet up and take a coffee break? Parents can grab an artisan coffee at
Aldo's Coffee Co.
and watch the children ride an ornate horse on the
Northrup-Grumman Carousel
. Built in 1920, there are 36 jumping horses (18 of which are hand carved) and two sleighs to choose from. The much anticipated annual
East End Maritime Festival
celebrates local maritime heritage with delicious foods; local vendors and activities, including kayak races, a chowder contest and a classic wooden boat and ice boat exhibit. All of this fun is a short walk from the LIRR Greenport station, making this charming village the ultimate walkable destination.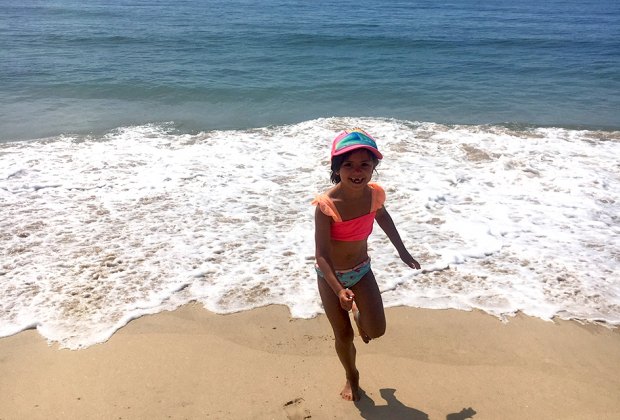 Nothing but sun and smiles at Montauk's breathtaking Kirk Park Beach. Photo by Stephanie Garrett
Montauk, known as The End, is a destination where families begin to make memories that will last a lifetime. At the most eastern point of Long Island's East End, Montauk is a gem. Walking amid the salty sea air is sure to build up appetites, and Montauk has its share of noteworthy dining options. Settle the debate about who has better pancakes by visiting
Bird on the Roof
and
Mr. John's Pancake House
.
Joni's Kitchen
boasts healthy options and a range of juices and smoothies. Don't miss
Montauk Bake Shoppe's
irresistible jelly croissant—it's a must. For family pizza night, stop by
Pizza Village
or
Primavera Pizza
.
668 The Gig Shack
is always lively and tasty: it's a place where families, friends, live music and great food convene. Take a short walk to
The Sloppy Tuna
for fresh seafood and ocean views.
Harvest on Fort Pond's
offers Italian fare served family style, and families enjoy the beautiful waterfront views. For creamy fudge visit
Fudge 'n' Stuff
.
White's Drug & Department Store
is Montauk's premiere spot to shop for a variety of gifts and essential items. Montauk's festivals and fairs are yet another reason to visit. The Historical Society's
Second House Museum
is Montauk's oldest structure, although the house is currently closed for restoration, Montauk's annual
craft fair
takes place on the grounds. Embrace indigenous Montauk culture and history and visit
The Montauk Indian Museum
. For the most scenic game of miniature golf, head to
Puff & Putt Family Fun Center
. But no restaurant or attraction can compete with mother nature:
Kirk Park Beach
is minutes from Montauk's Main Street. The smooth sand, crashing waves and open ocean ensure that Montauk visitors return year after year.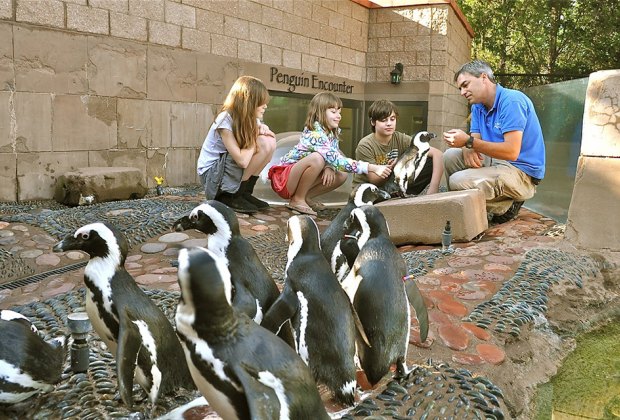 Children revel in this up-close interaction with penguins at the Long Island Aquarium's penguin encounter. Photo courtesy of Long Island Aquarium
Riverhead is a child's adventure waiting to happen. The
Long Island Aquarium
boasts nationwide recognition, and its more than one million gallons of water are contained right in the heart of the East End's Riverhead. Learn more about liquids and gases at the
Long Island Science Center
. Check out the Science Saturday Workshops for activities on topics such as The Science of Nutrition and Molecular Gastronomy. All that hands on learning can leave children hungry. Why not give in to temptation and try a hot, everything bagel at
Goldberg's Famous Bagels
, a classic American cheeseburger at
Star Confectionery
or boiled Brazilian lobster tail at
Jerry & the Mermaid
. For annual celebrations, summertime heats up with
Alive on 25
, which includes fireworks, a classic car show, activities for kids, vendors, food trucks and, of course, live music;
Halloween Fest
packs downtown Riverhead with fun costumes and the
Community Mosaic Street Painting Festival
builds community and beauty as families create street art with chalk, dance to live music and enjoy live theater. The Riverhead LIRR station is nearby, so you can enjoy this bustling town without ever needing a car.