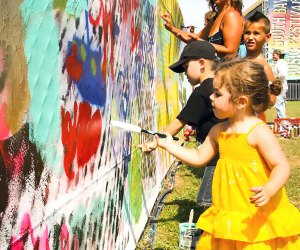 13 of Long Island's Most Walkable Main Streets
Compared to living in a walkable city like New York, suburban life can make you feel tethered to the car. But that certainly doesn't have to be the case. We've highlighted the most walkable main streets in some of our favorite Long Island towns. These main streets are great for parade watching, strolling through a farmers' market, or catching a craft fair. From children's theaters and local museums to historic sites and beachfront parks,
Long Island culture is easily accessible
. For shopping and places to eat, there's no shortage of unique children's boutiques, quirky toy stores,
family-friendly restaurants
,
irresistible ice cream parlors
, and vintage candy shops.
This young Farmingdale friend enjoys live music and bubbles at Music on Main. Photo courtesy of Marketing Masters NY
Most Walkable Main Streets in Nassau
Farmingdale Village ranks high on the walkability scale with its centralized restaurants and shops and the village's proximity to the Long Island Railroad (LIRR) Farmingdale station. Main Street is the town's hub for annual cultural events and there are tons of kid-friendly restaurants to choose from.
Things to Do
Eats and Sweet Treats
There's a good selection of international eats on Main Street.
The Rolling Spring Roll
dishes up authentic Vietnamese food.
The Meetball Place
serves yummy meatballs and other Italian dishes, and on Sundays, children 12 and under eat FREE with the purchase of an adult entree.
Wings Over
is another great spot for food-on-the-go. An extensive Greek menu, including children's pita pizza, is on offer at the family-friendly
Grecian Grill
. A Farmingdale favorite,
The Chocolate Duck
serves masterful cakes and chocolates.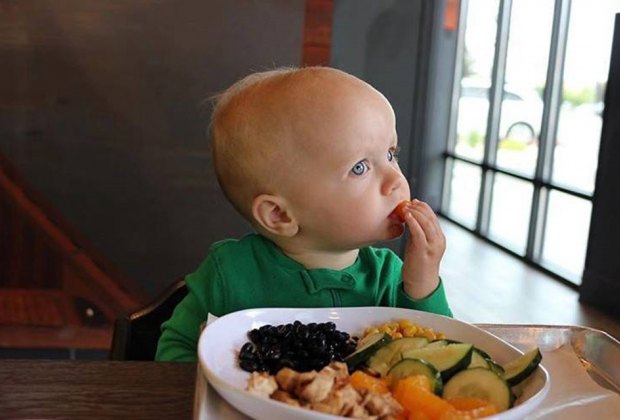 In Garden City CoreLife Eatery's young foodie is loving their Kids Power Plate in Garden City. Photo courtesy of CoreLife Eatery
Garden City is best known to families for
museum row's Long Island Children's Museum
and the
Cradle of Aviation Museum
and, of course, shopping at Roosevelt Field. But Garden City has a bustling downtown that's ideal for families ready to stroll the streets. Avoid driving and take the LIRR to Garden City: it's about a 10-minute walk to Seventh Street and Franklin Avenue, Garden City's hub.
Things to Do
Walk to the nearby
Garden City Public Library
and browse the children's section. There's a great
special needs
collection of books and an enchanting mural of
Alice in Wonderland
,
Curious George,
and
Madeleine
in the story time room: library program registration and participation is prioritized to Garden City residents.
Friday Night Promenades
are themed evenings filled with food, live music, and children's activities. For a combination of shopping and classes, visit
Kidville's
boutique with irresistibly fun toys and birthday gifts. Everyone can unleash their creativity at
Muse Paintbar
, where children and parents paint masterpieces together. The Paintbar doubles as a restaurant.
Eats and Sweet Treats
CoreLife Eatery
proves that you don't have to sacrifice flavor to eat healthy: the Kids Power Menu is a fun reminder that food is fuel. Families will love
Walk Street's
breezy sidewalk seating and
The Burger Spot's
made-to-order burgers and salads will satisfy a hungry crowd. Grab a slice at
Garden City Pizza
and then build your own ice cream flavor at
Cold Stone Creamery
: choose your favorite ingredients and watch as they blend it on Cold Stone Creamery's signature frozen granite stone.
Oyster Bay has it all, from beautiful beaches and lush parks, to historic attractions and scenic countryside. Plus, the town's walkability factor is enhanced by its proximity to the LIRR Oyster Bay station.
Things to Do
Eats and Sweet Treats
Most Walkable Towns in Suffolk
Babylon's walkability is bolstered by the convenient LIRR Babylon station just a few blocks from the village. This bustling town appeals to the fast-paced lifestyle of Manhattanites and it's proximity to great beaches draws those seeking a slower-paced, beach-town vibe.
Things to Do
Bubble Boutique & Learning Center
, owned by Babylon native Jenny Dellafranca, is a cool children's boutique that also offers creative classes. The newly opened Bubble East shop sells clothing and jewelry for mom and dad. Babylon Village Chamber of Commerce
hosts tons of events throughout the year
, and the Beatification Society hosts an
annual fair
in September. Theatergoers will love the newly renovated historic
Argyle Theatre
with a robust children's show lineup. Built in 1803, the historic
Conklin House
is a great why to explore the past. Argyle Park is minutes from the village and has a playground, a waterfall, and lakeside trails that are open all year.
Eats and Sweet Treats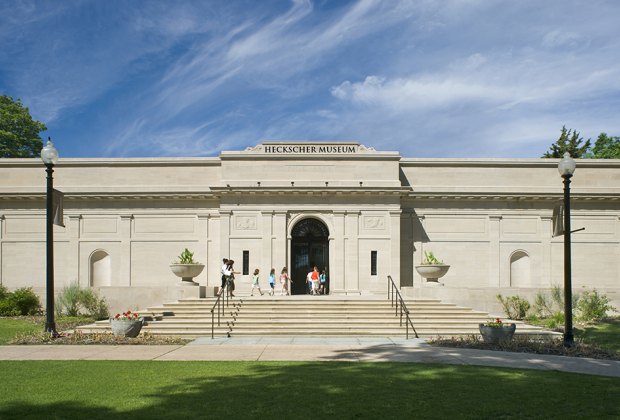 Amid blue skies brushed with clouds, Heckscher Museum of Art in Huntington welcomes visitors. Photo courtesy of Heckscher Museum of Art
Huntington Village is a family-friendly destination for daytrippers from all over Long Island, especially during the holidays and on weekends. The town has plenty of kid-friendly activites, from cool museums and shops, to restaurants and play spaces. There are also lots of fun, annual holiday events that the whole family will enjoy.
Things to Do
Heckscher Park
and
The Heckscher Museum of Art
are Huntingon highlights. The park is where many of the town's annual festivals are held, like the annual
Long Island Fall Festival
. The Heckscher Museum's two 55-inch touchscreens inspire children to create beautiful works of digital art. And finally, Heckscher Park's play area is great for kids of all ages.
Visit Long Island's largest independent bookstore,
Book Revue
, on New York Avenue. The children's area has a wooden fire truck reading nook, a display dedicated to local children's book authors, and an adjacent cafe with freshly baked cookies and specialty sandwiches.
The Paramount's
live family shows delight young audiences with top-quality entertainment.
Eats and Sweet Treats
Hatch
is a favorite brunch spot just off Main Street.
The Shed
has a good cocktail menu, lots of healthy (and unhealthy) menu options that kids will love, and the outdoor, picnic table seating is a bonus.
Old Fields Barbeque
serves up authentic bbq and comforting cornbread, and there's an old-fashioned phone box for the kids play in.
Munday's
offers kid-friendly breakfast, lunch, and dinner items; the restaurant's charm kicks into high gear during the holiday season with their over-the-top decorations. Families can play games and have drinks at
Main St. Board Game Cafe
. Satisy your chocolate craving at
Bon Bons Chocolatier
, and be sure to check out the back of the shop to see how the chocolate's made.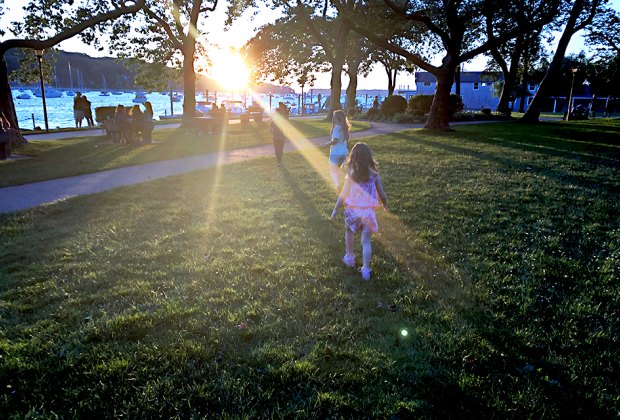 Families gather at Northport Park as the sun sets on the scenic Northport Harbor. Photo by the author
Northport Village's waterfront views and the quaint shops and restaurants along its Main Street makes this town a joy to explore on foot.
Things to Do
Located at the end of Main Street, Northport Park and Cow Harbor Park have play areas, pathways, and benches, making it the perfect spot to enjoy the scenic harbor. Be sure to check out the
John W. Engeman Theater's
spectacular productions for children, like
Flat Stanley
,
Frosty the Snowman, and The Little Mermaid
. From June through November, Northport has a robust
farmers' market
and the annual
Cow Harbor Day
celebrations, which include a 10K run, a parade, music, boating contests, food, and more.
Eats and Sweet Treats
Grab a hot tea and mouthwatering pastry at
Copenhagen Bakery
, or a gourmet grilled cheese sandwich from
Brew Cheese
and have a family picnic at one of the village parks. For a nautical-themed dining experience,
Tim's Shipwreck Diner
serves up classic diner fare (come prepared though, it's cash only).
Carl's Candies
will stop you in your tracks with their elaborate candy-creation window displays. If your sweet tooth aches for nostalgia, order a scoop of delicious homemade ice cream at
Northport Sweet Shop Luncheonette
, family-owned since 1929.
These days, Patchogue is more walkable than ever. Plus, the town's LIRR station is close to all of the restaurants, shops, and activities that Patchogue Village has to offer.
Things to Do
Eats and Sweet Treats
When hunger strikes, nothing beats the bbq at
Bobbique
. The cherished
Hometown Bake Shop
is perfect for a quick bite, be it sweet or savory.
Berry Good Yogurt Cafe
has 21 flavors of frozen yogurt and vegan sorbets with plenty of toppings to choose from.
Smallcakes Cupcake and Creamery
offers fun takes on old fashioned treats, like their pushpops (cupcakes layered in frosting) or the cupcake smash (ice cream sandwiched between a cupcake).
Port Jefferson, steeped in maritime history, is one of two ports on Long Island with ferry access to Connecticut. The 350-foot pier and pristine promenade along the shoreline are minutes from Main Street.
Things to Do
The
Long Island Explorium
celebrates all things STEM and is located in the historic Chandlery building. In the winter,
The Rinx
opens an ice skating rink in Harborfront Park. Soak up the maritime culture and history at the Port Jefferson
Village Center
and
Bayles Boat Shop
. Along the shoreline walk, you can't miss Port Jefferson's
instagram worthy Big Chair
.
Rocket Ship
park is fun to visit with toddlers and big kids.
The Charles Dickens Festival
, complete with Scrooge and Father Christmas, enchant Port Jefferson spectators every December.
Theatre Three's
children's theater offers sensory friendly performances, complete with house lights switched on, lowered sound, clean blankets and stuffed animals in the lobby for children who need a break, and an opportunity for audiences to meet the actors after the performance.
Eats and Sweet Treats
Sweet 'n' Savory
, on the corner of West Broadway and Main Street, serves up comforting rice pudding and a variety of sweet and savory crepes. You won't be able to walk by
Roger's Frigate
with the kids and not go in; it's the largest candy and confectionary shop on Long Island.
Joey Z's
has an the extensive menu that's perfect for families.
Pasta Pasta
and
The Pie
offer crowd-pleasing classics.
The Steam Room
is a local favorite for seafood, and the harbor views and outdoor seating certainly don't hurt.
Slurp Ramen
has rice bowls and ramen on the kids' menu.
Sayville's Summerfest carnival rides light up the warm night sky. Photo by Ryan Sweezey for the Greater Sayville Chamber of Commerce;
Most people just think of Sayville as the jumping off spot for Fire Island but it's also one of Long Island's most walkable villages. Sayville's seasonal festivals in Gillette Park (about a 10-minute walk from the Sayville LIRR station) shouldn't be missed.
Things to Do
Eats and Sweet Treats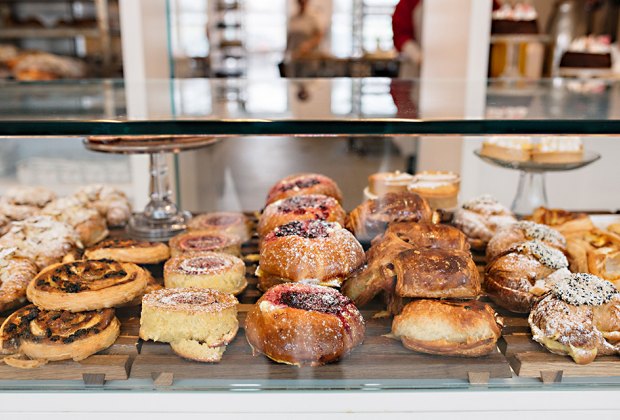 Carissa's Bakery in East Hampton displays delectable baked goods, fresh out of the oven. Photo by Jen Satinsky for Carissa's Bakery
Most Walkable Towns in East End
Though the
Hamptons
are best known as summer destinations, East Hampton's Main Street is easily enjoyed year round.
Things to Do
The 24-acre
East Hampton Village Nature Trail
is just a few minutes walk from Main Street and is a great spot for birdwatching.
Petit Blu
toy store has a fine selection of children's apparel and imported toys, as well as fun events like super slime Saturdays and drop-off movie nights (for children ages 7-14).
Stevenson's Toys & Games
carries both nostalgic and modern toys and gift wrapping is complimentary. East Hampton's rich history is kept alive by the
East Hampton Historical Society
. Built around 1723, the
Osborne-Jackson House
is currently closed for renovations so you can't take a tour, but it's still interesting to walk past and look at. Finally, if the weather isn't cooperating, nothing is better than a tub of popcorn and a movie with the family—
Regal UA East Hampton
is located right on Main Street.
Eats and Sweet Treats
East Hampton eateries line Main Street and Newton Lane and are easily walked to from the East Hampton LIRR station.
John Papas Cafe
is a mainstay for locals and serves home-style Greek cuisine. Families can relax and enjoy themselves at
Blue Parrot
, a Tex-Mex restaurant.
Rowdy Hall
combines French Bistro with English Pub, with dishes like fish and chips and French onion soup—the lovely courtyard and fireplace in the dining room make everything cozy.
Sam's Bar & Restaurant
is family-run for three generations and perfect for families ready to tuck into pizza and other Italian fare. For a gourmet picnic, order a boxed lunch from
The Golden Pear
and venture off Main Street to
Herrick Park
.
Dylan's Candy Bar
is dream come true for most kids.
Carissa's Bakery
, on Newton Lane, serves fresh-baked breads, pastries, cakes, pies and more.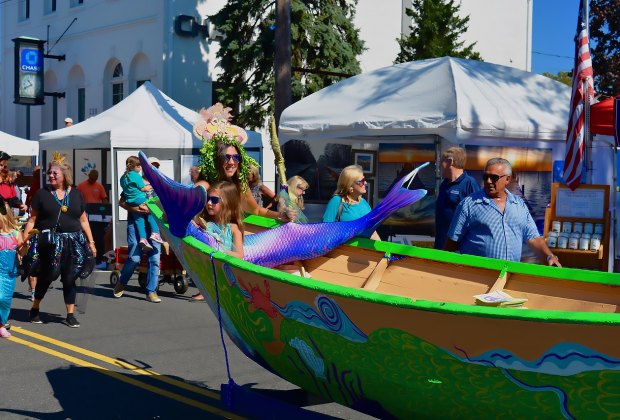 Mermaids float through the village in Greenport's East End Maritime Festival parade. Photo by Joe Maddalone for the East End Seaport Museum
Greenport
A favored historic North Fork village, Greenport is perfect for taking a family stroll. Greenport's walkable streets are nestled among waterfront views of Shelter Island and the Peconic River.
Things to Do
Children who dream of being a train engineer, firefighter or sea captain will love the Railroad Museum of Long Island, Fireboat Fire Fighter Museum and East End Seaport Museum. (Be sure to check the museums for closures and seasonal hours.) At nearby Mitchell Park's, children can run around and cool off under the misters. Tucked away next to the Schoolhouse Museum is the Village Blacksmith Shop; on weekends there's a blacksmith hard at work. Burton's Bookstore has a dedicated children's section and events include book readings from children's authors. Goldsmith's Toys & Electronics' rubber ducky collection and toys are a sight to behold. The Northrup-Grumman Carousel was built in 1920 and there are 36 jumping horses (18 of which are hand carved) and two sleighs to choose from. The much anticipated annual East End Maritime Festival celebrates local maritime heritage with delicious foods; local vendors and activities, including kayak races, a chowder contest and a classic wooden boat and ice boat exhibit. All of this fun is a short walk from the LIRR Greenport station, making this charming village the ultimate walkable destination.
Eats and sweet Treats
Children never seem to turn down pizza and the rustic 1943 Pizza Bar serves up wood-fired, brick-oven pies. Claudio's has several options: families can dine at Claudio's Waterfront, Claudio's Restaurant, Crabby Jerry's, or Claudio's Pizzeria. Little Creek Oyster Farm and Market offers the freshest oysters from their farm in the Peconic bay. For sweet treats, visit Hampton Chocolate Factory or Greenport Creamery (open seasonally) with over 20 flavors of homemade ice cream. Sweet Indulgences offers delectable candies and lovely gift items.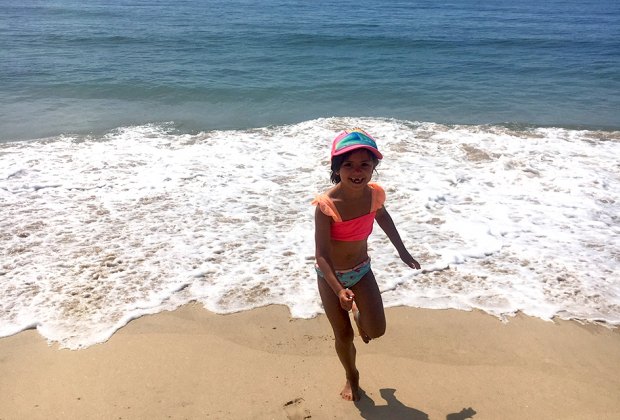 Nothing but sun and smiles at Montauk's breathtaking Kirk Park Beach. Photo by Stephanie Garrett
Montauk is at the easternmost point of Long Island's East End. Its known as The End and has something that every member of the family will love.
​Things to Do
Eats and Sweet Treats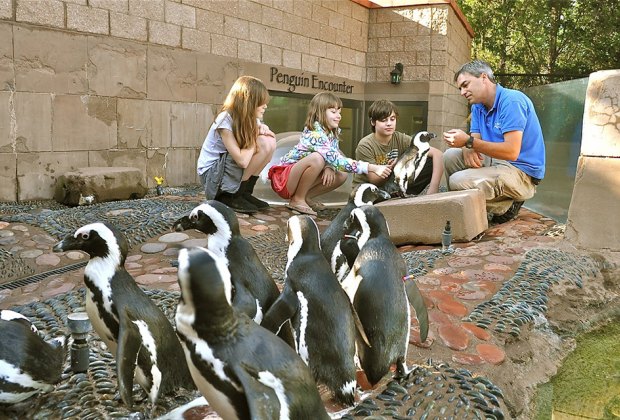 Children revel in this up-close interaction with penguins at the Long Island Aquarium's penguin encounter. Photo courtesy of Long Island Aquarium
Riverhead is a child's adventure waiting to happen. Riverhead LIRR station is nearby, so you can enjoy this bustling town without ever needing a car.
Things to Do
The
Long Island Aquarium
has nationwide recognition, and its more than one million gallons of water are contained right in the heart of the East End's Riverhead. Learn more about liquids and gases at the
Long Island Science Center
(at this writing the Center was temporarily closed). For annual celebrations, summertime heats up with
Alive on 25
, which includes fireworks, a classic car show, activities for kids, vendors, food trucks and, of course, live music;
Halloween Fest
packs downtown Riverhead with fun costumes.
Eats and Sweet Treats