8 Great Cooking Schools for Kids on Long Island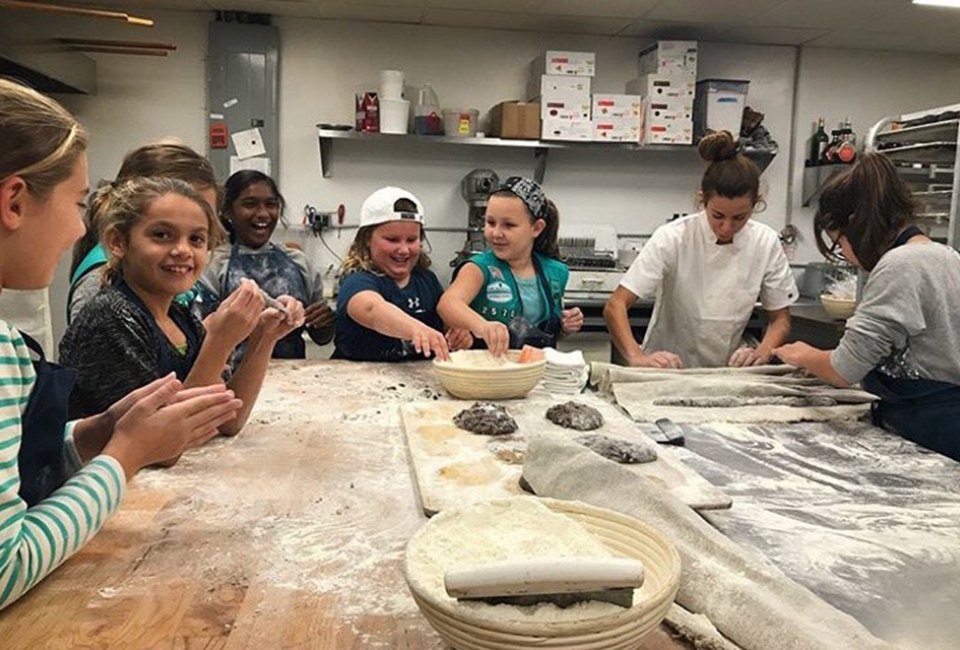 9/27/21
- By
Rebekah Yahoves
If you can't fry up cutlets without a few mini-folks scrambling into the kitchen, you might have some teeny chefs on your hands.
Here are some of the best cooking schools for kids on Long Island, where little cooks can hone their skills under the direction of experts. And while you're exploring creative corners, check out these 10 drop-in art locations for Long Island kids and our LI classes and enrichment guide.
The Best Cooking Schools For Kids in Nassau County
Following the pandemic, classes have switched to inside chef Polly Talbott's home. She now offers after-school cooking classes for two different age groups. Children 8-12 are offered a three-hour class on Wednesdays, while the12-17 age class is Thursdays. A La Carte also offers weeklong courses during summer, where children can create indulgences such as deviled eggs, cheese puffs, and risotto. Sign up for its newsletter to find out about monthly specials.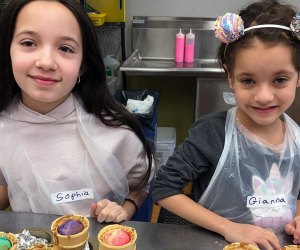 Make delicious cupcake cones at Celebrations in the Kitchen.
Celebrations in the Kitchen — Hicksville
Brilliant bakers ages 6 and older will get a tasty kick out of classes such as Classic Cupcake Baking and Decorating, where kids can experiment with icings, candies, and confections. Host a party where kids can make pizza, doughnuts, or cookie candy cottages. It also has to-go decorating kits for cookies, cakes, and cupcakes, with themes such as dinosaurs, unicorns, the beach, and more.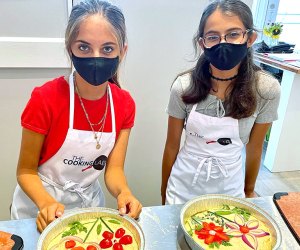 Food is both delicious and beautiful at The Cooking Lab.
The Cooking Lab offers after-school classes, single classes, and camps. Pick from baking or cooking classes, which run on different days of the week. You can book per class. After-school classes run in eight-week sessions, Wednesdays for kids in grades 3-5; and Thursdays for grades 6-8. Students learn cooking basics, such as knife skills, working from recipes, kitchen cleanup, and more.
While best known for its artisan breads and farm-fresh salads, The Flour Shoppe Cafe also offers cooking and baking sessions for adults and kids. Chefs in training create a meal and a homemade bread or pastry, which they can bring home along with the recipe. Kids' groups have mastered treats such as pizza and chocolate baguettes. Call the cafe to sign up for a class, or schedule a private session.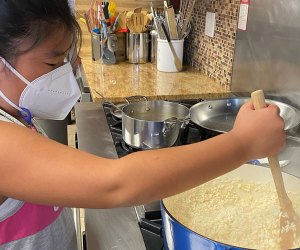 Mix up risotto at The Well-Seasoned Chef.
Located on New Hyde Park Road in Garden City, The Well-Seasoned Chef offers elegant parties and top-notch classes for culinary kids. Birthday boys and girls can choose from homemade pizzas with toppings, a mangia menu featuring fresh pastas and handcrafted ricotta, or a piquant fiesta with handmade tortillas and marinated chicken. Summer sessions introduce kids to knife skills, baking, grilling, and plating. Don't forget to sign up for the affordable cupcake decorating classes for kids ages 2 and up.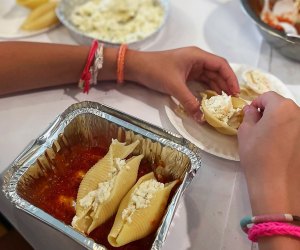 Learn how to bake stuffed shells at What's Cooking.
Situated on Oyster Bay's charming Main Street, What's Cooking allows kids to sign up for a series of 10 classes that can be attended weekly or monthly. Kids learn basic skills, including how to use a hand mixer and mandolin, as well as etiquette and nutritional lessons. During a 75-minute session, each junior cuisinier creates a main dish, side dish, and dessert, bringing home a copy of the recipe and food to share with the family. Older kids sometimes go "off recipe" and season and taste while they simmer. What's Cooking offers mommy-and-me classes for teeny tasters ages 2-4; junior chef courses for ages 4-7; great chef experiences for ages 8-11; and international cooking for ages 11-15. Kids also love its themed birthday parties, which include cupcakes with professional icing bags and personalized goodie bags to take home.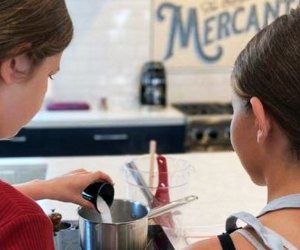 Mix-up the perfect sauce at Babylon Mercantile.
The Best Cooking Schools For Kids In Suffolk County
Babylon Mercantile is perfectly situated on Main Street in Babylon, surrounded by shops and restaurants. Classes are available for kids 10 and older. Depending on the class, kids learn to make a different dish; from dumplings, to burgers, to parfaits. Each class runs about 2 -2½ hours and prices vary.
The Baking Coach offers weeklong summer sessions for kids, supplying them with recipes for appetizers, bread making, frozen desserts, candy making, and more. It also apprentices their parents in learning fundamentals such as crescent roll appetizers, basic cake decorating, and basic fondant decorating.
Writer Gina Massaro contributed to this 2021 update.
Photos courtesy of the shops/cooking schools
Enter to Win!