Kids Track Down Clues at Interactive 'Typhoid Mary' Show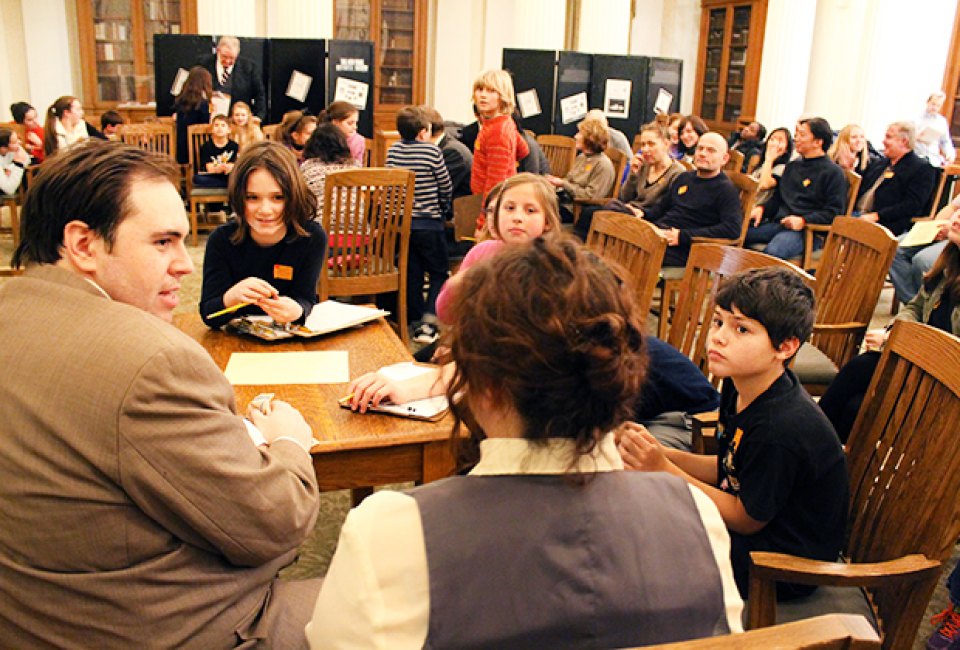 3/24/16
- By
Stephanie Ogozalek
Time travel is indeed possible, at least on specific weekends at the New-York Historical Society this spring. Families will journey back to Manhattan circa 1915 and a deadly typhoid outbreak thanks to the creative theater troupe, Live In Theater. This Drama-Desk-nominated acting company known for its interactive, historical whodunits, mounted The Pinkertonian Mysteries last year and returns to the museum with another fascinating slice of NYC's storied history—a look at the mystery behind the infamous "Typhoid Mary."
After The Pinkertonian Mysteries, I was expecting The Trial of Typhoid Mary to be a high-quality, interactive, historical adventure—and I wasn't disappointed. The just-opened show will play three more times through May 1, so don't miss out.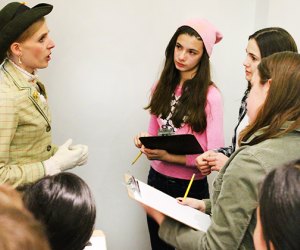 Kids interview "witnesses," take notes and otherwise investigate the circumstances of Mary's life and potential crimes.
The Trial of Typhoid Mary, like The Pinkertonian Mysteries, isn't traditional theater. Instead of watching the show passively from your seat in the audience, you're exploring the curious case of Mary Mallon, aka Typhoid Mary, as an active participant, traveling through the museum's galleries, interviewing witnesses to build a case for or against Mary, then finally sitting in the jury to determine her fate.

Not too much is known about the ill-famed Irish immigrant, who resided in lower Manhattan in the early 20th century. What we know is that she made her living as a cook for a number of well-to-do uptown households and wherever she cooked, an outbreak of typhoid followed in her wake. She was never sick from the disease; she holds the title of America's first Patient Zero or symptom-free carrier. Even so, she was deemed unsafe to work as a cook by the NYC Health Department and quarantined against her will on North Brother Island twice.
The Trial of Typhoid Mary takes place between these two episodes of quarantine, when she was released to the public and ordered not to cook, but instead of complying, changed her name, went back to the kitchen and caused another flurry of outbreaks. She was eventually caught and quarantined for life without a trial. This production lets Mary finally have her day in court, and as audience members, we were charged with deciding her fate: freedom or permanent quarantine.
RELATED: Splurge GoList: 10 Worth-the-Money NYC Experiences for Kids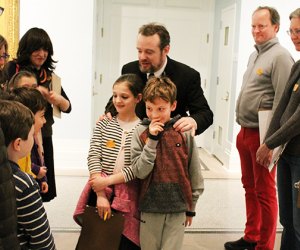 Families walk around, discover clues and engage with the show, rather than just sitting and observing.
As you enter the stately second-floor library at the New-York Historical Society—Sloane Hospital during the performance—you are drawn up in the moment by actors in period dress sharing current events and members of the press questioning us for interviews. The cook, a Mrs. Brown, is even there offering samples of her famous peach melba! The entire experience is two hours; the first hour is spent fact-finding and the second half is in the courtroom watching or participating in the dramatic trial.
My 11-year-old son, who hasn't been exposed to much of this roving style of theater, was completely engaged in the adventure, taking tons of notes and interrogating witnesses that included historic figures and fictional characters like an aristocratic suffragette, Mary's parish priest, the poor immigrant brother-in-law out for revenge and finally, Mary herself, with her cocksure attorney.
RELATED: A Nerdy Day Out in Japantown for Tweens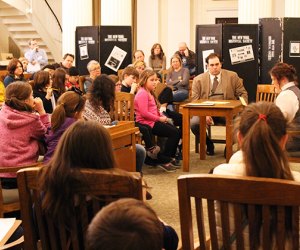 The audience observes but also participates in the trial, making the final recommendation on her sentencing.
When our investigation was complete, we traveled back to the library—now the courtroom—for the trial. The children in the audience chose either to assist the defense and prosecution attorneys, or take a seat on the jury. My family didn't know much about the Typhoid Mary story and were completely invested in the outcome of her trial, which will be different with each show. Our jury of children decided Mary was free to live her life outside of quarantine but implored her to use proper hygiene (including soap) while cooking to keep from spreading the disease. Too bad the real Mary wasn't so lucky.

The Trial of Typhoid Mary wasn't just entertaining, it was a great learning experience too. The show gave us a fun way to to explore a specific period of U.S. history and experience a bit of how our legal system operates. Considering the grisly subject matter, it is recommended for kids ages 8 and older.

The Trial of Typhoid Mary takes plays at the New-York Historical Society, located at 170 Central Park West (at 77th Street). Tickets are $45 per person and include museum admission. Book your tickets soon, because there are just three performances left.
Make a day out of it by visiting the newly opened The Art and Whimsy of Mo Willems exhibit while there.
All photos courtesy of DiMenna Children's History Museum, the New-York Historical Society.
Places featured in this article:
---
The New-York Historical Society