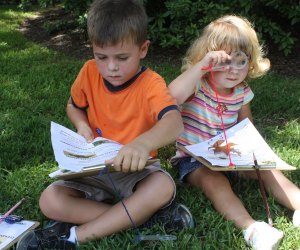 14 Things To Do in Houston With Kids Before Summer Ends
Summer is quickly drawing to a close, so it's time to squeeze in as much seasonal fun as you can before the back to school grind begins! My oldest is starting his last year of preschool in the fall (cue the tears), and in an effort to make sure we have as much fun together as possible before he starts his last year as a toddler (can I still call him a toddler? Please say yes!), I've started compiling a list of activities and events that we can do to take advantage of our fleeting time together. If you're in a similar situation - or you just need to keep the kids occupied and out of the house for a few days a week - this summer bucket list of sorts is exactly what you need because most of these events won't be available in the fall!
Want even more ideas? Then be sure to check out our summer fun guide for Houston kids.
1. Dinosaurs at the Houston Zoo: Life-size dinosaurs have taken over the Houston Zoo... and they're BIG. Come to see these larger-than-life animatronic creatures before they leave on Sept. 2, 2019.
2. Free outdoor movies: Enjoy your favorite flicks on an outdoor big screen this summer. Don't forget your picnic blanket and chairs.
3. Kid Krazy Mondays at Kemah Boardwalk: Give summer one last "hoorah" by heading down to Kemah Boardwalk on Mondays. Discounts include half-price all day ride passes, $5 Beast tickets, and $2.99 kids meals. These promotions run through Aug. 13 for kids ages 12 and under.
4. Kroger Family Sundays with the Houston Astros: Kroger Family Sundays offer a little extra incentive for spending the day at the ballpark cheering on our Houston Astros. Packages include four tickets to the game, four hot dogs and four sodas, plus an afternoon of baseball family fun!
5. Action-Packed Summer at CMH: Kids become the star of their own cinematic adventure at the Children's Museum of Houston's Action-Packed Summer. You can enjoy a variety of movie-themed events and activities through Labor Day at this epic experience.
6. Splish splash into summer fun at one of Houston's numerous free splash pads: With nearly 30 FREE splash pads making our favorites list around the city, there is no shortage of spray parks to run, jump, and cool off at before summer's end.
7. Detective Days at Bayou Bend: Unlock your inner sleuth and get ready to solve some mysteries when you partake in Detective Days at Bayou Bend. Follow the clues to solve seasonal riddles around Bayou Bend Collection and Gardens while learning about horticulture, art, design, and American history. Recommended for ages 6 and up.
8. Kids Bowl Free: Kids get two free games of bowling per day (!!) over the summer when signed up for "Kids Bowl Free," an initiative designed to give back to the community and ensure kids always have a safe, fun activity to participate in over the summer. Dates vary by location.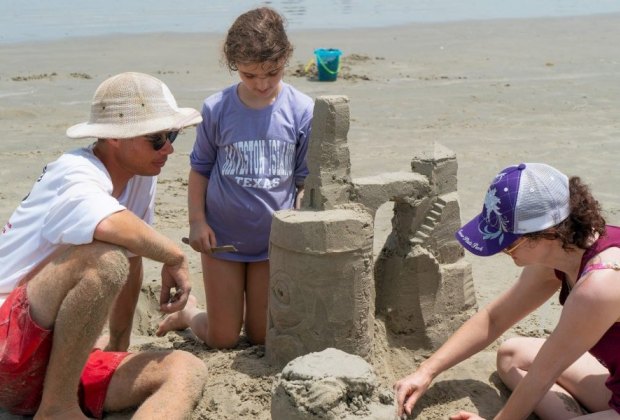 Learn how to build the perfect sandcastle at Stewart Beach.
9. Sandcastle Building Lesson at Stewart Beach: Grab your sand pails and shovels and head to Stewart Beach on Saturdays throughout the summer for free, family-friendly sand castle building lessons from the pros. Lessons are held through Aug. 17, 2019.
10. Candytopia: Experience the ultimate sugar rush at pop-up museum/interactive experience Candytopia. Located inside the Mar-Q center, this over-the-top exhibit won't be here for long. Kids will love the wild rooms and free candy.
11. Apollo's 50th Anniversary: Celebrate and honor the 50th anniversary of the moon landing at Space Center Houston where you can see authentic artifacts from the space shuttle and more.
12. Cheap movies: Enjoy a big on the big screen at area theaters for just $1! (Sorry, snacks are still going to cost you a fortune.)
13. Solar-powered piano fun: Head to Levy Park for Public Piano Play - anyone can flex their fingers on the park's solar-powered piano! Also, this park is one of our favorites in the city, so it's always worth a visit.
14. Family bingo night: The Recreation Center at Rob Fleming Park hosts family bingo night periodically during the summer. We all know family game nights can turn tense, but who doesn't love a great game of bingo?! (It sure beats arguing with my toddler aout who won in our recent round of Candyland.)
Top image: Solving mysteries during Detective Days at Bayou Bend/Photo courtesy of the Museum of Fine Arts, Houston.