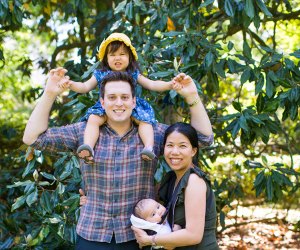 Father's Day Ideas Houston Dads Will Actually Love
He ties shoes, fixes every broken toy, plays ball in the backyard, always knows how to make mom smile... and he is easily one of the hardest people to shop for. Dad is a superhero in his own right, and with Father's Day right around the corner, it's time to start brainstorming ideas to let dad know just how much we appreciate him. This Father's Day, we recommend giving dad the gift of a fun experience and quality time.
Whether the dad in your life is active or into the arts, is someone who appreciates fine dining and a superb wine or wants to spend the afternoon outdoors with a cold beer and crawfish, we've got you covered with fun Father's Day events spanning all of Houston - from Kemah to The Woodlands and back.
Kemah Boardwalk
Spend the day riding amusement rides, playing arcade games, and being a kid at Kemah Boardwalk. As a bonus, dads get a FREE All Day Ride Pass on Father's Day with the purchase of another All Day Ride Pass.
Crawfish at Southern Star Brewing Company
If Dad likes live rock and roll music and craft beers, then look no further than Southern Star Brewing. Satisfied Drive is coming to the brewery for an afternoon of jamming out while Dad kicks back and relaxes.
Visit a local brewery
Houston has no shortage of local craft breweries to visit, most with great outdoor patios and play areas for the kids, and Father's Day is an ideal time to let Dad kick back with a cold one while the kids burn off some energy.
Get out of town for the weekend with a Texas Road Trip
Get out of town for the weekend without leaving the state by visiting one of these awesome Texas destinations with Dad. Whether you're hauling a RV or just trekking across the great Lone Star State because of the enjoyable drives, there are a number of places to go with attractions along the way.

Running the Dad's Day 5k with a smile/Photo courtesy of Tex US TOO
Dad's Day 5k - June 16
If Dad is a runner, the Dad's Day 5k is one he'll definitely want to lace up his shoes for and run. The race has been going strong for the last 19 years and serves to increase awareness about prostate cancer and raise funds for local education and support. Post-race, families are invited to enjoy fun, food, music, awards and door prizes.
No Label Brewing 5k - June 16
Another annual Father's Day weekend 5k, the No Label Brewing 5k offers the best of both worlds: starting the morning off on an active note and kicking back after with an ice cold craft beer. Runners will receive a commemorative glass, a tech shirt and a tasting that includes four craft beers. Non-runners can purchase a tasting after the race, food trucks will be on site for some post-race refueling, and the kids can expend some energy at the brewery's new playground.
Hit the Trails
For all the trail lovers out there, there are plenty of family-friendly ways to get off the beaten path and do some exploring via foot or bike. Just make sure you wear plenty of sunscreen and bring lots of water, because it's almost guaranteed to be h-o-t.
Kayak at Kinder Lake
Get out on the water and enjoy a leisurely paddle around Kinder Lake with Dad, then stick around and enjoy all the other activities Discovery Green has to offer. Looking for a paddle trip that's a little more adventurous? You'll want to check out some of the other paddling trails around town.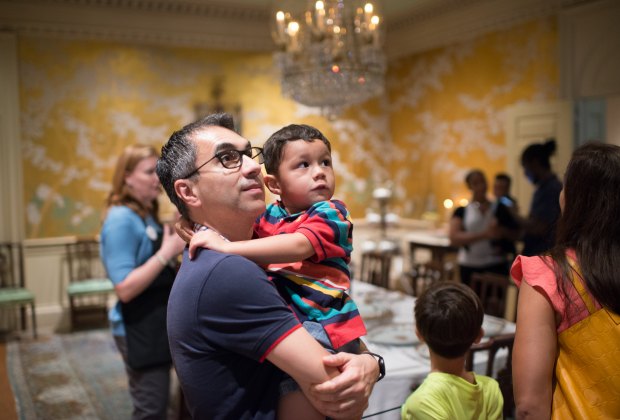 Touring the art collections at Rienzi/Photo courtesy of Cameron Bertuzzi/Museum of Fine Arts, Houston
Bayou Bend & Rienzi Tours
Art enthusiasts can spend the afternoon exploring the Bayou Bend Collection and Gardens or the Rienzi Collections and Gardens in Houston's River Oaks district, then treat Dad after to complimentary treats at each. As a bonus, all dads and grandpas get in FREE on Father's Day.
Fishing & Fun with Dad for Father's Day at Oil Ranch
Celebrate Father's Day with Dad early by taking advantage of all that Oil Ranch has to offer. Fish, compete at the Texas OK Corral, rope a calf, test Dad's golf skills, and more, then finish it off with a barbecue lunch at the General Store.
Father's Day Kayak Date
Take Dad on a Father's Day adventure this year with a special kayak date on Lake Woodlands.
Sugar Land Skeeters
Take Dad out to the ball game! If Dad is a baseball fan, head out to the ballpark for some minor league baseball fun. As a bonus, Constellation Field has a ton of kid-friendly attractions, like a splash pad and playground for any time they need a break from sitting in the stands.
Outdoor GoKarts
If Dad is an adrenaline junkie, then take some speedy laps around the track at one of Houston's outdoor gokart racing centers. Just make sure to check each for their individual hours.
Top photo courtesy of Cameron Bertuzzi/Museum of Fine Arts, Houston
This post originally published in May 2017.