13 Best Waterparks and Amusement Parks for Toddlers near Houston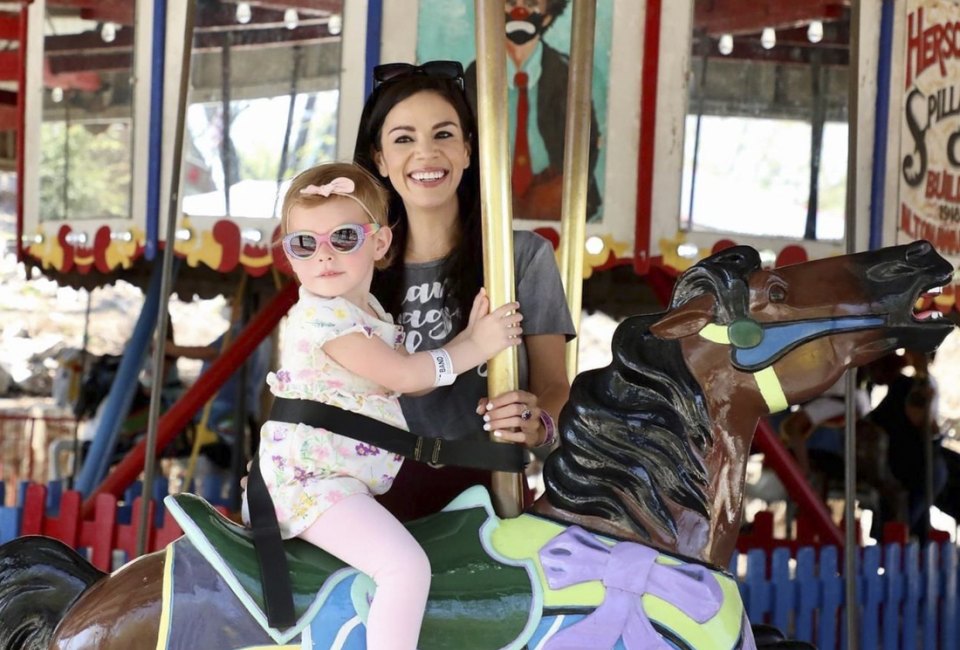 5/8/22
- By
Rebecca Matheson Ortiz
If you're a thrill-seeker looking to introduce your little ones to the world of theme parks, we've found just right ones for an introduction to water parks and amusement parks for toddlers near Houston. We've rounded up 13 of our favorite amusement parks for toddlers near Houston that are perfect for little ones to get in on the action. From Houston's hot (cool?) spots, including Typhoon Texas Waterpark and the Kemah Boardwalk, to amusement parks that are worth a weekend stay, like the ultra-accessible Morgan's Wonderland in San Antonio and the indoor Great Wolf Lodge waterpark near Dallas/Fort Worth, you're sure to find high-flying fun that's perfect for everyone in your family.
Don't forget to check out our Houston Water Parks and Theme Parks Guide for more kid-friendly, thrill-seeking fun.
Daytrip Waterparks and Amusement Parks for Toddlers Near Houston
Set your sights on Typhoon Texas Waterpark for rip-roaring summer fun even the littlest family members can enjoy. Along with all the usual waterpark amenities like a wave pool, thrilling slides, and scream-inducing chutes, this Houston-area park is the perfect place to cool down with your toddlers. Kiddos as young as 3 can have a blast at The Gully Washer, a four-story play structure complete with seven slides, 100+ spray areas, and more. Little tykes can splash around at a brand-new splash pad; and the Buckaroo Bayou is the perfect spot for the tiniest tots to slide and play. The activity pool and Lazy T River are great fun for everyone in the family.

Pleasure Pier is an amusement park near Houston. Photo courtesy of the Galveston Island Historic Pleasure Pier
One of the closest amusement parks to Houston, the iconic Pleasure Pier makes for a perfect daytrip with the kiddos this summer. Along with high-flying big-kid fun that swings thrill-seekers out over the Gulf of Mexico, this family-friendly spot also features pint-sized carnival rides, like a carousel and spinning tea cup attractions, to get the giggles going for your smallest adventurers. Games, shopping, and restaurants are abundant, making it a one-stop-shop for a perfect summer day the whole family can enjoy.
Prepare to get soaked at Hurricane Harbor Splashtown, where little ones can play like the big kids at the interactive Coconut Bay children's area that features its own gentle body slides and twisty chutes as well as a play area. At the three-story Tree House, kids can climb net ladders and swoosh down slides as they brace for a big downpour from a 1,000-gallon bucket. The rest of the park has action-packed rides so that parents and older siblings can still get their fill of fast-paced fun in the sun.

Ride the Hypno-Spin at the at the Kemah Boardwalk, photo courtesy of the park
Spend the perfect day with your tots at the Kemah Boardwalk, where they can get in on the action on carnival rides, like a mini Ferris wheel, or ride a replica train as well as partake in some extra-special family activities. Board the Boardwalk Beast thrill boat with your preschoolers (minimum height 36") for a heart-pounding ride in Galveston Bay that is guaranteed to make a splash; or get up close and personal with stingrays at the Stingray Reef and Rainforest Exhibit, where kids can get their hands on these incredible creatures for an experience that they'll never forget. Shops and restaurants abound on the Boardwalk, making it a perfect destination for a day spent with your favorite youngsters.

Schlitterbahn is a great summer amusement park adventure. Photo courtesy of the Schlitterbahn Waterpark in Galveston
Pack up your coolers and plan a fun-filled day at the waterpark at Schlitterbahn in Galveston. Snag a shaded table in the covered Wasserfest Kids Area, where you can unpack a picnic (yep, coolers from home are always welcome!) as the kiddos climb on a pirate ship play structure and splash in the wading pool. To get some sunshine in, the Tiki Tikes, Torrent Beach, and Treasure Island play areas and pools are the perfect spots to splash and slide with toddlers in tow. Another perk of this waterpark is that parking is always free!
A hybrid between a waterpark and amusement park, this fun-filled family destination just outside of Houston is a perfect spot for parents to play with toddlers and preschoolers. The waterpark section boasts slides and a lazy river that are great for the whole family. The exciting and unconventional Wild Isle waterpark section features giant inflatables on a lake for guests 42" and taller to bounce, climb, and slide on. Attractions on dry land include a petting zoo, fairgrounds with carnival-style rides that will leave your toddler squealing with delight, a maze, a catch-and-release cane fishing pond, and gator and tortoise interactions.
Great Texas Amusement Parks for Toddlers for a Fun-Filled Family Getaway
Fiesta Texas is best known for its twisting, plunging roller coasters, but it also has a lot to offer for families toting small children. Send little ones safely soaring through the sky on a school bus ride with Daffy Duck or 20 feet in the air on the kid-friendly Buckaroo ride. Take them for a spin along the Rambling Road or chug along on the mini choo choo train for some tame transportation. Classics like a merry-go-round and Ferris wheel add to the fun; and a pirate ship play zone offers a shady spot for tots with rope ladders and slides.
Leave the sunscreen at home and beat the Texas heat when you bring the family to this cabin-in-the-woods-themed lodge for a weekend getaway in the Dallas/Fort Worth area. Book a room or visit for a day and explore the fun of one of the largest indoor waterparks in Texas. Clamber to the top of Fort Mackenzie, a four-story water-fort tree house, with your little ones and prepare for fun as they engage kid-activated splash features before sliding down the Totem Tower body slides. The Whooping Hollow Playground features soft slide features, and the Cub Paw Pool is the perfect spot for tiny tykes to chill in the water.

Grovers Round-Up at Sea World San Antonio, photo courtesy of Vicky Li Yip
SeaWorld is a wow-worthy amusement park that touts interactive animal exhibits along with high-flying fun and kid-friendly attractions. After learning about sea lions, beluga whales, penguins, sharks, and more at shows or exhibits, take your kiddos over to the three-acre Sesame Street Bay for meet-and-greets with beloved characters like Big Bird and Elmo. Here, you'll find a children's paradise with a splash pad, carousel, and carnival rides, like a tot-friendly steel roller coaster. For the littlest ones (3 and under), the Tot's Ahoy playground offers a safe and age-appropriate space for exploration. As a special treat for 2022, all children 5 and under are eligible for free admission all year long.

Morgan's Wonderland is known for being ultra-accessible for people of all abilities. Photo courtesy of the park
Morgan's Wonderland is an amazing, inclusive theme park that's known for being ultra-accessible for people of all abilities. It features 25 accessible attractions on 25 acres. From waterproof wheelchairs to a sensory village, this park has something for everyone – no matter what. Swing into the sky in a wheelchair-friendly swing ride or cool off on the splash pad after a rousing riverboat ride. An all-abilities playground lends to imaginative play before a ride on the carousel that's perfect for toddlers (and everyone, really).
This 212-acre amusement park is an excellent spot for adventure-seekers to hurtle through the air at high speeds on top-notch coasters and heart-pumping rides. But that doesn't mean it's not also the perfect place for a toddler or preschooler. In the Bugs Bunny Boomtown section of the park, you'll find 10 attractions built for little ones along with a playground, costumed Looney Tunes characters, shady spots, and thrilling rides, like the Taz Tornado Swing and Bugs Bunny Cloud Bouncer. The whole family can enjoy the Boomtown Depot authentic steam engine tour, a ride on the 1928 carousel, and a swirling-good time on a giant sombrero ride.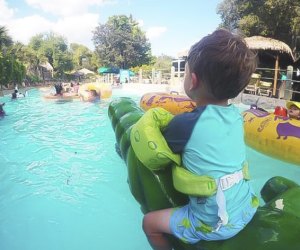 Riding an inflatable alligator down the lazy river at Schlitterbahn Waterpark in Galveston. Photo by Carrie Taylor
With the world's largest collection of water rides, Schlitterbahn New Braunfels boasts 51 rivers, rides, slides, and chutes, lending truth to this park's well-known slogan of it being the "hottest, coolest time in Texas." Spend a weekend exploring this park with your whole family, making sure to stop in at the many water playgrounds perfect for toddlers that are scattered throughout the destination. Enjoy the magic of standing under a spraying mushroom, slide down the tentacles of a friendly octopus attraction, and enjoy a sweet treat with the costumed dachshund mascot, Schatze, in the pup's eponymous park. Many of the Comal River-fed water rides and chutes are fun for everyone in the family, from tots to teens.

Kids will love the vintage boat ride at this San Antonio institution. Photo courtesy of Kiddie Park
Claiming to be America's oldest amusement park, this San Antonio institution has been open since 1925 and is the perfect playspace for kids between the ages of 1 and 12 (and their parents, of course)! Now run by the San Antonio Zoo, the well-maintained rides are all original to the 1920s, lending to a vintage vibe the kiddos will love. Take a spin on the hand-carved Herschell Spillman carousel, a flying saucer, and an old-fashioned Ferris wheel before refueling at the snack bar.