World's First All-Accessible Splash Park Is at Morgan's Wonderland in Texas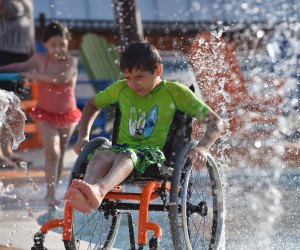 You read that right: the world's first water park made entirely for guests of all abilities is a short drive away from Houston, in San Antonio, Texas. Of course, Houston kids are already fortunate to have a whole bunch of exciting water park options nearby, not to mention several local splash pads for a hot summer day, but for some kids these may be hard to access or even a little overwhelming. So how lucky are we to have the innovators at Morgan's Wonderland right in our back yard, creating the magnificent and unique Morgan's Inspiration Island—and providing it free of charge for kids with special needs?
Morgan's Inspiration Island is the seasonal portion of the Morgan's Wonderland theme park, and it overlooks Wonderland's eight-acre fishing lake. The $17-million water park features a seven-story lighthouse with a rotating beacon and has rides for kids of all ages, like the River Boat Adventure and numerous splash and play areas. And best of all, the entire park admits anyone with a special need free of charge.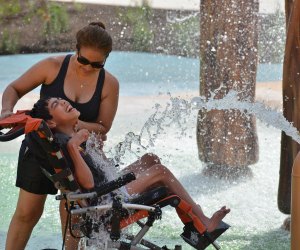 "Like Morgan's Wonderland, Morgan's Inspiration Island is not a special-needs park; it's a park of inclusion," says founder Gordon Hartman. Hartman is the founder of The Gordon Hartman Family Foundation, which is the nonprofit behind the Wonderland theme park and now Inspiration Island.
Both parks have wheelchair accessible rides and utilize a wristband safety system to help parents; waterproof wristbands are given to children so caregivers can visit a Location Station to easily track down members of their party. (I need this for my toddlers in every new store/park/restaurant we visit.)
RELATED: The DoSeum: San Antonio's Hot Spot for Kids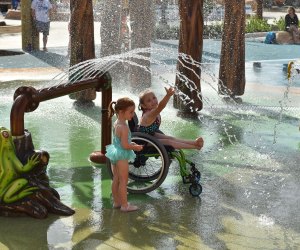 There are also Morgan's Inspiration Island PneuChairs available at a first-come, first-served basis for guests who cannot afford to get their battery-powered wheelchairs wet. Traditional push strollers are available to rent as well.
The park is open daily from late May until mid-August, and then is open only on weekends through September. Guests should purchase tickets online.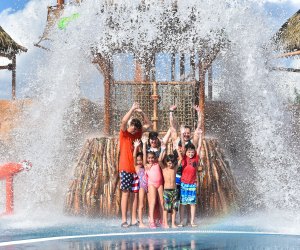 To read more about Morgan's Wonderland, which opened in 2010, and its additional efforts to support individuals with special needs, check out its website. But all of this to say, it seems like we've added another reason to our list to schedule a family road trip to San Antonio!
Note that in 2021, masks are required at all indoor areas of the park, and strongly encouraged in outdoor areas as well, to keep everyone safe.
All photos courtesy Morgan's Wonderland/Robin Jerstad - Jerstad Photographics
This post was originally published in 2017 and has been updated since.