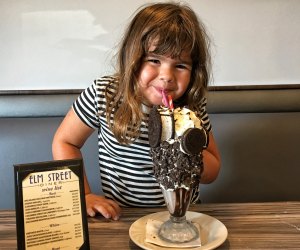 Freakshakes - More Than a Milkshake
In my house, we like to mark big occasions with a special little treat. Last day of school? Let's get a donut! First day of school? How about a milkshake? But, sometimes not just any old milkshake will do. Sometimes you need to go big. Sometimes it's a REALLY big occasion that needs you to go so big that your milkshake needs its own zip code. Connecticut has a rich variety of ice cream parlors (check out our favorites in New Haven, Fairfield, New London, and Hartford) and over-the-top food experiences from Insane Ice Cream to a Chocolate Trail. The latest wave of Frankenfoods to sweep the Nutmeg State seems to be Freakshakes.

What makes a Freakshake different than all the other milkshakes? Well, for starters they are HUGE! But, other than its sheer size, Freakshakes all seem to have the following characteristics: they are milkshakes, topped with copious amounts of whipped cream, topped with over-the-top garnishes (think entire pieces of cake and candy bars), topped with sauce, with a few extra garnishes thrown on for good measure.
Cream & Sugar - Bethel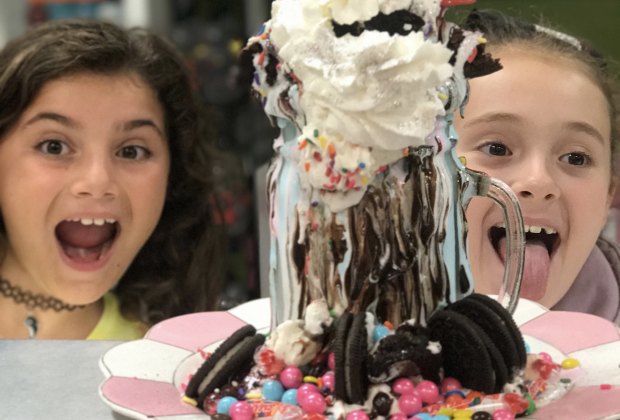 Two friends enjoy a Brownie Shake with unicorn and ring pops and candy add-on at Cream & Sugar. Photo courtesy of Cream & Sugar.
You can't even talk about Freakshakes without someone mentioning "that little place in Bethel"- and that is for good reason. Having just opened its doors in 2016, Cream & Sugar is relatively new to the scene. But, in a short amount of time, they have created a menu of seven highly customizable Freakshakes and a large following on social media. Their milkshakes are like edible works of art - complete with edible glitter. I almost felt bad eating one with its beautiful swirls of color and texture. We brought a small group of friends along to sample their 'Candy Crush Belly Buster' and we still had leftovers!
Killer B - South Norwalk
Killer B in SoNo has quite an eclectic menu - I mean, how many places will serve you an entire flight of bacon? But, if you venture to this SoNo gastropub then you better make sure you save room for one of their four Supershakes. Their Double Trouble comes in at an unheard of 40 oz and will cost you $25 (!) - I think it should serve up at LEAST four of your littles.
Sugar Factory - Ledyard
​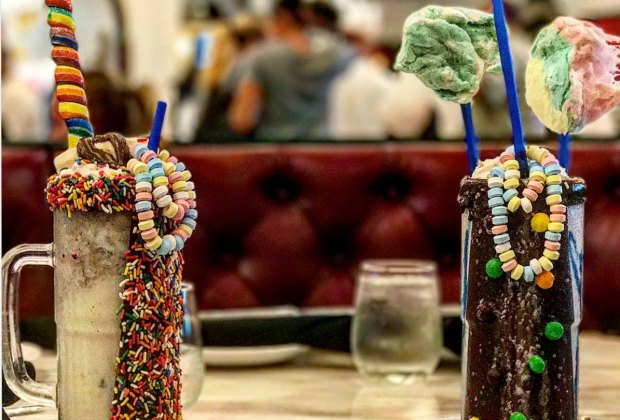 Two celebratory Insane Milkshakes at The Sugar Factory. Photo courtesy of dailyadventuresofme via Instagram
The Connecticut outpost of the Sugar Factory is located in Foxwoods Resort, but you can get your sugar fix at one of their 15 locations around the globe. Let's just start with the fact that this place is called the Sugar Factory - so you know you are going to exceed your daily calorie allowance just by walking through the doorsYou can pick from one of their 9 custom Insane Milkshakes - from Tie Dye Milkshakes complete with a candy necklace to the Bacon Cheeseburger Milkshake garnished with - you guessed it - a cheeseburger. There is a little something here for just about everyone
Elm Street Diner - Stamford
I started to notice all these crazy milkshakes popping up in my Instagram feed a little over a year ago. Having a serious case of FoMO (fear of missing out), I thought I was for sure going to have to drive to NYC to try one of these. I was super surprised to see that these milkshakes were being made right in my own backyard - Stamford. Not only that, but at one of my former breakfast spots - the Elm Street Diner! The Elm Street Diner has been in Stamford since 1987 and they have a pretty standard (and delicious) diner menu. Additionally, they offer Elm Street Crafted Signature Shakes. Make sure you follow them on Instagram to get the latest scoop on flavors!
Dippys Ice Cream and Cakes - Waterbury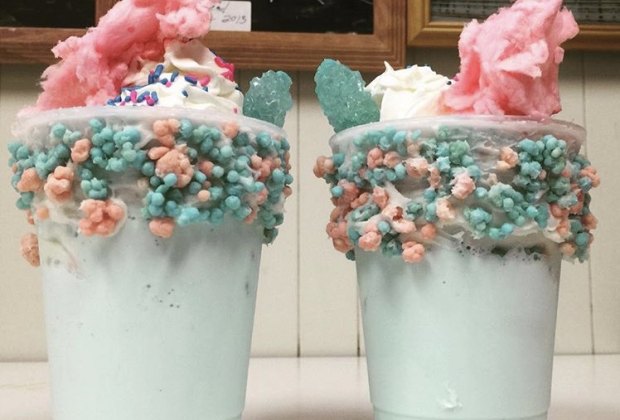 Two Avalanche Shakes at Dippy's! Photo courtesy of bee_knox via Instagram
Dippy's milkshakes start with ice cream made right on the premises - but, it's their Avalanche Shakes that really steal the show. Whether its swirls of blue ice cream, cotton candy or brownie garnishes with drizzles of hot fudge, these handcrafted concoctions will give you a sugar rush for days.
Cover photo taken at Elm Street Diner courtesy of Ally Noel.