Put a Scoop on It: Fairfield County's Yummiest Ice Cream Shops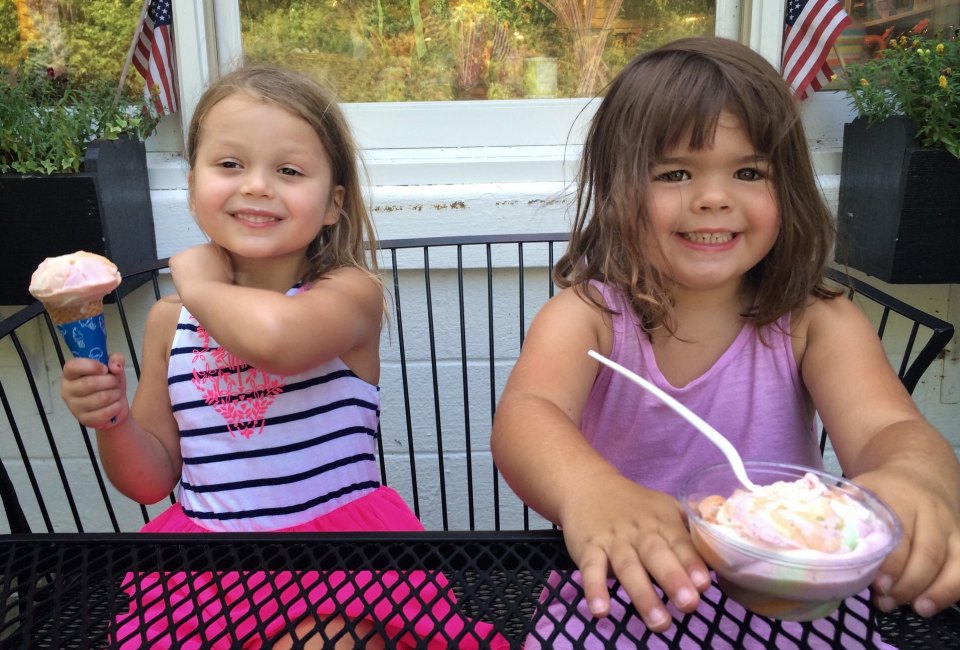 4/23/17
- By
Sheila Hageman
Ahh! The delicious agony of having to research the best ice cream shops in Fairfield County! And what a wonderful way to enjoy these hot summer days. Why not take time out for a quick trip to an ice cream shop that's more like a mini-vacation?
Of course, we all have our personal favorite ice cream shops from when we were kids. If we still live in the general vicinity, we may find ourselves being mysteriously drawn back to our ice cream memories. But how fun it is to find a new ice cream parlor we've never tried before on a Sunday afternoon as we explore neighboring towns! Here are a few places that you can just happen to pass by during your summer meandering. And if you happen to be in Farmington Valley, New Haven County or New London County, we've done roundups there, too!
Paradice Cream - Stratford
Directly across from Stratford's shady Paradise Green, this aptly-named sweet spot is as yummy as it is adorable. We are talking ice cream nachos, soft serve, hand-dipped shakes, Micalizzi's Italian ice, and candy by the pound. But the real highlight of this family establishment is edible COOKIE DOUGH! You don't have to be shy-- this place serves it by the bowlful! For straight up ice cream, favorite flavors include Swamp, Salted Caramel and Buck Tracks.
Timothy's Ice Cream - Bridgeport
Located in the Black Rock section of Bridgeport, the parlor has both indoor and outdoor seating. This is a favorite of the locals and finding parking can be difficult (only available on the street). The ice cream is rich and delicious, made on the premises. Each week they offer between 12-20 total flavors of ice cream, yogurts, and sorbets. Some of the constant flavors include French Vanilla, Sweet Cream, Dutch Chocolate, Oreo, Strawberry, Chocolate Chip, and Coffee.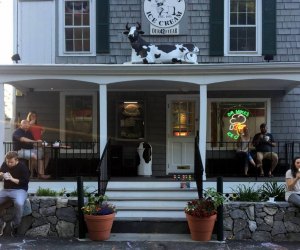 photo courtesy of Dr. Mike's
Doctor Mike's
- Bethel & Monroe
This tiny establishment in Bethel often has a long line out the back door and is home to what many claim to be the creamiest, richest, and biggest serving size ice cream. The chocolate lace ice cream is a favorite of many, with its wonderful chocolate candy crunch. They keep their flavor samples to between 6-8, but as soon as a tub is empty, they replace it with a different flavor. You can call ahead to see what is currently being served, or check out their Facebook page. Also, they serve only fresh, homemade hot fudge and whipped cream. Dr. Mike's also has a second location in Monroe that receives daily ice cream shipments from Bethel.
Ferris Acres Creamery
- Newtown
This is not just an ice cream shop, but a historical site. Ferris Acres Dairy Farm is home to the last commercial dairy herd in Fairfield County. With the addition of the creamery, it offers a unique opportunity for the public to get a glimpse of how one family strives to maintain a profitable farm in Connecticut. On your visit to eat ice cream you can also enjoy a view that includes farm animals, pastures, and fields. In addition to many exotic ice cream flavors offered daily, they also offer no-sugar flavors, sorbets, and frozen yogurt. Bring a hungry belly because these portions are huge! And unlike some other small shops, here—no cash, no problem—credit cards accepted.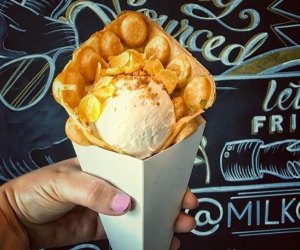 Milkcraft's famous bubble cone. photo courtesy of Ally Noel.
MILKCRAFT
- Fairfield
Oh! So you say you like your ice cream fancy? Well have we got the spot for you! MILKCRAFT in Fairfield definitely has a dedicated following -- and that can mean long lines. But where else can you dive into flavors like PBJ Roasted Banana, Strawberry Balsamic, Milk & Cereal or Miss Piggie Does Vermont? Only here (... or at the second Connecticut location in West Hartford).
Rich Farm Ice Cream Shop - Oxford
The shop is located on a working dairy farm and all the ice cream is made daily. They have an amazing list of everyday flavors, which is added to by alternating flavors of the day. This is fresh-made ice cream with raw milk and it's inexpensive and served in huge portions. Your children can visit the cows in the barn while eating their ice cream.

Wells Hollow Creamery - Shelton
This family-run farm offers more than 50 ice cream flavors. The ice cream shop also offers smoothies, flurries, soft serve, and Italian ice. Enjoy your treats in the 3,000-square-foot open air patio, then visit the cows and chickens. The ice cream shop resides in a rehabilitated chicken barn. It also hosts private birthday parties, which include an activity, farm animals, and "make your own sundaes." And while you're there, you can also purchase fresh produce to bring home, like sweet corn.
Sweet Ashley's -
Norwalk
This popular family-owned spot makes great ice cream cakes and takes custom orders. All ice cream is home-made daily and always fresh. Coconut and cookie dough are some of the favorites among some 40 flavors.
Dairy Queen
- Stratford
The most important feature of an ice cream shop seems to be the experience that goes with it. Nothing beats a Blizzard and Dairy Queen has a special Blizzard of the Month special.
Walnut Beach Creamery -
Milford
Ok, we are aware that Milford is not technically in Fairfield County. But Walnut Beach is SO good that it's worth the trip! Every batch of ice cream is made by hand using the best and freshest ingredients they can find. Enjoy your cone in their backyard garden, just one block from the beach. Parking is a on street and a total pain, so do your best and remember: ice cream is happening sooooon!
Don't see your favorite Farfield County ice cream shop listed here? For heaven's sake!! Don't hoard it to yourself! Share!
Originally published 5/15/15.