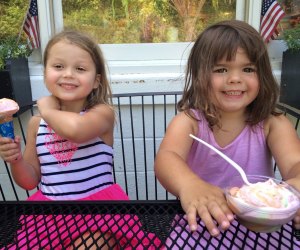 Put a Scoop on It: Fairfield County's Yummiest Ice Cream Shops
Ahh! The delicious agony of having to research the best ice cream shops in Fairfield County! And what a wonderful way to enjoy these hot summer days. Why not take time out for a quick trip to an ice cream shop that's more like a mini-vacation?
Of course, we all have our personal favorite ice cream shops from when we were kids. If we still live in the general vicinity, we may find ourselves being mysteriously drawn back to our ice cream memories. But how fun it is to find a new ice cream parlor we've never tried before on a Sunday afternoon as we explore neighboring towns! Here are a few places that you can just happen to pass by during your summer meandering. And if you happen to be in Farmington Valley, New Haven County or New London County, we've done roundups there, too!
Paradice Cream - Stratford
Directly across from Stratford's shady Paradise Green, this aptly-named sweet spot is as yummy as it is adorable. We are talking ice cream nachos, soft serve, hand-dipped shakes, Micalizzi's Italian ice, and candy by the pound. But the real highlight of this family establishment is edible COOKIE DOUGH! You don't have to be shy-- this place serves it by the bowlful! For straight up ice cream, favorite flavors include Swamp, Salted Caramel and Buck Tracks.
Timothy's Ice Cream - Bridgeport
Located in the Black Rock section of Bridgeport, the parlor has both indoor and outdoor seating. This is a favorite of the locals and finding parking can be difficult (only available on the street). The ice cream is rich and delicious, made on the premises. Each week they offer between 12-20 total flavors of ice cream, yogurts, and sorbets. Some of the constant flavors include French Vanilla, Sweet Cream, Dutch Chocolate, Oreo, Strawberry, Chocolate Chip, and Coffee.