Six Insane Ice Cream Creations You Must Try in CT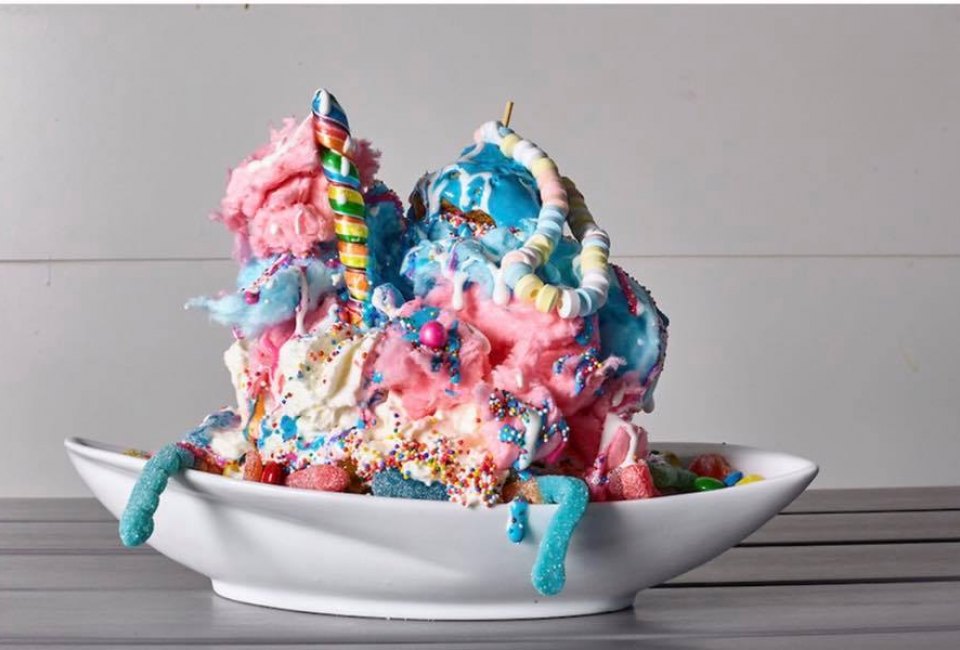 8/16/17
- By
Makayla O'Keefe
From fried to frozen, cone to cookie, these ice cream places offer some pretty crazy confections. Crazy delicious. We've rounded up some of the top contenders (through rigorous research, of course) for the craziest ice cream creations in Connecticut. And don't stop here. Check out our favorite ice cream parlors in New Haven, Fairfield, New London and Hartford.
Icy Rolls -- Granby
You've got your Coldstone. Your Carvel. Even your Fro-Yo. But, what about your Thai rolled ice cream? Yes. We did a double take when we first heard about this new trend shaking up the ice cream world, as we know it. Icy Rolls just recently opened in the Granby Village Shops plaza in Granby (also home to Starbucks and Wayback Burgers.) Icy Rolls is just the latest of ice cream shops to jump on the stir-fried ice cream bandwagon that has been spreading like wildfire across the industry. So what is it anyway? Starting the process with a very cold metal pan -- as in -18 to -35 degrees Celsius – they chop, mash and mix fresh fruit, candy or whatever other ingredients used to create your ice cream flavor creating what look like beautiful frozen crepes. The result is divine. Rich, creamy, melt-in-your-mouth goodness that looks as good as it tastes.
10 Hartford Avenue Granby 06035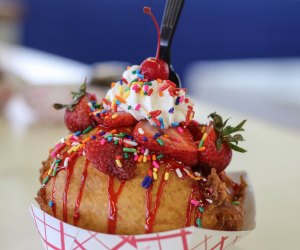 Photo courtesy of Drop & Fry
Drop & Fry – Stamford
I can remember when I first discovered fried ice cream at a hole-in-the-wall Mexican restaurant by the beach in my town. It was love at first bite. Creamy vanilla ice cream coated in a crispy cinnamon-sugar shell. It was delicious. But, long gone. Well, fried ice cream is a thing, again! Drop & Fry just recently opened in Stamford by locals, who came up with the idea to batter, drip, and fry Entenmann's pound cake-coated balls of ice cream. Since the beginning of summer, Drop & Fry has been serving up decadent ice cream indulgences like Rise of the Nutella with chocolate chip ice cream filled with Nutella, topped with hot fudge, and, more Nutella, or No Cookie Dough, cookie dough ice cream with a hot fudge center and cookie dough topping. The pound cake-coated possibilities are endless.
Cummings Beach 464 Shippan Ave Stamford 06902
0 Degree – Various Locations
Even those with the most discerning of palates will enjoy a taste of Thai on Middletown's Main Street. 0 Degree has rolled out the stir-fried ice cream concept in four locations in West Hartford, New Haven, Middletown and Storrs over the past year. In a process quite similar to that of Coldstone Creamery, who mixes in ice cream flavors and toppings on a frozen granite stone, 0 Degree creates made-to-order confections right before the customer's eyes. Pouring fresh cream over a cold slab of metal, mixing in whatever toppings you fancy (which is always, in our case, cookie dough), your ice cream maker will smear and scrape fresh ice cream until it forms thin strips, curling in to a spiral (or roll) that are then packed into a cup and topped (again) with whatever you fancy. They've got your traditional staples like Oreos, chocolate chips and fruit, but your not so typical Fruity Pebbles, toasted marshmallows and Nilla wafers. They've also got signature flavors like "I Love You A Latte" (coffee and condensed milk) and "Monkey Business" (banana and Nutella).
312 Main Street Middletown 06457
48 Whitney Avenue New Haven 06510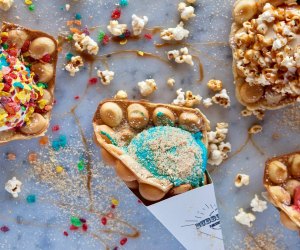 Photo courtesy of Milkcraft
Milkcraft – Fairfield, West Hartford
Handcrafting each ice cream cone to order, everyone, everywhere seems to be buzzing about Milkcraft. From its cow-to-cone seal to its pillowy house-made bubble waffle cone, Milkcraft offers some of the best ice cream you'll ever taste. Period. (It's also easily some of the most expensive ice cream you've ever bought but seriously worth every penny!) Behind the counter, Kitchen Aid mixers line the counter ready to whip up your order right before your eyes using liquid nitrogen while waffle irons are ready and waiting for the next cone to be ordered, to be served warm of course. With flavors like S'mores Campfire, PB & J, and Milk & Cereal, your kids will go bananas. And for you, try the Smokin' Choco de Leche that pairs chocolate with caramel and black flakes of smoked sea salt. Or, order a scoop to be topped with a house made glazed doughnut. You'll have died and gone to ice cream heaven.
1215 Boston Post Road Fairfield 06824
967 Farmington Avenue West Hartford 06107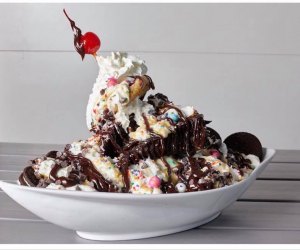 Photo courtesy of Cream & Sugar Cafe
Cream & Sugar Café – Bethel
With monstrous milkshakes dubbed "Freak Shakes," the lovely Cream & Sugar Café tucked in the heart of Bethel, must make it onto your bucket list. But be prepared, lines are long, sometimes with wait times of up to an hour. So what's a Freak Shake? Take the Belly Buster. It's made of chocolate and cookie dough ice creams, layered with chocolate chip cookie, slice of chocolate cake, a brownie, and ice cream cone, Oreos, chocolate sauce, and, lets not forget, whipped cream. Or the Crazy for Coconut. Toasted coconut ice cream, loaded with Mounds candy, coconut cookies, wafer rolls, chocolate chips and whipped cream. These shakes can take up to 10 minutes to create. And, they're all available as a sundae.
7 P T Barnum Square Bethel 06801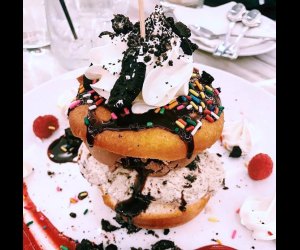 Photo courtesy the Sugar Factory
Sugar Factory – Mashantucket
Known for concocting insane creations like a 24-scoop sundae topped with sparklers and milkshakes crowned with an entire slice of cheesecake, the Sugar Factory at Foxwoods' is any sweet tooth's paradise. The dessert menu occupies about half of the restaurant's menu with an array of cakes, cheesecakes, gourmet ice cream sandwiches, and "insane milkshakes." But let's talk ice cream. The restaurant's iconic ice cream sundae "King Kong" is two dozen scoops of ice cream, covered in hot fudge, caramel and strawberry sauce, showered with candies, cookies, walnuts and waffle cones with sparklers atop the behemoth creation. Not that hungry? Try the gourmet ice cream sandwiches like the Peanut Butter Cup with peanut butter cookies, chocolate cream, and chocolate chips or the Rainbow Doughnut, a doughnut with cookies n' cream ice cream, chocolate ice cream, fudge and raspberry sauce, whipped cream, Oreo cookie crumbs, and raspberries. And really, you oughta try one of their Insane shakes. But, that's another story.
350 Trolley Line Blvd. Mashantucket 06338
Cover photo courtesy of Cream & Sugar Cafe
Sign up for the Mommy Poppins Newsletter today!
i