Mamaroneck With Kids: 25 Things To Do in This Charming Town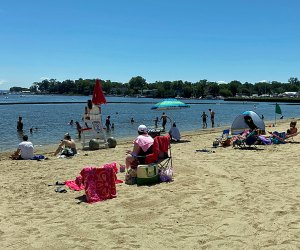 7/16/21
- By
Susan Miele
Situated on the Long Island Sound, the town of Mamaroneck offers waterfront recreation and a hearty downtown, all of it walkable and destination-worthy. Whether you're living here or just visiting, this desirable suburban community, encompassing the villages of Mamaroneck and Larchmont, packs plenty of family-friendly things to do.
The primary artery of Mamaroneck's business district is L-shaped: Mamaroneck Avenue, or the Avenue to locals, runs east to west and is loaded with shops and multicultural eateries. It intersects with Boston Post Road, which runs north to south along the Long Island Sound. While new businesses frequently arrive, a fair number have been entrenched for 50 to 100 years. The Mamaroneck Recreation Department offers inventive family programming year-round, and its harborfront park provides tons of summertime fun.
Read on for our favorite things to do in this charming waterfront town and find highlights of other local spots in our Guide to the Best Places to Live in Westchester and the Hudson Valley.
2. Order a Double Scoop
Budget time to contemplate the extensive menu at Ralph's Ices. Though ice cream and frozen confections are available, its eclectic menu of ices is impressive—with flavors like rainbow cookie, toasted marshmallow, chocolate peanut butter cup, and more.
RELATED: 25 Things To Do in White Plains With Kids

The Emelin Theatre puts on tons of family-friendly plays. Photo by Joan Marcus/courtesy of the theatre
3. Visit the Theater
Catch a family show at the Emelin Theatre, which typically includes about a half dozen page-to-stage adaptations for little ones throughout its season. Purchase tickets early, as these often sell out quickly.
4. Eat Homemade Mexican Frozen Pops
Savor a taste of Mexico with paletas in assorted varieties from Paleteria Fernandez. Familiar flavors are available, as are more exotic selections like soursop and hibiscus, and others.
5. Shop Small
Whether shopping for a bicycle, toys, baby gifts, a pinball machine, playground equipment, or just about any other plaything, Miller's—a two-level local shop established in 1908—is the go-to store.
6. Order the Donut of Your Dreams
Design your own confection at Duck Donuts.
7. Take in Some Cool Architecture
Pass by Seely's Skinny House, an architectural standout from 1932 rooted in Black history.
8. Eat a Hotdog Alfresco
Hit the most iconic institution in Mamaroneck: Walter's, a hot-dog stand in a pagoda that has been serving the town for more than 100 years. Order at the window and savor your feast at a picnic table in the back.
RELATED: 13 Kid-Friendly Outdoor Restaurants in Westchester

Harbor Island Park offers plenty of ways to cool off during a summer heatwave.
9. Explore Harbor Island Park
Run through the sprayground, build sandcastles at the beach, or play in the playground at Harbor Island Park. Visit in spring for photo ops among the cherry blossoms.
10. Search the Toy Box for Treasures
The Toy Box is a great destination for gifts and rewards. Aisles and aisles of fun invite leisurely browsing.
11. Get Outside
Scope out the many parks and playgrounds in Mamaroneck to find basketball courts, play equipment, nature trails, and more.
12. Grab a Slice
What Walter's is to hot dogs, Sal's Pizza is to a slice. Though merely half the age of Walter's, this pizzeria has been a Mamaroneck staple since 1964 and is often touted among locals as the best pizza in Westchester.
13. Hit an Open-Air Event
Partake in the many town-run recreation activities, like free outdoor summer concerts, school-break activities, camps, movies on the beach, block parties, and much more. Many are open to both residents and nonresidents.
14. Enjoy Italian Sweets
Cap off lunch with an old-school Italian pastry or cookies from Boiano Bakery.
RELATED: Parks and Playgrounds Guide for Westchester Kids

The Annual Fireman's Carnival is a rite of summer in Mamaroneck. Photo courtesy of the Mamaroneck Fire Department
15. Celebrate Carnival
Kick off summer with the Annual Fireman's Carnival, a week-long event that runs from late June through early July; it happily coincides with the 4th of July parade and fireworks display.
16. Go to an Old-School Diner
Expect traditional diner food at the go-to Nautilus Diner.
17. Hit the Ice
Go skating at Larchmont's Hommocks Ice Rink…
18. Take a Dip
... Or swimming at Hommocks Pool.
19. Create a Yogurt Masterpiece
Make your own concoction at Cherry Tree Frozen Yogurt with its fun assortment of flavors and toppings.
RELATED: 100 Things To Do With Westchester Kids Before They Grow Up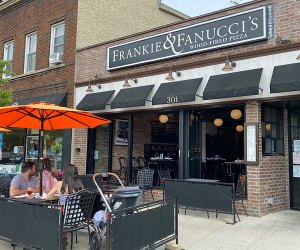 Classic Italian fare is on the menu at Frankie and Fanucci's. Photo by author
20. Eat More Meatballs
For casual Italian fare, Frankie & Fanucci's offers a relaxed setting for families (and mouthwatering meatballs). Gluten-free pizza and pasta are on the menu.
21. Paddle Around
Sign up for tours or instruction in kayaking and stand-up paddleboarding.
22. Go Cookie Crazy
Sample the various flavors and colors at Milk N Cookies, including blue Cookie Monster cookies, pink unicorn cookies, ice-cream concoctions infused with cereal, and other indulgences. Thick cookies are stuffed with assorted fillings.
23. Cultivate Your Inner Artist
Paint a canvas, work with clay, create a mosaic, and more at MADE: my art & design experience.
24. Satisfy Your Chocolate Cravings
Whether filling up an Easter basket, shopping for gelt, stuffing a stocking, or just craving chocolate in various forms, head to Chocolations.
25. Check Back With Us
Keep tabs on the Mommy Poppins Event Calendar for assorted events offered in Mamaroneck, including many held at the Mamaroneck Library and other venues.
A version of this post was first published in 2013, but it has been updated for 2021.