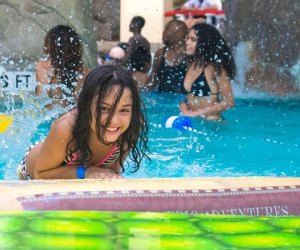 Easy Spring Break Vacations for Philly Families
Spring break comes but once a year, and though it seems the annual respite has gotten significantly shorter since my time in school, the days off are still a welcome time to relax and enjoy quality family time. Where you should turn if you want to enjoy a weekend away? Sure, day events are always an option, but how about squeezing in a little vacation time? Read on for our favorite spring break options.
For more ideas, be sure and check out our event calendar for fun activities throughout the Philly area.
1. Spend Spring Break in the Poconos with the Whole Family
Within a couple of hours you can make it to the Poconos, and even though ski season ends in March, there's still fun to be had. Imagine yourself in a warmer climate, and don bathing suits and flip-flops. Check out indoor waterpark resorts, including Kalahari and Great Wolf Lodge, where your youngsters can take part in kids club activities after a day of swimming. If you prefer the great outdoors, camp out for the weekend at one of the many camping sites. Horseback riding and fishing holes abound.
2. Make the Most out of a Spring Break Washington, D.C. Trip with Kids
Lincoln Memorial, Washington Monument, National Mall, and more. Our nation's capital is just a few hours away and is replete with opportunities that every member in your family can enjoy. Of course, your history buffs will not be disappointed, and animal lovers will relish the National Zoo, which charges no admission. If your kid's spring break lines up with the Cherry Blossom Festival, it's a beautiful time of year to explore this city.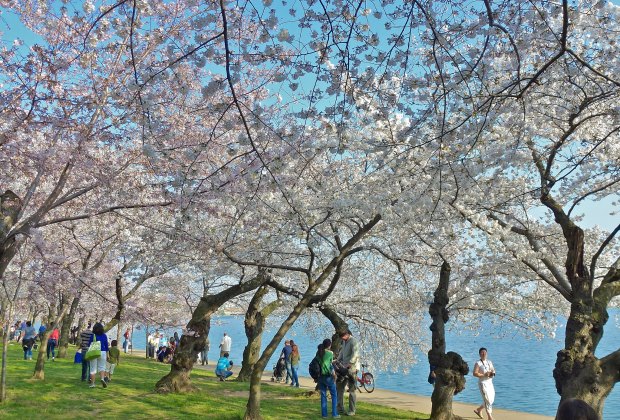 Explore the natural side of the nation's capital during the National Cherry Blossom Festival. Photo from Flickr by Matthew Straubmuller/CC2.0
3. Explore New York City with Your Kids this Spring Break
Get the family in your car and ride to Manhattan for Spring Break. Settle into your hotel and prepare to be an NYC tourist for the weekend. Take in a Broadway show, walk through Times Square, or visit Little Italy. Head to the Empire State Building or take a ferry to Ellis Island and get up close and personal with the Statue of Liberty. With a bevy of top-notch entertainment, food, art, and cultural venues, you're sure to find something to please even the most particular member of your family.

4. Explore Bucks County for the Kids' Spring Break this Year
This suburban Philly county has so much to offer families, whether you're looking to kick back for the break, get active, or keep the kids in the mental game with a hefty dose of American history. Check out the perennial favorite, Peddlers Village, and do some shopping and then let the kiddos burn off their energy at Giggleberry Fair. Learn more about George Washington at Washington Crossing. Take the little ones to Sesame Place. We've put together itinerary ideas for how to best spend your time with our list of 25 Things to Do with Kids in Bucks County. Take a look and start planning your spring break!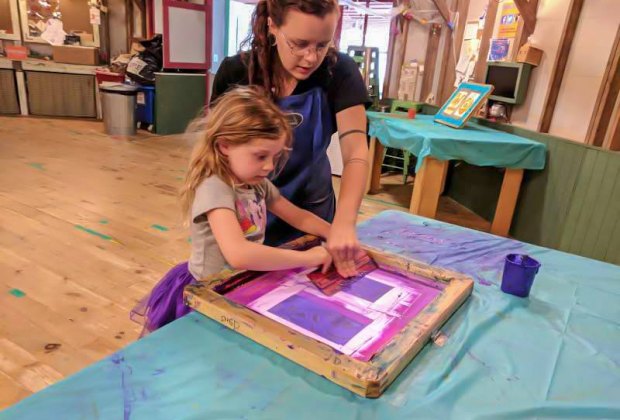 Get hands on with science at the Maryland Science Center. Photo from Maryland Science Center on Facebook
5. Head to Baltimore, MD for an Easy Spring Break Trip the Entire Family Will Enjoy
The Inner Harbor is calling! Shop, dine, and enjoy the waterfront. National Aquarium, Ripley's Believe It or Not!, and Port Discovery Children's Museum are just a few of the many great places to explore. While you're there, get your sports fan over to Camden Yards to watch an Orioles game.
6. Blend Old and New with a Spring Break Trip to Lancaster County, PA
Lancaster has a whole host of fun family attractions and activities, including all things trains with the Strasburg Railroad and train and toy train museums. There's also the kid-favorite Turkey Hill Experience, where families can get an inside look at Turkey Hill and enjoy lots of ice cream samples. Bring the cool factor up a couple of notches by booking a room at the newly opened Cartoon Network Hotel.
7. Trek West to Gettsyburg for a Spring Break Vacation the Kids Will Always Remember
Most notable for the Gettsburg Battleground and Military Park, Gettsyburg offers more to do than you might expect. Of course, history buffs in the family will happily immerse themselves in hands-on and up-close Civil War history. Other attractions include Mr. Ed's Elephant Museum and Candy Emporium which offers over 700 varieties of nostalgic candy, the UTZ Potato Chip Factory, and lots of outdoor hiking and bike tours.
8. Head Even Further West and Spend the School Break in Pittsburgh!
Pittsburgh is loaded with museums, fun attractions, and kid-friendly things to do that families should definitely put the second largest city in Pennsylvania in the spring break consideration set. From the Carnegie Science Center to the Pittsburgh Zoo and Aquarium to catching a baseball game during the Pittburgh Pirates home opening series. you won't have trouble finding things to do for spring break here.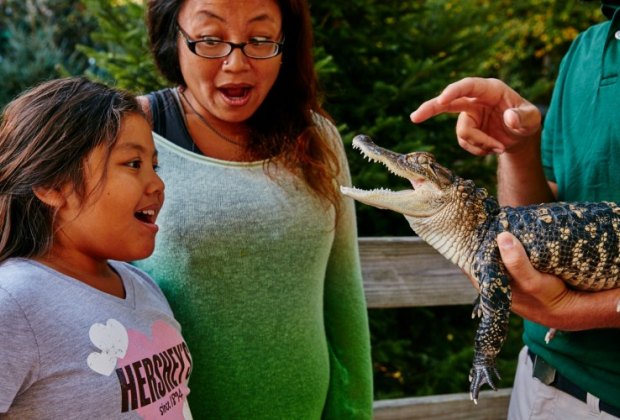 Get up close with the animals at ZooAmerica. Photo from Hershey Park
9. Enjoy the Rides, the Zoo, and Loads of Chocolate in Hershey, PA for a Few Days this Spring Break
Who doesn't love chocolate? Or the zoo? Or an amusement park? Or outdoor botanical gardens? This spring break, consider a trip to Hershey, PA where, of course, kids will enjoy HersheyPark, which opens for a limited time each spring just for kids on school break. With over 50 rides, including 13 roller coasters, the thrill seekers in the family will have a lot of fun here. Plus ZooAmerica is open so everyone in the family can see their favorite animals and then head over to Hershey Chocolate World to get a closer look at how this iconic candy is made.
10. Skip the Packing and Enjoy a Philly Staycation this Spring Break
Finally, why not just stay local? If you're a suburbanite, consider booking a hotel in Philly for the weekend and explore all our great city has to offer, at your leisure. When the kids get hungry, visit Shake Shack for a burger and malt, or try a pretzel and specialty dip at Frankford Hall, a family-friendly beer garden where kids can play Jenga and ping pong.
After your Spring Break, let us know how it went. Leave a comment on our Facebook page.
Top photo courtesy of Camelback Lodge on Facebook.
This is post has been updated for 2020.