Easy Spring Break Vacations for Philly Families
Spring break comes but once a year. Although it seems the annual respite has gotten shorter since my time in school, the days off are still a welcome period to relax and enjoy family time. Where should you turn if you want to enjoy a weekend away? Day events are always an option, but how about squeezing in a little vacation time?
Mommy Poppins Philadelphia has compiled a list of places close enough for an easy spring break getaway. Although Pennsylvania has eased restrictions on out-of-state travel, COVID precautions are still in place. Most resorts and places of interest ask guests to wear masks and maintain social distancing guidelines. Many museums and attractions require timed tickets to visit. A few sites are still closed, so be sure to check directly with the destination for the most current updated hours of operation.
For more ideas, be sure and check out our event calendar for fun activities throughout the Philly area and Travel Guide for far-off destinations.

Enjoy indoor water fun at Camelback Lodge in the Poconos. Photo courtesy of the lodge
The Poconos
2021 Update: Locations throughout the Poconos are open for business and ready to welcome guests. Some resorts are offering specials for spring break and Easter activities.
Within a couple of hours, you can make it to the Poconos in northeast Pennsylvania. Even though ski season ends in March, there's still fun to be had. Imagine yourselves in a warmer climate wearing bathing suits and flip-flops. Check out indoor waterpark resorts, including Kalahari and Great Wolf Lodge, where your youngsters can take part in kids club activities after a day of swimming. If you prefer the great outdoors, camp out for the weekend at one of the many camping sites. Horseback riding and fishing holes abound.
Washington, D.C.
2021 Update: All of the Smithsonian museums as well as the National Zoo are closed at this time.
The Lincoln Memorial, Washington Monument, and National Mall await families in our nation's capital. Only a few hours away, this spot is replete with opportunities that every member in your family can enjoy. Of course, history buffs will not be disappointed, bu if your kid's spring break lines up with the Cherry Blossom Festival, it's a beautiful time of year to explore this city. The 2021 festival is virtual.
RELATED: Jersey Shore Boardwalks Worth an Offseason Visit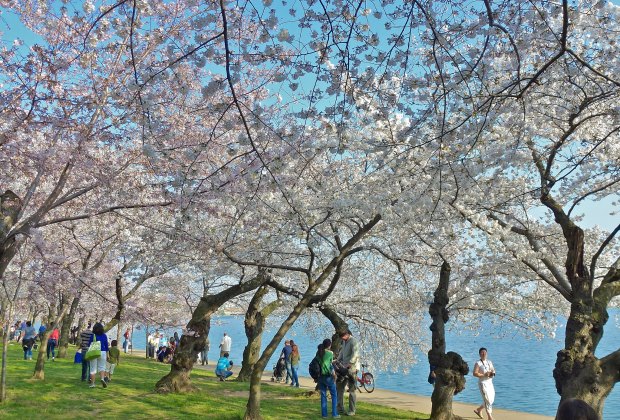 The National Cherry Blossom Festival in DC is virtual this year. Photo from Flickr by Matthew Straubmuller/CC2.0
New York City
2021 Update: While Broadway is closed, the Empire State Building is selling timed tickets. The Statue of Liberty is open on a modified basis, but ferry service is suspended from Liberty State Park, New Jersey.
Get the family in your car and ride to The Big Apple for spring break. Settle into your hotel and prepare to be an NYC tourist for the weekend. Walk through Times Square, or visit Little Italy. Head to the Empire State Building or take a ferry to Ellis Island and get up close and personal with the Statue of Liberty. With a bevy of top-notch entertainment, food, art, and cultural venues, you're sure to find something to please even the most particular member of your family.

Bucks County
2021 Update: Most locations such as Sesame Place, Fonthill Castle, Mercer Museum, Washington Crossing Historic Park, Shady Brook Farm, Peddler's Village, and Giggleberry Fair are open for visitors.
This suburban Philly county has so much to offer families, whether you're looking to kick back for the break, get active, or keep the kids in the mental game with a hefty dose of American history. Check out the perennial favorite, Peddlers Village, do some shopping and then let the kiddos burn off their energy at Giggleberry Fair. Learn more about George Washington at Washington Crossing. Take the little ones to Sesame Place. We've put together itinerary ideas for how to best spend your time with our list of 25 Things to Do with Kids in Bucks County. Take a look and start planning your spring break.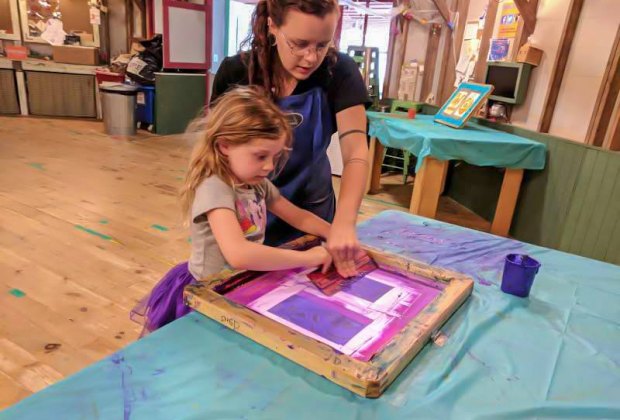 Crack the code at the Maryland Science Center. Photo courtesy of the Maryland Science Center on Facebook
Baltimore
2021 Update: The B&O Railroad Museum, National Great Blacks in Wax Museum, Port Discovery Children's Museum, and National Aquarium are all currently open. Historic Ships open on April 1. Fort McHenry, The Baltimore Museum of Art, and the Baltimore Streetcar Museum are temporarily closed while the Baltimore Museum of Industry is by appointment.
Charm City is calling. Shop, dine, and enjoy the waterfront. The National Aquarium and Port Discovery Children's Museum are just a few of the many great places to explore. Nearby is Camden Yards, whrre the Orioles play beginning in April.
Lancaster County
2021 Update: The Lancaster Science Factory, Turkey Hill Experience, and Strasburg Railroad are open. The Railroad Museum of Pennsylvania is currently closed, while the Choo Choo Barn reopens on March 13 and the National Toy Train Museum and Library reopens on April 1.
Lancaster has a whole host of fun family attractions and activities, including all things trains with the Strasburg Railroad and train and toy train museums. There's also the kid-favorite Turkey Hill Experience, where families can get an inside look at Turkey Hill and enjoy lots of ice cream samples. Bring the cool factor up a couple of notches by booking a room at the relatively new Cartoon Network Hotel.
Gettysburg
2021 Update: Gettysburg Battleground, Museum, and Visitors Center, Gettysburg National Cemetery, Gettysburg Museum of History, and Mister Ed's Elephant Museum and Candy Emporium are open. The Utz Potato Chip Factory is currently closed, but the outlet store is open.
Best known for the Battleground and Military Park, Gettsyburg offers more to do than you might expect. Of course, history buffs in the family can immerse themselves in the hands-on and up-close Civil War environment. Other attractions include Mr. Ed's Elephant Museum and Candy Emporium, which offers more than 700 varieties of nostalgic candy, the Utz Potato Chip Factory, and lots of outdoor hiking and bike tours.
Pittsburgh
2021 Update: Carnegie Science Center, Carnegie Museum of Natural History, Phipps, Senator John Heinz History Center, Western Pennsylvania Sports Museum, Mattress Factory, The Frick, National Aviary, Andy Warhol Museum, Pittsburgh Zoo & PPG Aquarium, and Duquesne Incline are all open for visitors. The Children's Museum of Pittsburgh is closed at this time.
Pittsburgh is so loaded with museums, fun attractions, and kid-friendly things to do that families should definitely put the second largest city in Pennsylvania in spring break consideration. From the Carnegie Science Center to the Pittsburgh Zoo and Aquarium, you won't have trouble finding things to do here during spring break.
RELATED: 30 Things We Are Excited to Do With Philly Kids This Spring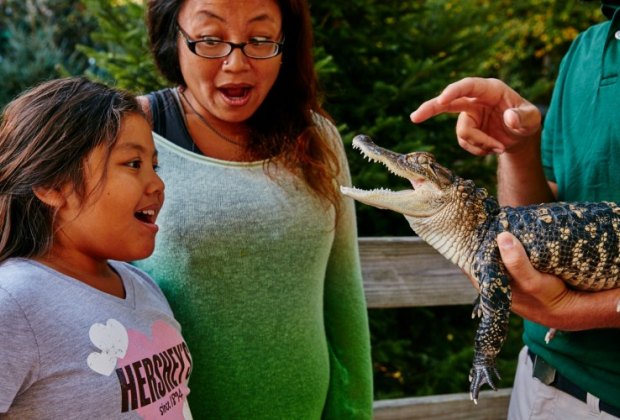 Get up close with the animals at ZooAmerica. Photo courtesy of Hersheypark
Hershey, Pa.
2021 Update: Zoo American is currently open and Hersheypark opens on April 2.
Who doesn't love chocolate? Or the zoo? Or an amusement park? Or outdoor botanical gardens? This spring break, consider a trip to Hershey, where, of course, kids will enjoy Hersheypark. With more than 50 rides, including 13 roller coasters, thrill-seekers in the family will have a lot of fun here. Plus ZooAmerica is open, so everyone can see their favorite animals and then head over to Hershey Chocolate World to get a closer look at how this iconic candy is made. Beginning April 2, Hershey's Chocolatetown, home of the park's 15th roller coaster, Candymonium, opens.
East Rutherford, NJ
2021 Update: East Rutherford is home to American Dream, which is open while keeping guests safe with social distancing, mask requirements, and enhanced cleaning.
Opened in 2019, American Dream has literally everything a kid could want. From the water park, which is open year round, to Nickelodeon-themed attractions such as roller coasters and rides, everyone in the family can enjoy this resort. Other activities include mini-golf, an indoor snow park featuring skiing and snowboarding, ice rink, shops, and restaurants.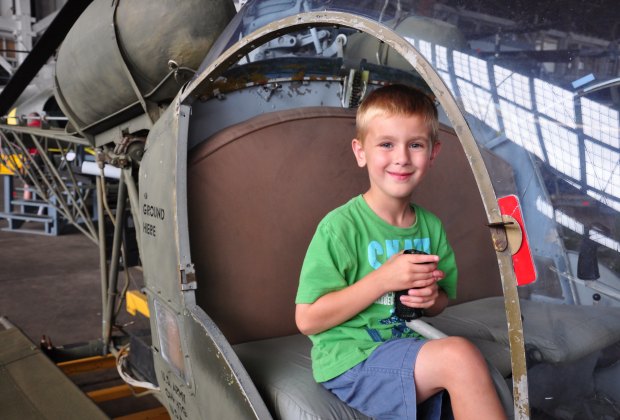 Delight in a visit to the NAS Wildwood Aviation Museum. Photo by Lee Lilly/CC-BY-2.0
Jersey Shore
2021 Update: NAS Wildwood Aviation Museum, Jenkinson's Aquarium, Ripley's Believe It or Now, and boardwalks are open. Atlantic City Aquarium is currently closed.
Anytime is a good time to visit the Jersey shore. Hit the boardwalks in Asbury Park, Ocean City, or Point Pleasant. Visit the NAS Wildwood Aviation Museum, see the fish at Jenkinson's Aquarium, or view the unique attractions at Ripley's Believe It or Not! Walk along the beach and dip your toes into the water, if you can stand the chill.
Philadelphia
2021 Update: Franklin Institute, Philadelphia Zoo, Adventure Aquarium, Museum of the American Revolution, Franklin Square, Betsy Ross House, Academy of Natural Sciences, Philadelphia Museum of Art, Liberty Bell, Fort Mifflin, and National Constitution Center are open. Independence Seaport Museum reopens on March 20.
Finally, why not just stay local? If you're a suburbanite, consider booking a hotel in Philly for the weekend and explore all our great city has to offer. So many of the city's museums are open and ready to welcome guests. When the kids get hungry, eat like our Founding Fathers did at City Tavern or grab food from one of the country's oldest public markets, Reading Terminal Market. You won't be disappointed!
After your spring break, let us know how it went. Leave a comment on our Facebook page.
This is post has been updated for 2021. Writer Kristen Sullivan contributed additional reporting.