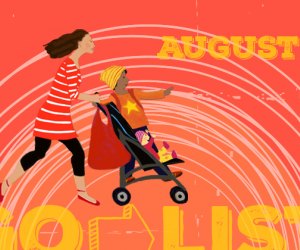 August GoList: Best Things To Do with Philly Kids This Month
It's nearly impossible to believe that summer starts to wind down this month, but not before families soak up the last bit of summer fun. And for this, August does not disappoint. We've rounded up 13 happenings around the Philly area that we think you and your kids will love.
Besides what's on our list, don't forget to catch a free outdoor movie or music concert before the season ends, cool off at an area splash pad, and find a place to unwind with a brew while the kids happily play close by or grab an ice cream cone. And as always, dive into our full events calendar for more ideas for August fun.
1. Goshen Country Fair - West Goshen
July 29-August 3, 2019
Guests can expect games of chance, amusement rides, and delicious food. In addition, families can visit the dairy cow, sheep, goat, rabbit and poultry exhibits. The grounds open at 6 PM Monday through Friday and Saturday at 5 PM. It is important to note that Saturday only, there are reduced tickets for rides from 5- 7 PM.
2. Watershed Butterfly Festival - Pennington, NJ
August 3, 2019
Enjoy a day filled with family fun, including butterfly exhibits, interactive children's activities, live music, local food and more.This 18th annual event features local artisans, an insect zoo, hay rides, nature walks, and the famous Butterfly and Bug Parade.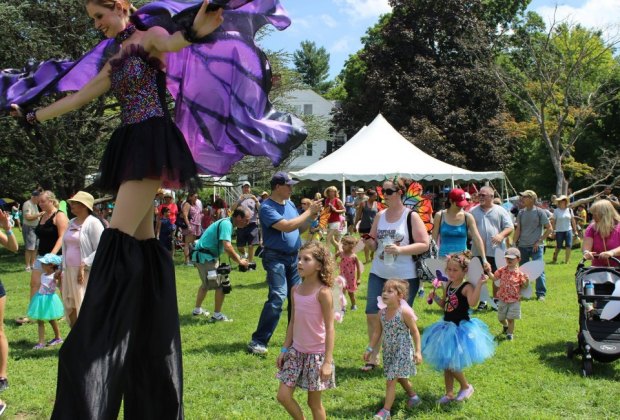 Following a trail of butterflies at the Watershed Butterfly Festival

4. ACANA Festival - Philadelphia
August 4, 2019
The African Cultural Alliance of North America Inc. (ACANA) hosts a special African Festival at Penn's Landing which provides a variety of African entertainment. Guests can expect traditional dance performances, musical performances, arts and crafts vendors, and food.
5. Annual Young People's Concert Series - Philadelphia
August 6, 2019
Audiences can enjoy free performances at the Mann's Annual Young People's Concert Series. The final one of the season is on Wednesday, August 1st. The entertainer, Global Footwork, offers children exposure to new experience in the arts and the chance to be inspired by their talents. The performances are held on the Mann's main stage.
Gates open 30 minutes prior to showtime. There are no tickets for these events. Seats are first come, first serve. No food or drink is allowed in the theater.
6. Bug Fest - Philadelphia
August 10-11, 2019
The Academy of Natural Sciences hosts its annual celebration of insects with new activities and shows. Guests can eat bugs, have their faces painted, and learn bug facts from scientists..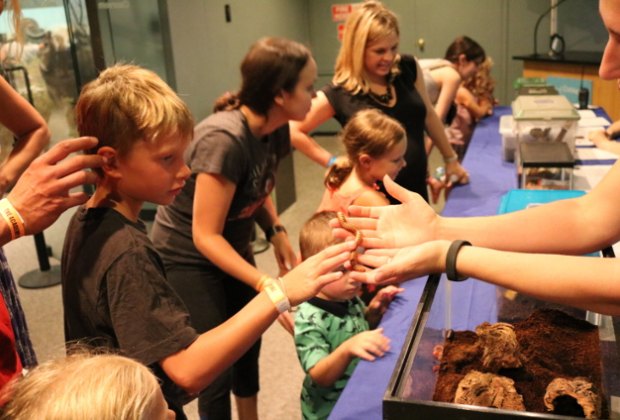 Get up close to some creepy crawlies at The Academy of Natural Sciences' Bug Fest. Photo courtesy of The Academy of Natural Sciences
8. National S'mores Day Celebration - Doylestown
August 10, 2019
What better way to spend National S'mores Day than with a hike to make delicious s'mores at Peace Valley Nature Center.
9. Delaware Taco Festival - Wilmington, DE
August 17, 2019
Guests to the Delaware Taco Festival can expect live musical entertainment featuring authentic Mexican Mariachi bands, taco vendors, eating contests, tequila sampling tent, and margarita bar. Children can enjoy the carnival games, kids' zone, and mechanical bull.
10. Philadelphia Folk Festival - Harleysville
August 15-17, 2019
This annual, family-friendly event in Harleysville features puppeteers, jugglers, aerialists, storytellers, hands-on crafts, and kid-oriented musicians.
11. Country Barn Sunflower Festival - Lancaster
August 17-18 and 24-25, 2019
Experience the delight of a field of living sunshine during Country Barn's annual Sunflower Festival. Admission includes Sunshine Wagon Tours, Corn Maze, Pig Races, Jump Pad and more! Every ticket includes a sunflower cut right from the fields.
12. Chocolate & Vanilla Family Festival - Camden, NJ
August 24-25, 2019
This delicious daytime event at Camden Children's Garden is dedicated to two of nature's most flavorful plants. Vote for your favorite ice cream flavor, take a tropical smell test, and decorate cookies with chocolate or vanilla frosting. Children can enjoy crafts and fun, educational activities.
13. Polish-American Family Festival & Country Fair - Doylestown
August 31 - September 8, 2019
So much is in store for festival-goers at The National Shrine of Our Lady of Czestochowa. Children can expect midway rides (additional fee for extreme rides), a dunk tank, and live entertainment such as dance ensembles, bands, and major performing artists. Guests can shop for jewelry, toys, dolls, children's clothing, decorations, and more. In addition be sure to visit the Polish Village which features dancing, music, and special presentations.
Be sure to subscribe to our email newsletter to get our weekly roundups of events delivered to your inbox!