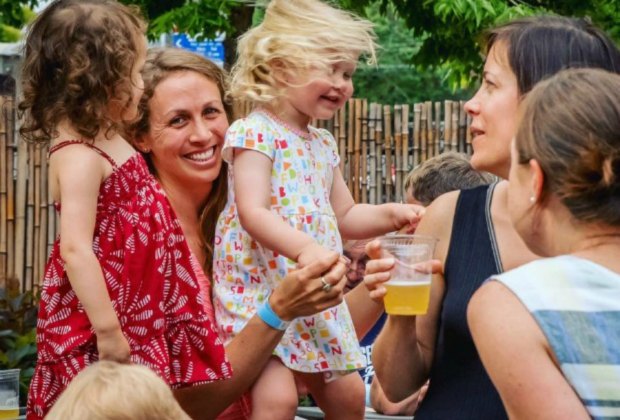 Outdoor Beer Gardens Where Kids Can Play While Parents Enjoy a Cold One
Sitting outside on a hot day with a cold brew screams "summer." But for parents with young kids, relaxing with a beer doesn't always come easy. However, the Philly area's rich beer culture can be enjoyed, even if it isn't a date night out. The following pop-up beer gardens are a lot of fun - yes, even with the kids in tow. More of a wine drinker? Then check out these family-friendly wineries in the Delaware Valley.
1. The Oval - Philadelphia
This eight-acre community space, located on the Benjamin Franklin Parkway, offers a variety of activities for kids and their parents. 9-hole mini golf, movie nights, open green space...The Oval has it all, and during the summer months, it's a great place for families to go for some quality time. And for parents looking to cool off with a brew, the beer garden is open from Wednesday to Sunday. The weekend hours are the most family-friendly, where the garden is open from 2pm to 11pm.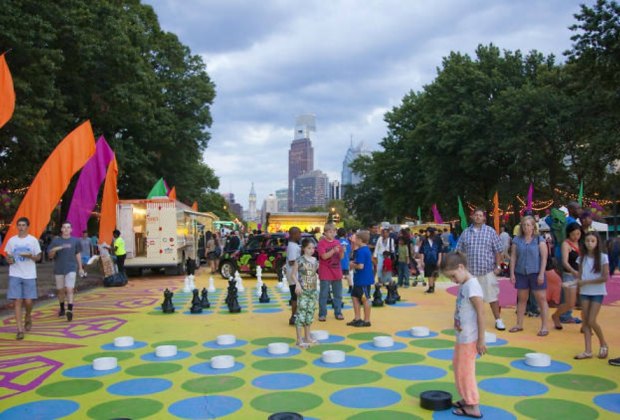 Photo courtesy of Visit Philly / M. Fischetti
2. Parks on Tap - various locations in Philadelphia
Parks on Tap is a traveling beer garden, switching its location each week from April to September. Visitors can relax on hammocks or lawn chairs, play games, and sip on a brew (or glass of wine or non-alcoholic beverage), plus grab something eat from the food trucks onsite. In June, Parks on Tap will be at Schuylkill Banks and Columbia Square and will kick off July at the Shofusu Japanese Garden. Check out their schedule for more details. An extra perk of Parks on Tap is that it's dog friendly so the entire family can come hang out! In a related initiative, Barks on Tap rotates through several dog runs in the city for some thirst-quenching quality time with your pup.
3. Independence Beer Garden - Philadelphia
Independence Beer Garden is a 20,000 square foot features outdoor games, 40 beers on taps, and American-style eats, all in a very cool space. While IBG is open late (1-2am), they do open at 11:30am and in those early hours, you'll find more space for the kids to play the provided games, like the giant wooden Jenga set.
4. PHS Pop Up Garden - Philadelphia
With two locations - one on South Street and the other at uCity Square - families can find a place for the adults to pony up for a beer and the kids to stretch their legs outside. The outdoor space is sectioned off by "rooms," created with plants and flowers, befitting for a place with "Pennsylvania Horticultural Society" in its name. Events at both locations include yoga, animal rescue-sponsored "yappy" hours, and more. Food and juice boxes are also available for purchase. Kids of all ages are welcome.
5. Brandywine Outfitters - Coatesville, PA
Open only on Sundays through August 19, 2018, local canoe company Brandywine Outfitters is pairing up with Saloon 151 to operate a pop-up beer garden. In a scenic spot right on the Brandywine, visitors can spend some time out on a canoe or kayak before heading to the "Saloon Sunday" pop up for beer and bites. Live music and games lend a fun campground feel to this summer space.
6. Constitution Yards - Wilmington, DE
In its third season, Constitution Yards offers 30,000 square feet of outdoor space right on the waterfront in downtown Wilmington. With grassy areas and a wood chip area, there's plenty of space for kids to roam - and play the many games available, including corn hole, badmitton, and more. Traditional barbeque fare is available for purchase. The beer garden is also dog-friendly so bring your pup along with the family and make a day of it. While the facility is open every day but Monday, it opens in the afternoons at 4pm during the week and opens at noon on Saturday and Sunday.
For fans of The Creamery in Kennett Square, this beer garden is currently finalizing all its permit requirements and expects a July 2018 opening. Let's hope it opens! Besides its beer offerings, this space had an enclosed natural play garden for kids and a permanent ice cream truck, plus wine and rotating and permanent food trucks, as well as an adult lawn games section.