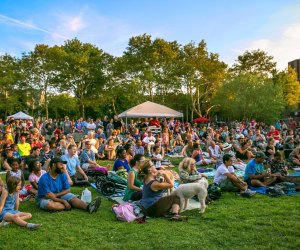 Free Outdoor Concerts for Philly Families
This summer, there are lots of things Philly families can do that are heavy on fun but lean on the budget, especially when it comes to the many summer concert series happening from the city to the suburbs. Our comprehensive list of the outdoor concerts includes plenty of options throughout the Delaware Valley. Venues hosting some of the more popular bands can get packed, so be sure to arrive on the early side.
Read through the post to discover a favorite venue, band, or genre of music. Text some friends, gather up the kids, pack some chairs, a blanket, a picnic basket, and the bug spray. Find the perfect spot for your family and friends, sit back, and relax to the sweet sounds of summer at these free local concerts.