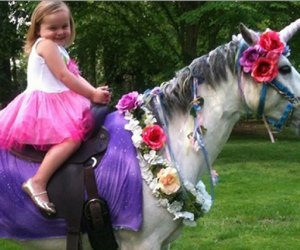 Philly Area Birthday Parties for Animal Lovers
For kids who love animals and have birthdays, and let's be honest, that's just about every kid, there are two ways to have special guests of the four-legged variety: at home or somewhere else. Traveling petting zoos will bring the animals with them, but if having a small menagerie at home isn't appealing, consider hosting a birthday at a zoo or farm. There are many great options for outdoor, indoor, and at home birthday parties in the Philadelphia area for every type of animal-loving kid.
Elmwood Park Zoo- Norristown
A small zoo with a petting zoo, a playground and train ride at its center, the Elmwood Park Zoo is the only zoo around that lets you feed the exotic animals, specifically giraffes and bison. Party goers will participate in either a live animal encounter with an animal (weekends) or a special guided tour of the zoo with scavenger hunt activity (weekdays), and everything else for the party, including pizza, paper goods, favor bags, drinks, and cake.
Adventure Aquarium - Camden, NJ
Lovers of aquatic animals will be thrilled to have their birthday party at Adventure Aquarium. With four themes from which to choose, Under the Sea, Sharks, Pirates, or Mermaids, birthday boys and girls and their guests will get free admission, a private party room, pizza and drinks, and best of all, a special behind the scenes tour. So if feeding the rays, walking across the shark tank, or watching the jellyfish float are preferred to petting farm animals, this is the place to go.
Peaceable Kingdom Petting Zoo
Specializing in some more unusual creatures such as a porcupine, wallaby, marmoset, hedgehog, as well as the more familiar bunnies, guinea pigs, sheep, and pigs, the Peaceable Kingdom Petting Zoo will bring its sweet animals and well-informed guides to the birthday boy or girl's home. Short stories about each of the animals keep the kids entertained as they see the critters up close, watch their antics and have the chance to pet them.
Sleepy Hollow Ponies
If there's a little girl who obsesses about unicorns, then this is the place to call. Sleepy Hollow Ponies will bring a beautiful, white unicorn with ribbons and flowers flowing from its mane for rides for the birthday guests. It's not too often that you can make a kid's fantasy come true.
What-Knott Farm
A local farm that raises miniature farm animals like miniature horses, donkeys, goats, rabbits, babydoll sheep, and potbelly pigs, the folks at What-Knott Farm will bring a fun and entertaining traveling petting zoo or an animal show to the party. Guests will interact with the animals, touching, holding, feeding, and in the case of the ponies, riding them. The best part is the staff from What-Knott Farm will clean up after the animals so the only mess parents will need to clean up is that of the human party animals.
Linvilla Orchards- Media
People know Linvilla Orchards for its pick-your-own fruits and vegetables, pumpkin patch, and christmas trees, but it's also a great place for kids' parties. Party goers will be entertained with a hayride, corn to feed the animals, the playground, and of course, pizza and drinks at their reserved table. Parents can also add on train rides, face painters, mazes, and costumed characters for even more fun.
A note: The Philadelphia Zoo no longer hosts children's birthday parties.
Photo courtesy of Sleepy Hollow Ponies.