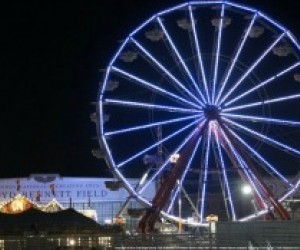 Weekend Fun for NYC Kids: Free Dance Parade, Kings County Fair, Spring Kids Fest, Laurie Berkner Concert May 17-18
Do you like outdoor festivals? Then you're going to love this weekend. A bunch of our annual favorites are taking place like downtown Manhattan's FREE Dance Parade New York, Madison Square Park's no-cost Spring Kids Fest and Brooklyn's ride-filled Kings County Fair. Plus Flushing Meadows Corona Park is hosting the World's Fair Anniversary Festival featuring entertainment and fireworks, and El Museo del Barrio is throwing a neighborhood-wide Super Sabado block party.

There's lots of cool culture on tap, too, including a concert by the Queen of Kindie Rock, Laurie Berkner, and the Little Orchestra Society's interactive musical murder mystery The Composer is Dead. It's also the final weekend for some exceptional family theater shows including TADA!'s whimsical film noir satire Samantha Space, Ace Detective, the acrobatic dance spectacle HyperISH at the New Victory and Making Books Sing's fabulous Dear Albert Einstein, which encourages kids to love math and be themselves.

These are just a few of the great things going on this weekend. All of our best bets are below. Remember, there are even more options in our Event Calendar and our Spring Fun Guide. Before heading out on your adventures, be sure to download our FREE Mommy Poppins Kids on the Go app so you can find the best family destinations wherever you happen to be in NYC.
All Weekend
Kings County Fair – Marine Park
One of our May Go List picks: Head to the Aviator Sports and Events Center for old-fashioned fun like a massive Ferris wheel, cool kiddie rides, carnival games, cotton candy, corn dogs and live entertainment. Can't make it this weekend? The fair continues through Memorial Day. $5 admission, rides and attractions cost extra

Ninth Annual International Food Festival – Midtown West
Chow down on eats from different countries including Poland, Italy, Spain, Greece, Thailand and more. While there are live performances and various children's activities, the main attraction is the cuisine. Free admission but bring money for food

New York Baby Show – Midtown West
Find everything for new moms, babies and toddlers under one roof at Pier 92 including hot baby gear; a Stroller Test Track; local entertainers; demo classes; and seminars on breast feeding, finding a preschool and other important parenting issues. No need to hire a babysitter since there's fun for kiddos, too, like Super Soccer Stars demos and sing-alongs with Music for Aardvarks. Mommy Poppins will also be on hand with giveaways and this cute WeeWork Clothespin Creatures craft. $30 per family

Children's Festival: Celebrate Hawaii – Financial District
Celebrate the culture and traditions of Hawaii at the National Museum of the American Indian. Take part in an interactive dance presentation by Daniel Kaimana Pueo Seuli Chee, watch a surfboard carving demo, or try your hand at island crafts like kapa prints, floral leis and kukui nut bracelets. FREE

Saturday, May 17
Spring Kids Fest – Flatiron
Another May Go List pick: Head to Madison Square Park for the ukulele stylings of Mil's Trills, kooky, kid-inspired mini-musicals by the Story Pirates, face time with the prehistoric creatures from Field Station: Dinosaurs and musical sets by Songs for Seeds. Arts and crafts, face painting, no-cost treats and storytelling will also be on tap. Come early as it always get mobbed! Afterward, grab lunch at one of our favorite kid-friendly restaurants nearby. FREE

Dance Parade New York and DanceFest – Flatiron & East Village
And another May Go List pick: This annual dance procession kicks off just a few blocks south of Spring Kids Fest, so you can do both! Watch as 10,000 movers and shakers shimmy down Broadway in elaborate costumes doing more than 75 dances, including salsa, tango, waltz, African, Asian, the hula, break dancing and more, with tap-dance master/grand marshal Savion Glover helping to lead the way. Then hit the after-party in Tompkins Square Park for dance workshops and four performance stages. FREE

Laurie Berkner Solo Concert with Special Guest Susie Lampert – Upper West Side
And another May Go List pick: The preschooler rock goddess and fellow NYC mom plays tunes off her latest album, Laurie Berkner Lullabies, at Ethical Culture's Concert Hall. Get into the mood in advance by downloading a FREE song, "I Gave My Love A Cherry" from the CD. $45

The Composer is Dead – Upper West Side
A hybrid of classical concert and theater show, this Little Orchestra Society production at Lincoln Center's Avery Fisher Hall is based on the book-album of the same name, written by Lemony Snicket with music by Nathaniel Stookey. John Tartaglia (of Johnny and the Sprites fame) narrates this musical murder mystery in which everyone seems to have an alibi... and a motive! $17-$60

On A Wing: Family Festival – Center Park
Head to Belvedere Castle to get up close and personal with birds of prey and live bats, and enjoy a guided birding walk with the Urban Park Rangers. FREE

Touch-a-Truck – Upper West Side
Explore a wide variety of vehicles at this annual fundraiser—last year's edition featured NYPD cruisers, an ambulance, an FDNY fire truck and even a refrigerated Fresh Direct truck. Arts and crafts, games and live music round out the fun. Free admission but there are fees for activities

Super Sabado: Around The Block – East Harlem
Celebrate the vibrant culture of Spanish Harlem at this annual block party, which takes place outside El Museo del Barrio and around the neighborhood. Enjoy kid-friendly gallery tours, collaborate on a community mural, hear African storytelling, catch bilingual hip-hop duo Circa '95, watch a break-dancing competition and more. Be sure to grab a map at the museum so you know where to find all the fun. FREE

Sony Wonder 20th Anniversary Celebration – Midtown East
Our favorite FREE high-tech hangout is celebrating its 20th birthday with a museum-wide scavenger hunt, arts and crafts, games and face painting in addition to all the interactive stations it always offers. FREE

Bay Ridge Viking Festival – Bay Ridge
Marvel at an authentic-looking Viking ship, catch period handiwork and combat demos, listen to traditional tunes, sample some Scandinavian treats and check out the new Viking Village in Owl's Head Park. Free admission but there are fees for activities

Amazing Bronx River Flotilla and the Starlight 5K Canoe Challenge – the Bronx
Head to the recently renovated Starlight Park for the Bronx River Alliance's 15th annual celebration of the beautiful Bronx River. While the flotilla requires preregistration and is best for adults, everyone can enjoy the fest featuring a walking tour of the green space, learn-to-ride lessons with Bike NY, canoeing, live music and dance performances, Zumba workshops, and a PlayMobile stocked with games and sports equipment. FREE

See all Saturday events.

Sunday, May 18
World's Fair Anniversary Festival – Corona
Queens' attraction-filled Flushing Meadows Corona Park is marking the 75th and 50th anniversaries of the NYC World's Fair, which took place in the green space in 1939 and 1964 respectively. Families can tour historic sites specially built for the Fairs (like the recently renovated Queens Museum) and check out period relics. Plus there will be puppet shows, face painting, meet and greets with Mr. Met, international eats, live music and dance performances, and the nearby carousel will be offering retro-priced .50 cent rides. Come nightfall there will be fireworks! FREE

Mamapalooza – Upper West Side
Catch moms rocking out, reading poetry, doing comedy and other types of family-friendly performances at this annual fest in Riverside Park South. There will also be kids' activities, vendors and fitness demos. FREE

Touch-a-Truck – Staten Island
Climb aboard 20 vehicles and also enjoy arts and crafts, a bouncy house and games in the Staten Island Yankees ballpark. In advance: $7; at the door: $8

Family Magic & Mentalism Show – Upper West Side
Prepare to be amazed as Sam Eaton's long-running magic show, The Quantum Eye, comes to P.S. 452. This family-friendly interactive performance pushes the boundaries of mind reading, magic, perception and deception and will blow kids' (and adults') minds. In advance: $20 for adults, $15 for children; at the door: $22 for adults, $18 for children

Go Out and Play! Old Time Street Games at Eldridge Street – Lower East Side
Introduce your kids to old-fashioned street games like stickball, stoopball, handball, hit the penny, jump rope and jacks at the Museum at Eldridge Street. Afterward, there will be a stop at the local candy store. $15 per family

Art Museum Day – Midtown West
Hit the Museum of Arts and Design for a day of no-cost hands-on art activities. In addition to going on kid-friendly tours of the galleries, families can take distorted self-portraits and transform them into buttons; use photocopies and transfer techniques to explore line, shape, pattern and composition; and explore the intersection of photography, technology and perception with artist Christopher Lynch. FREE

See all Sunday events.

Don't forget: There's even more fun to be found in our Event Calendar.