Where to Eat with Kids Near Madison Square Park Besides Shake Shack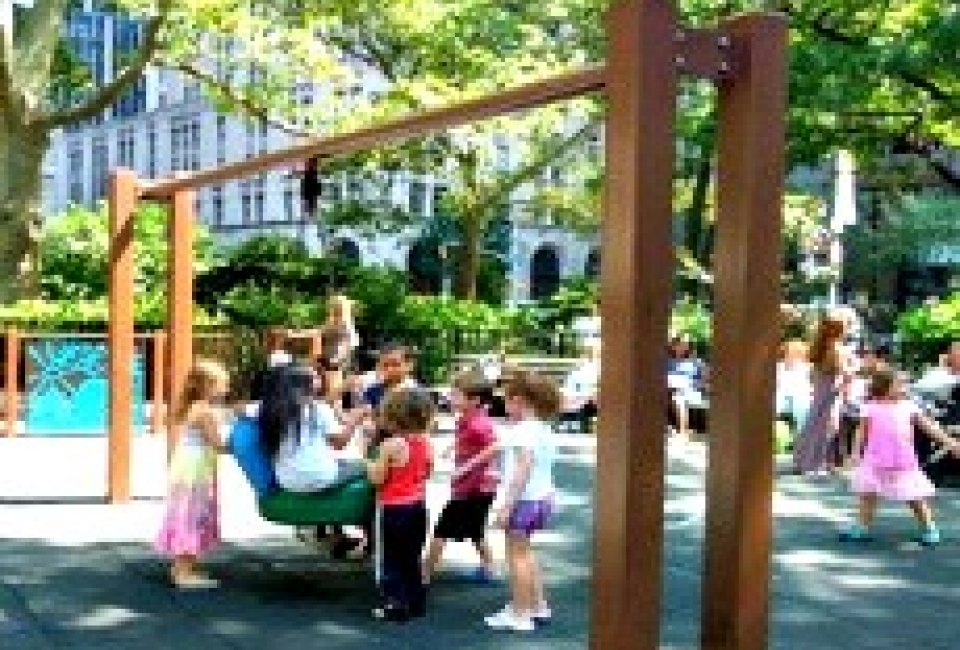 6/3/12
- By
Stephanie Ogozalek
In my pre-parenting days, I worked down the block from Madison Square Park and I remember waiting on line for Shake Shack when it was just a food truck grilling up dogs. Once I became a mom, the park became my go-to destination with my noisy, active toddler, and I recall arriving super early so we could avoid the Shake Shack lunch rush.

Much as my son and I still love the outdoor eatery's burgers and shakes, it's not the only choice for hungry families in the neighborhood. Over the past few years, a whole new crop of casual, kid-friendly restaurants have opened up around park, plus my family and I discovered a golden oldie that predates Shake Shack by, oh, 75 years. So this summer, after you hit the fantastic playground, check out the cool public art and groove to the free kids' concerts, skip the Shack and try one of these other dining destinations near Madison Square Park.
Schnipper's Quality Kitchen
23 East 23rd Street between Madison Avenue and Park Avenue South
My family and I are big fans of this old-fashioned American food joint opened by the pair of brothers who founded the Hale & Hearty Soup chain. This location opened last fall and is a perfect alternative to Shake Shack since it also sells excellent burgers, fries and thick shakes. You'll also find tacos, delicious Sloppy Joes, mac and cheese, fried fish and an impressive variety of salads.

Eataly
200 Fifth Avenue at 23rd Street
We raved about this massive Italian food market when it opened in 2010. Located across the street from Madison Square Park, it's a great place to pick up a picnic lunch or dinner. Prepare to be overwhelmed: Eataly's 50,000-square-feet are well stocked with a dizzying array of choices: meat, cheese, coffee, bread, pasta, gelato, etc. While you can also eat in, the wait rivals Shake Shack's and it's not very kid-friendly. That's why the quick-service take-out counters are the best way for families to mangia here.

Hill Country Chicken
1123 Broadway at 25th Street
With its basement rec room decor and down-home cooking, this is my favorite place to eat in the area with my son. The spot serves two kinds of fried chicken, chicken tenders and a handful of sandwiches, including the Southern specialty fried pimento cheese sandwich. There are also mouthwatering sides like carrot slaw, blistered corn salad and cheesy fried mashed potatoes, and awesome homemade pies. Buy a slide or try the three-inch "pie cup." Like its nearby sister restaurant Hill Country Barbecue, the food is served cafeteria-style, perfect for kids (and adults) who don't like to wait.

Rickshaw Dumpling Bar
Unfortunately this restaurant has closed.
I've been bringing my son to this upscale dumpling bar for years. The signature eats are perfect for kids' small hands and they always get a kick out of dipping them in different sauces. These aren't your Chinatown five-for-a-dollar dumplings. Rickshaw offers inventive flavors like vegetarian edamame, Hudson Valley duck and even a chocolate Shanghai soup dumpling for dessert. Other menu items include noodle soups, spring rolls and my son's current fave, the pork slider steamed bun.

Eisenberg's Sandwich Shop
174 Fifth Avenue between 22nd and 23rd Streets
Talk about an old-school experience: This Jewish comfort food spot brags that it's been "raising New York's cholesterol since 1929." The atmosphere is authentically retro and the menu is a health nut's nightmare: tuna melts, chopped liver plates, pastrami sandwiches, fried eggs, onion rings, lox and cream cheese, egg creams, milk shakes, even a peanut butter and bacon sandwich! And carb lovers will appreciate that all of the sandwiches can be made on bialys, English muffins or bagels. Sit at the counter and let the kids spin in the seats. You'll think you took a time machine to get there.
Click Here to Sign Up!
i