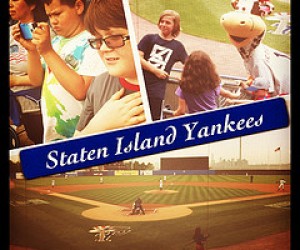 Staten Island Yankees: A Kid-Centric Way to Go to a Ballgame
While the New York Yankees and Mets get all the hype, going to a major league baseball game can be a major expense not to mention a major pain with kids. To enjoy the fun of America's favorite spectator sport in a more family-friendly format, in-the-know New Yorkers go to see one of our area's many minor league baseball teams.

The Staten Island Yankees are the Short-Season Single-A affiliate of the New York Yankees and their games are incredibly kid-friendly. I recently attended a Staten Island Yankees game with my extended family and it makes for a great day or evening out, and includes a ferry ride, a fun ballgame with lots of action in the stands, and often fireworks or other special events. We continue our month-long focus on Staten Island with an outing at this popular ballpark.
The Staten Island Yankees' Richmond County Bank Stadium is super-easy to get to by public transportation. And getting there is half the fun since it includes a free ride on the Staten Island Ferry. Find a spot on the right side of the boat for optimum views of the Statue of Liberty. Once on the isle, it's a short walk along the waterfront to the stadium. The RF gate is closest to the ferry. Good to know: If you are picking up your tickets at will call, you need to walk most of the way around the stadium to retrieve them.

Once in the stadium, the benefits of a minor league game are apparent. The smaller venue means that, regardless of where you sit, you're close to the action and the players look like men, not ants. There's also a play area with a bouncy castle and slides.

SI Yankees games have a mascot and cheerleaders that provide lots of between-inning fun plus contests, T-shirt cannons and general silliness. The biggest thrill, though, of attending a Staten Island Yankees game is how many balls end up in the stands. I would venture that we saw a few dozen land in the stands at the game we attended. And because of the family-centric audience at these games, it's basically guaranteed that a kid will get every ball. In fact, if an adult catches a foul ball and doesn't immediately pass it off to a child, he is booed furiously until he does.

If you go for a Friday or Saturday night game, there are usually fireworks afterward. Then it's time for the ferry and incredible views of the NYC skyline as you make your way back to Manhattan.

Staten Island Yankees tickets max out at $18 and can be as low as $10 so it doesn't cost a fortune for a family to go. For more information and to get tickets, visit SIYanks.com.

Find out about more minor league baseball in NYC and the best things to do on Staten Island with kids.