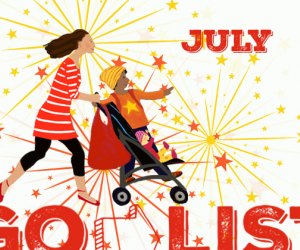 Best Things to Do with NYC Kids: July GoList
As always, if an event piques your interest, be sure to click through to our listing for all the details, including the price, address, and time. And remember, in NYC, really cool things to do with kids often get booked up quickly. So buy your tickets ASAP or, in the case of FREE events, arrive as early as possible to beat the crowds.
Sign up for our FREE newsletters, so you can get our monthly, weekend, and other great NYC event picks delivered to your inbox.
Dog Man the Musical — West Village
Saturday, June 29 to Sunday, August 4
Dav Pilkey's bestselling series gets a brand-new musical written by the team behind the Emmy-winning PBS series Peg + Cat. Half human, half dog, and all goofy hero, Dog Man wants to save the city he loves from a cavalcade of kooky villains—but BFFs George and Harold have to find a way to finish the story. Use code DMMP39 to snag $39 tickets to preview performances through July 7.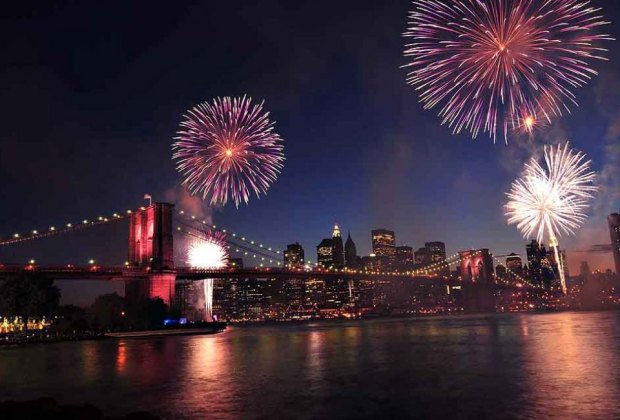 Macy's fireworks are back at the Brooklyn Bridge for 2019. Photo courtesy of the Seastreak
Celebrate July Fourth — Citywide
Thursday, July 4
Celebrate Independence Day by gawking at Macy's incredible Fourth of July Fireworks or heading to Coney Island to cheer on the competitors in the annual Nathan's Famous Fourth of July International Hot Dog Eating Contest. Other equally fun (and probably less crowded) ways to enjoy the day include taking a stroll through history with a Revolutionary Walking Tour or catching the Staten Island Philharmonic in concert with post-show fireworks. In fact, we've rounded up a dozen fun things to do on July 4th that do not involve fireworks!
Women's World Cup Finals — Dumbo, Brooklyn
Sunday, July 7
Bring beach chairs or a picnic blanket and join the sport-loving crowd cheering for the women of the World Cup Finals, presented on a giant screen under the Manhattan Bridge Archway. Food and treat vendors will be on hand selling game-day eats and drinks. Whoever wins, this is a fun way to show kids the power of women in pro sports. FREE
Game Changers Presented by TADA! Youth Theater — Flatiron
Wednesday, July 10 to Thursday, August 1
The coolest kid theater company in town premieres a brand-new original musical about a bunch of teens competing on a wacky game show in the '90s, proving that teamwork is the only way to win in this world. Kids should get a kick out of seeing their peers onstage: the show's stars are all ages 8 to 18. Plus it only runs an hour, which is great for short attention spans.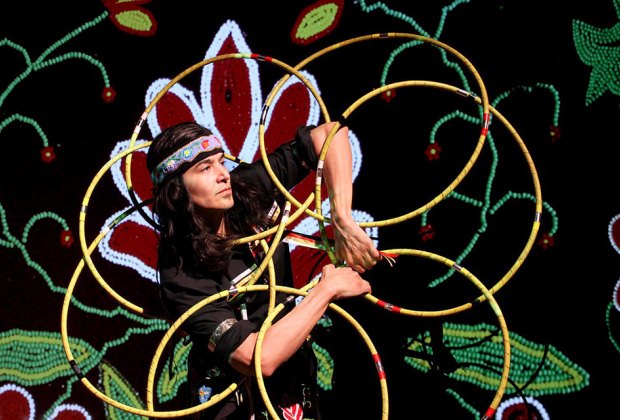 As part of Victory Dance see Native American hoop dancer Ty Defoe. Photo by Katherine Freer
Victory Dance — Midtown West
Thursdays, July 11, 18, 25
The New Victory Theater presents dance performances aimed at young audiences, featuring a mix of classical, contemporary, and cultural companies, with post-performance artist talks. Performances run 90 minutes and are a fabulous way to introduce school-age kids to the magic of dance on the cheap: tickets are only $10! On July 11, catch ballet and tap dancers, on July 18, see Native American hoop dance, and on July 25, experience a mix of modern dance styles.
RELATED: 100 Free Things To Do This Summer in NYC

Grab a blanket and picnic and head to Bryant Park for a sneak peek at upcoming Broadway and Off-Broadway shows. Photo courtesy of the park
Broadway in Bryant Park – Midtown
Thursday, July 11 to Thursday, August 15
Take in sneak peek performances from the best of Broadway and Off-Broadway on the Bryant Park Stage on Thursday afternoons. Hosted by LITE FM's on-air personalities, the series runs through August 15. More than 20 different shows are featured throughout the run. FREE
Broadway in the Boros — The Bronx and Staten Island
Friday, July 12 and Friday, July 26
Broadway brings the summer theater season to the outer boroughs in a special outdoor performance series. Catch highlights from Wicked in Co-Op City in the Bronx on July 12, and songs and snippets from Beetlejuice July 26 in St. George, Staten Island. FREE
Carnegie Hall Citywide — Bryant Park
Fridays, July 12, July 19, and July 26
Carnegie Hall brings FREE concerts featuring outstanding classical, folk, Afro-Brazilian, Latin, Celtic, funk, and gospel artists to Bryant Park, with free picnic blankets to spread out, plus jugglers and super-sized games to entertain the kids. Hear French-Canadian tunes, funky New Orleans style brass, and soulful jazz and blues, and get ready to dance. FREE
RELATED: Best Summer Festivals in NYC This July for Families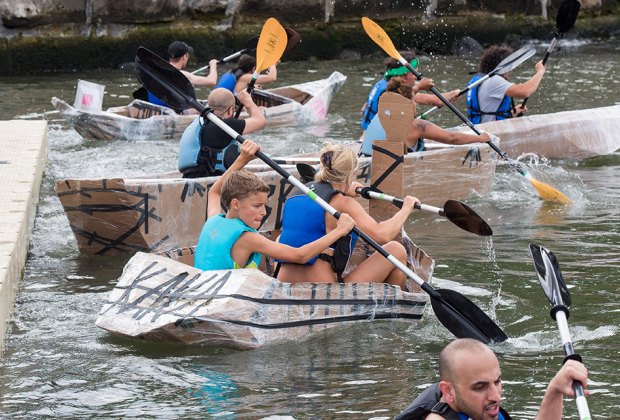 Engineer your own cardboard boat at City of Water Day. Photo by David Gonsier for City of Water Day
City of Water Day — South Street Seaport
Saturday, July 13
Head to Lower Manhattan or a satellite event all over New York Harbor for this wet-and-wild festival. Enjoy kayaking and canoeing, historic boat tours, and live entertainment. All boat tours require advance registration. Reservations go live on the City of Water Day website on June 27 and they go fast! (You're required to pay a $5 reservation fee for each person, which will be refunded when you show up for the trip.) The South Street Seaport Museum also hosts a Waterfront Festival at Piers 16 and 17 with animal encounters, science experiements, crafts, and more, while Disney sponsors plenty of kid-friendly activities. FREE
Back to the Beach – Midland Beach, Staten Island
Saturday, July 13 and Sunday, July 14
Head to the Midland Beach boardwalk for a few days (and nights!) of fun in the sun. There will be kid-friendly rides, tons of family-friendly entertainment, and a huge evening fireworks display to end the festivities with a bang. Vendors are on hand selling their wares and food. Admission is FREE, but there are fees for some activities.

Bastille Day on East 60th Street offers a full celebration of French culture. Photo by Michael George for FIAF
Bastille Day on East 60th Street — Upper East Side
Sunday, July 14
Celebrate French culture and cuisine at this annual outdoor fête hosted by the French Institute/Alliance Française. Taste freshly made crêpes and éclairs, enjoy live French music and mime performances, browse handmade wares at the market, and hit the Kids' Corner for face painting and arts and crafts. FREE admission with fees for certain activities.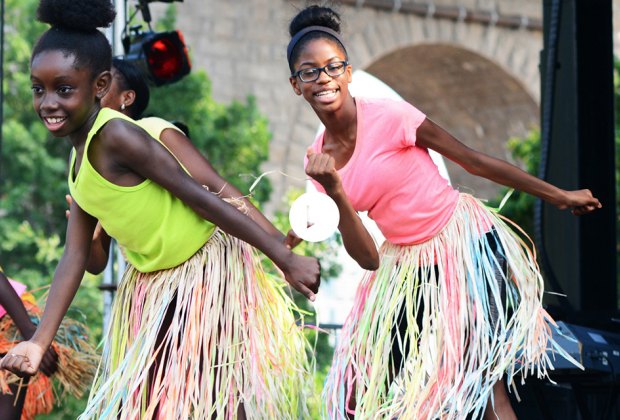 SummerStage is fun and welcoming for New Yorkers of all ages. Photo courtesy of City Parks Foundation
SummerStage Family Day — Central Park
Sunday, July 14
This year, SummerStage presents a free, family-focused afternoon concert featuring two all-American bands, the bluegrass-inflected Railroad Earth from straight outta New Jersey, and the more Southern-style Ranky Tanky from Charleston, South Carolina. Bring your dancing shoes. FREE
Mad Science: The Summertime Rocket Show — Flushing Meadows Corona Park, Queens
Tuesday, July 16
If being out of school has your kids happy enough to shoot the moon, take them to this live demonstration sponsored by the NYC Parks Department dedicated to the science of rocketry. Real model rockets will launch hundreds of feet into the air and deploy parachutes for the return trip to Earth. FREE
RELATED: Free Outdoor Movies in NYC This Summer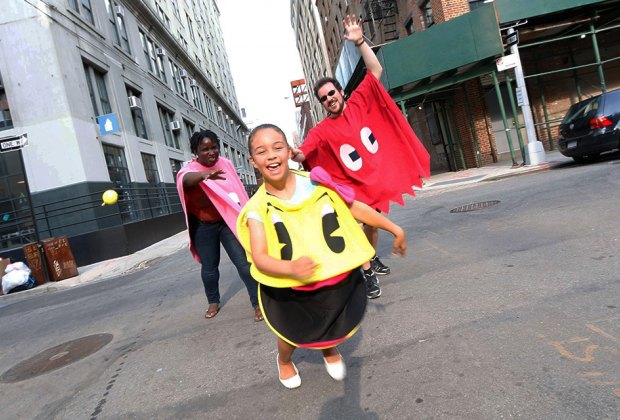 Come Out & Play Family Day is celebrated in the streets of Dumbo. Photo by ESI Design
Come Out & Play Family Day — Dumbo, Brooklyn
Saturday, July 20
It's the 14th anniversary of the Come Out & Play festival of street games. Kids can get in on the action during Family Day at Manhattan Bridge Archway in Dumbo. The games are best suited for children ages 6-11 and their adult companions. Guardians must sign waivers for all players under 18. All games run multiple times but participation is first come, first served. FREE
SpaceFest — Upper West Side
Saturday, July 20
The American Museum of Natural History celebrates the 50th anniversary of the Apollo 11 moon landing with a day-long festival of space-themed films, activities, exhibits, and performances. Kids can hear from real astrophysicists, see footage of the historic space race and moon landing, and watch as the Story Pirates break down the history and future of space exploration.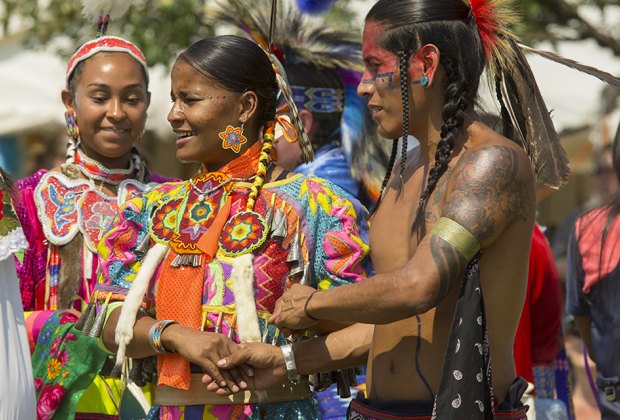 Learn about Native American cultures and experience the Mid-Summer Powwow at The Queens County Farm Museum. Photo courtesy of the museum
Thunderbird American Indian Mid-Summer Powwow — Floral Park, Queens
Friday, July 26 to Sunday, July 28
Our favorite NYC farm (the Queens County Museum) opens its grounds for a real-live powwow this weekend. More than 40 Indian nations participate. Watch dance competitions, check out the vendors, and introduce kids to native cultures.
World's Biggest Bounce House — Floyd Bennett Field, Brooklyn
Friday, July 26 to Sunday, July 28 and Friday, August 2 to Sunday, August 4
The Guinness-certified biggest bounce house in the world is just the beginning of the bouncy fun when this traveling family fun zone arrives at Aviator Park for two weekends. There's also a giant inflatable obstacle course to conquer, and a space-themed play zone filled with friendly looking aliens. Timed sessions by age group (from toddlers to teens) ensure safe fun for all ages.
Guelaguetza Festival New York City — Long Island City, Queens
Sunday, July 28
The lovely Socrates Sculpture Park in Queens hosts the 7th annual Guelaguetza Festival, a colorful and thrilling celebration of traditional Mexican dance and culture presented by the Ballet Folklórico Mexicano de Nueva York. FREE
Honorable Mentions
NYC has so many amazing things going on, it's often difficult for us to choose our GoList picks each month. So here are a few more cool events worth considering for your July calendar.
Catch a performance of Bessie's Big Shot, an endearingly loopy puppet show presented by Central Park's beloved Swedish Cottage Marionette Theater that's traveling to parks around the five boroughs all summer long courtesy of the PuppetMobile. FREE
Speaking of catching cute things, kids can take part in the time-honored summertime tradition of catching (and releasing) fireflies at the Firefly Pajama Party at Fort Tryon Park on July 5, with help from the NYC Urban Park Rangers. FREE
The multi-day Feast of Our Lady of Mount Carmel includes live music, carnival rides and great eats, along with a traditional procession of flower-strewn towers. If you're only going to make it one day, the kids' festival is Thursday, July 11, and the big feast is on Tuesday, July 16. Be sure to check the full schedule before heading over, because there are different activities every day. FREE
The Rubin Museum's annual block party in Chelsea on Saturday, July 21 has an energetic "Power Play" theme this year: kids can make traditional crafts, hear live drum performances, and even make their own power-efficient lamps. FREE

Read your poetry on stage at the New York Poetry Festival on Governors Island. Photo courtesy of Governors Island

Celebrate stanzas at the Annual NYC Poetry Festival, which takes over the shores of Governors Island annually the last weekend in July. FREE
Head to Lefferts Historic House in Prospect Park on Sunday, July 28 for the Brooklyn Roots Festival, showcasing the many cultural backgrounds that make up Brooklyn's international community. FREE
Enjoy an outdoor movie playing in one of New York's parks and gardens nearly any night. FREE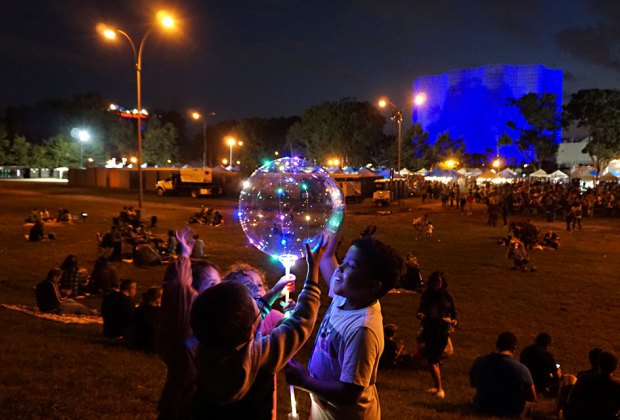 The whole family will enjoy spending a summer evening at the Queens Night Market. Photo courtesy of the market
Snack, shop, sip, and get down to free music performances every Saturday night at the Queens Night Market in Flushing Meadows Corona Park. FREE admission; $5-$6 per vendor