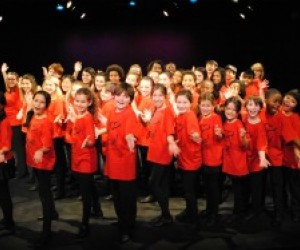 Giveaway: Win Season Tickets to TADA! Youth Theater
I love taking my kid to see live theater. Over the years, we've seen shows from Broadway to the Fringe Festival, but the ones that have made the biggest impression on her are the productions at TADA! Youth Theater. Part of that is because she's watching her peers onstage: the children's troupe is made up of local youngsters ages 8 to 18. But I think my daughter loves TADA! for the same reason I do: Its original musicals are funny, sweet, thought-provoking and all around awesome. And the tickets are super-affordable:$15 for adults, $8 for kids.

We've written many rave reviews of past TADA! shows, so we're excited to offer a huge ticket giveaway for the company's entire 2012-2013 season. One lucky family will win four tickets to four TADA! musicals, including Up to You, which opens in April, and two runner-ups will snag seats to one or two shows. All told, over $500 worth of prizes!
Read on for more info on this wonderful kids' theater company, and the scoop on how to enter to win TADA! tickets.
TADA! has been around since 1984 and has won a ton of prestigious theater awards. Unlike a lot of other children's theaters, TADA! doesn't revive old shows or adapt the same old fairy tales. All of its productions are original, and the material really speaks to kids.

TADA's Resident Youth Ensemble is made up of more than 80 kids from the tri-state area. Children need to audition to get in and, if accepted, get professional training and stage experience free of charge. Although a handful of former TADA! kids have gone on to become famous, like Josh Peck from Drake & Josh, film actress Kerry Washington and talk-show host Ricki Lake, going pro isn't stressed here.
The company is committed to having a truly diverse ensemble, both in terms of ethnicity and ability. The one thing all of the kids have in common is enthusiasm. For children who aren't quite ready to try out for the ensemble, TADA! also offers classes and camps for kids throughout the year (there's a cool spring break camp coming up).

This April, TADA! will kick off its 27th season at its Chelsea theater with Up to You, about a tense student council election in a fictional high school. Despite being set in 1977, the musical explores challenges facing kids today, including peer acceptance, bullying, stereotyping and wanting to be popular. Plus the show touches on political issues too, like campaigning, keeping promises and corruption, topics that are on our minds during this presidential election year.
OUR LATEST VIDEOS
The show is sure to feel very real: Composer and book writer Eric Rockwell (who's now an adult) based the experiences of the narrator, who's rumored to be gay, on his own high school days. Yes it sounds heavy, but like all TADA! shows, Up to You also has plenty of humor and an upbeat ending.

TADA!'s summer show will be Everything About School (Almost), which follows the comic adventures of eight friends from elementary school to high school graduation. The other two shows in TADA!'s 2012-2013 season have yet to be determined.

If you'd like to enter our TADA! ticket giveaway, please fill out the form below. There are several ways to enter, each giving you more chances to win these great prizes. The winners will be picked at random and announced on our Facebook page next week.