TADA! Youth Theater's B.O.T.C.H. is Bang On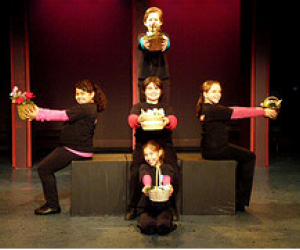 If your little New Yorker already thinks they've seen it all, you might consider hustling them down to TADA! Youth Theater's production of B.O.T.C.H. The musical follows seven wayward subway riders into the tunnels beneath New York, where they stumble onto several curiosities even life-long top dwellers couldn't lay claim to.
The hour-long, jazz styled musical reveals artistic rats, misplaced mummies and, of course, B.O.T.C.H. —New York City's secret Bureau of Turmoil, Chaos and Headaches. (Ever wonder why that water main exploded during your morning commute? According to B.O.T.C.H., Mayor Mike wants to keep New Yorkers on their toes.)
Best of all, the hour long revue stars local youngsters aged 8-18-years-old and not a dud among them. Now in its 25th year, TADA! Youth Theater auditions kids from the metropolitan area and casts the best in their all-ages revue. For six weeks, the players work after school and on weekends to put on the shows. (Homework is done on the set and close attention is paid to maintaining good grades, one stage-daddy informed.)
Don't expect a typical school production. The shows are professionally directed, choreographed and written and the cast reflects New York's multi-ethnic tapestry. B.O.T.C.H. elicits guffaws from grade-schoolers and throws in some chuckles for grown ups too. Song and dance numbers range from Fossee style vamping to old school tap dance and the musical moves fast, with no intermission—though pre- and post-show snacks are on sale in the lobby.
Best of all, there are no heavy-handed lessons to be learned. If anything, the chief lesson here is what children can accomplish with a lot of hard work and passion. Even if yours doesn't have Hollywood stars in his eyes, bet that they'll see what they can accomplish with some commitment and elbow grease from watching these talented youngsters. As one mom said, "Kids love seeing other kids, and the fact that the show is so good just makes it even better."
B.O.T.C.H. will run through February 15. Premium tickets are $25 for adults and $20 for children, while regular seating is $20 for adults and $8 for tickets and can be purchased by visiting www.tadatheater.com.