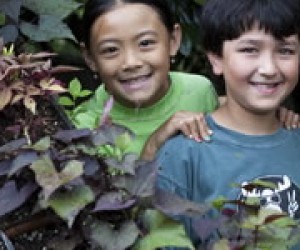 Farm-to-table: Hands-on Planting and Harvesting Summer Camps for NYC Kids
[UPDATED: February 23, 2013] If your child loves digging in the dirt and messing around in the kitchen as much as mine does, then camps that offer planting, harvesting and cooking activities are a summer dream come true. Even for kids who are less, shall we say, dirt-inclined, these programs offer a wonderful opportunity to learn about the farm-to-table movement as they harvest fruits and vegetables right here in NYC. Here are five programs where city kids can get a literal taste of farm life.
Butter Beans Food & Garden Summer Camp – West Village
West 13th Street and Seventh Ave
Ages 6-10
Campers harvest vegetables and fruit from rooftop gardens, shop at local farmers markets, collect honey from beehives, grow plants from seed, prepare pickles and jams, and even make their own ice cream from scratch. Kids also learn about the farm-to-table movement first-hand from food pioneers, chefs and gardeners.

Garden Explorers at the Old Stone House of Brooklyn – Park Slope
336 Third Street between Fourth and Fifth Avenues
Ages 7-11
Campers hit the historic house's garden to learn about plants, gather and plant seeds, and explore soil, worms and insects. Playtime will also be available.

Summer Camp Live! – Floral Park
73-50 Little Neck Parkway
Ages 6-11
The Queens County Farm Museum usually partners with the nearby Samuel Field Y for a camp that offers hands-on farming and traditional summer activities. As NYC's only historic working farm, this is the place to go to learn about planting and harvesting, and cooking sessions will also be available. For more details about this year's edition, contact the Samuel Fiend Y at 718-225-6750.

Taste Buds Kitchen Summer Camp – Chelsea
109 West 27th Street between Sixth and Seventh Avenues
Ages 2-17
Okay we're cheating a bit with this one. Although kids don't actually do any planting in this program, they use fresh local seasonal produce to tackle several recipes each day, so they get a sense of the farm-to-table relationship. Younger kids focus on kitchen basics such as mixing, measuring, tasting and kitchen safety while older children learn about advanced culinary techniques. Teenage campers even get the opportunity to tour popular restaurant kitchens.

Also check out the summer camps at the Brooklyn Botanic Gardens and The New York Botanical Garden, but be quick because they fill up fast!


Read about other great summer programs in our Summer Camp Guide.