Animal Tales Extravaganza and Things to Do at NYC Zoos in Spring 2011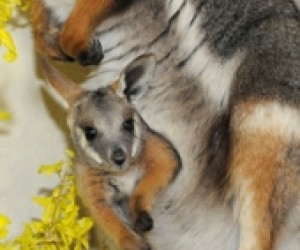 Don't wait for summer to head to the city's zoos. Spring is the perfect time to visit. The animals are friskier in the cooler weather, and the crowds haven't yet hit.

Plus the zoos are bursting with special spring programming. Visit with new baby animals, like the goats at the Central Park Zoo and two new wallabies at the Prospect Park Zoo's recently reopened Australian Walkabout exhibit. The Bronx Zoo is throwing its fantastic Animal Tales Extravaganza festival, featuring costumed characters and other activities. The New York Aquarium just cut the kelp on its Conservation Hall exhibit, where you can marvel at amazing marine life. The Queens Zoo is hosting its first-ever sleepover and has a new Lynx on view.

And that's just a handful of the things that will make you go wild at the zoo this season.
Bronx River Parkway and Boston Road
General admission: $16 for adults, $12 for children ages 3-12, free for kids under 3.
Total Experience admission: $29.95 for adults, $19.95 for children ages 3-12, free for kids under 3.
There's so much going on during the zoo's
Animal Tales Extravaganza
, you may not have much time to visit with the actual residents! This animal-themed, weekends-only party (through June 26) goes on throughout the zoo, and is packed with tons of fun and surprises. It's free with zoo admission. Bonus: The zoo is offering 20 percent off Total Experience tickets if you purchase them online through May 31st.
Click here for more info
.
Here are selected highlights:
Character meet and greets
for the little ones. The lineup includes Marvel superheroes, the Cat in the Hat, Olivia, with more to come.
See the schedule here
.
Main stage performances
by Angelina Ballerina, Bob the Builder, Barney, the Berenstain Bears and the zoo's own talented performers.
See the schedule here
.
Storytimes
by great authors and a few celebrities like Sherri Shepherd, Kathie Lee Gifford and Elisabeth Hasselbeck.
Check the schedule
to see who's reading when.

Making Books Sing
will be on hand every weekend with puppets, songs and stories about polar bears.
There will also be
dance workshops
from Vital Children's Theater,
character parades
that kids can join,
animal yoga
,
craft projects
and more.
Central Park Zoo
— Upper East Side
64th Street and Fifth Avenue
General admission: $12 for adults, $7 for children ages 3-12, kids under 3 free.
Total Experience admission: $18 for adults, $13 for children ages 3-12, kids under 3 free.
We already told you about the
adorable baby goats
that are on view in the
Tisch Children's Zoo
, but there's another new zoo arrival that's pretty cool: a 4-D movie theater. You can see, hear and even feel the film
Planet Earth: Ice Worlds
: The seats rumble, scents waft through the air and the audience gets slightly damp, all while learning about our planet's polar regions and the animals that live there. The movie is included with a Total Experience ticket.

Prospect Park Zoo
— Crown Heights
450 Flatbush Avenue in Prospect Park
Admission: $8 for adults, $5 for children ages 3-12, kids under 3 free.
The reopened
Australian Walkabout
exhibit on the Discovery Trail has a pair of new residents.
Two yellow-footed rock wallaby babies
were born late last year, and are only just starting to experience life outside the pouch. This month, they joined the kangaroo, the geese, the emus and other wallabies in their habitat. If you previously found it difficult to spot the emus, fret no more: The zoo has moved them closer to the trail, so you're more likely to be able to see these long-necked birds up close.
The zoo's popular
Fleece Festival
is coming up the weekend of May 21-22. Families can watch the barnyard sheep get their spring haircuts, sit in on wool craft demos, learn how to dye wool and groove to live music. Free with admission.
Queens Zoo
— Flushing
53-51 111th Street in Flushing Meadows Corona Park
Admission: $8 for adults, $5 for children ages 3-12, kids under 3 free.
I particularly like this zoo. It's small enough that it doesn't take all day, and features animals native to the Americas, like
Lazarus
, a Canadian Lynx. Lazarus was introduced to the zoo's
Woodland Trail
exhibit late last year, so chances are you haven't seen him yet. Also new to the Queens Zoo is
Overnight Family Adventures
. Children ages 5 and up can spend the night in the zoo (along with a parent) and participate in lots of animal-themed activities, including a nighttime walk through the aviary. For an idea of what goes on,
click here
for our review of the Bronx Zoo's Family Overnight Safari. Family Overnight Adventures costs $85 per person.
New York Aquarium
— Coney Island
Surf Avenue and West 8th Street
General admission: $14.95 for adults, $10.95 for children ages 3-12, kids under 3 free.
Total Experience admission: $18.95 for adults, $14.95 for children ages 3-12, kids under 3 free.
The totally revamped
Conservation Hall
and
Glover's Reef
just opened this month.
Glover's Reef
, the first exhibit you see when you enter, is a replica of its namesake coral habitat in Belize. This 167,000-gallon tank contains eels, Atlantic rays, French angels, Cuban hogfish and other stunning swimmers. The new
Conservation Hall
is divided into three different habitats: the Pacific Ocean's Coral Triangle, Africa's Great Lakes and Brazil's Flooded Forest. It's home to more than 100 aquatic animals, corals, eels and endangered marine life that are making their debut at the aquarium.
Staten Island Zoo
— Mid-Island
614 Broadway
Admission: $8 for adults, $5 for children ages 3-14, kids under 3 free.
Best known for its weather prognosticating groundhog Staten Island Chuck, this zoo also boasts lots of kid-pleasing attractions, including Clydesdale horses, pony rides, farm animals and a petting area. Although there's nothing new per se this season, the zoo's next big event is its
Conservation Celebration
on Sunday, May 22, featuring zookeeper talks, environmental programs, face painting, crafts and info about endangered animals. Free with museum admission.
Check out the
Mommy Poppins Spring Fun Guide
to see what else is going on in the city this season.
Photo credit: Julie Larsen Maher for WCS