Meet the New Baby Goats at the Central Park Zoo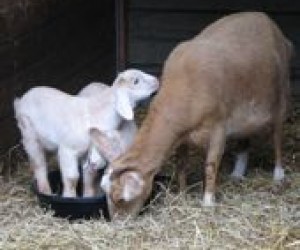 Now that the weather's so lovely (most of the time, anyway), there are so many things to do, including trips to the Central Park Zoo. My toddler loves looking at all the animals, especially the babies. Even though it was cold and rainy when we visited on Monday, we were still thrilled to meet the Zoo's latest additions, four baby mini-Nubian goats that just made their debut at the Children's Zoo!
There's Cole, a spunky one-month-old, plus three other as-yet-unnamed babies: caramel-colored, two-week-old twins and another kid. Get ready to coo at the adorable photos (which were taken last week on a warm and sunny day), and find out more about these babes.
All of the babies were born in late February and early March. They're adorable, but quite rambunctious. Kids will love watching them run and bounce around.
Cole's mother Natalie wouldn't feed him, so he's being raised by zookeepers. He downs a few bottles of goat milk (from Fairway; good taste!) every day.
Since the babies are part of the Children's Zoo, visitors can pet them (assuming they're willing). You can also purchase handfuls of grain to feed to the adult goats (the kids are still exclusively on milk).
Of course there are plenty of other domesticated animals to meet at the Children's Zoo, including sheep, alpacas and Manhattan's only cow.
Beginning April 2, the Zoo (located at 64th Street and Fifth Avenue just inside Central Park) stays open later: 10am-5pm on weekdays and 10am-5:30pm on weekends. Admission is $12 for adults, $9 for seniors, $7 for children ages 3 to 12 and free for kids under 3.
Photos: Julie Larsen Maher ©WCS