When Are All the Theme Parks Reopening? We've Got (Some) Reopening Dates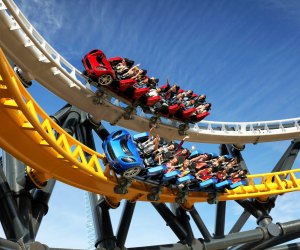 Everything is opening up again! It's time to take a look at all our favorite parks, from Disneyland to Legoland to Universal Studios and more, to find out if, when, and how you can get your fix...
We'll also look at why right now is the perfect time to take advantage of the lack of tourists and put your inside information to work. What inside information? Well, that's exactly what we're about to tell you...
UPDATE: Check back often as we are updating this page every time a theme park makes an announcement.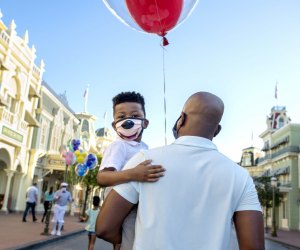 Disneyland is opening! Photo by Caitie McCabe/Disney
Downtown Disney has been open for quite a while for dining (and now even sit down outside dining) and shopping. They opened a new Star Wars Trading Post pop-up shop in place of the Rainforest Cafe and had opened up Buena Vista Street to stroll and shop and eat along. But all that was a prelude to what's coming in March: what was initially touted as a "foodie festival" is now revealed to be a limited opening of Disney California Adventure park called "A Touch of Disney." The rides won't open, but a $75 ticket (which includes parking and a $25 dining credit) allows guests to roam the entire park, including Cars Land and Pixar Pier.
But what about reopening? We now have a date: April 30. Mark your calendar. For around June, because the park is opening with reduced capacity and these tickets (which go on sale April 15) are going to be harder to come by than Willy Wonka's Golden Ticket.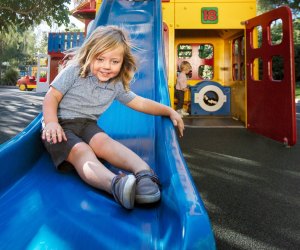 Duplo Playtown is open for kids during Build 'N Play Days. Photo courtesy of Legoland California
Legoland is opening up (in a limited capacity) even sooner than Disneyland. Tickets are available to visit the park for Build 'N Play Days. These tickets range from $14.99-$29.99. The park will be open from 10am-4pm, and while visiting, kids can play at the most popular outdoor playgrounds (including the Hideaways in Castle Hill and DUPLO Playtown), take part in special building activities in Fun Town, design a LEGO Minifigure, and take part in the I-Spy Miniland U.S.A. Scavenger Hunt. There will also be special, socially distanced, entertainment.
Legoland California has announced that the park will fully reopen to guests on April 15! Visitors will even have something to explore at Legoland this year: the new LEGO Movie World was getting ready to open just as things closed down last year. This new area of the park includes Masters of Flight (a simulated ride), as well as a new carousel, Unikitty's Disco Drop, and much more.
Magic Mountain is now open for guests, as of April 3. Woo hoo!
And the "Thrill Capital of the World" reopened with the world's first racing launch coaster—West Coast Racers—which has two side-by-side tracks with four individual high-speed launches. This newest attraction was only open for 2 months before the pandemic hit, so this will be the first summer with this ride in operation.

Get your churros at the Taste of Boysenberry Festival. Photo courtesy of Knott's Berry Farm
Knott's Berry Farm is reopening its gates as the theme park safely resumes regular operations on Friday, May 21st with limited capacity and new reservation requirements. Ticket sales and reservations will be available April 26th. The park will reopen to season pass holders May 6, with plans for a grand reopening to the general public on May 21 for a summer-long, Knott's 100th Anniversary Celebration.
And when the park does open, a new ride will open up as well. Knott's Bear-y Tales: Return to the Fair is an all-new 4-D interactive dark ride that is just about ready to make its debut.
Universal Studios has just announced plans to reopen April 16, 2021, with tickets available online starting April 8. The park's reopening follows the run of its food festival: a Taste of Universal, during which guests can explore the park and eat favorite foods in many of the lands, including at the all-new Minion Cafe. Parents who don't want to splurge on tickets when the rides are still closed can always hit Universal CityWalk, which is open for dining and shopping.
When Universal Studios reopens, guests will have a new ride to explore: The Secret Life of Pets: Off the Leash ride. A few of the park's experiences will be slight;y different temporarily, to accommodate the significantly reduced park capacity; also, only California residents will be able to visit during the initial reopening.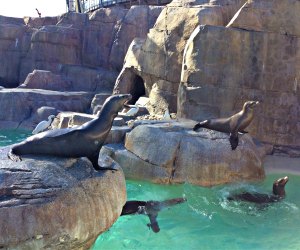 Sea lions at SeaWorld are waiting to welcome you back. Photo by Roberta Brown
From Friday-Sunday every week, SeaWorld is now open! All 100 acres of grounds filled with animal exhibits including dolphins, sea lions, bat rays, sea otters, turtles, and more are now open. All shows and presentations have physically distanced seating, and tickets must be purchased in advance with limited capacity.
The San Diego Zoo and the San Diego Zoo Safari Park reopened to guests on January 30. See the wildlife, stroll among diverse habitats, and take part in fun, educational activities. The parks are open daily, and all visitors ages 3 and up require a ticket or membership and reservation to visit. Roar and Snore Safari sleepovers for the whole family (which include camp activities, an after-hours look at the animals, dinner, s'mores, an evening snack, and breakfast the following morning) are also now taking place, for an extra special "wild" spring getaway!
Great Wolf Lodge is now accepting reservations for guests starting on May 22, just in time for school getting out! This year-round, indoor water park is bursting with water slides, a wave pool, a sports pool, an obstacle course pool, a surfing pool, the spray structure pool, and more. Rigorous health and safety measures are in place, and some attractions (like the hot tubs and fitness center) will be closed.