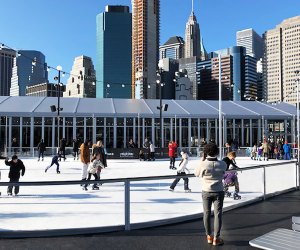 New Outdoor Ice Skating Rink Opens at South Street Seaport
For New York City kids looking to cut a frozen rug, there's no shortage of ice skating rinks. Year-round, families can take advantage of loads of indoor NYC ice skating rinks, like the ever-popular Chelsea Piers rink, and in winter, head to seasonal outdoor NYC skating rinks like Bryant Park's outdoor rink, or the do-it-at-least-once Rockefeller Park ice skating rink.
This winter at the South Street Seaport, the Winterland Rink adds to the list of seasonal outdoor ice skating options in the the city. Situated on the roof of Pier 17, just a short walk away from the Seaport Museum, the Winterland Rink bills itself as the only rooftop rink in the city. Read on for details about how to visit NYC's newest outdoor ice skating rink with kids.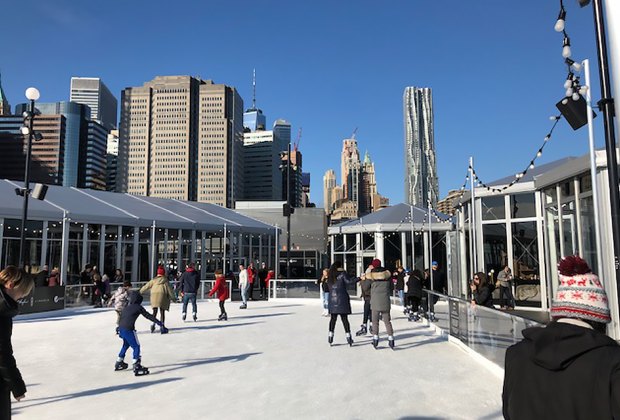 The views from this rink are impressive!
During our visit in the final week of December, most of the retail and other eats planned for the Pier 17 mall hadn't opened yet, but don't fret. After riding escalators or an elevator to the roof, parents will immediately notice the rink is flanked on the south side by Skyline Hall, a rentable event venue that doubles as a heated hideout, with a few couches from which to watch older kids on the ice. On the north side, the rink is flanked by Tank, a relaxed, walk-in "warming hut" with food and bar drinks available, also with glass walls for parental rink supervision-at-a-distance. Both venues are both a far, far more family-friendly option than the rooftop's third venue, R17, a cocktail bar mostly hidden from anyone looking for the rink. Concerns about drinks and skating should be placated by the significant number of security and skate monitors we saw around the rink. (We noticed two food trucks, too, not operating during our visit).
RELATED: 9 Outdoor Ice Skating Rinks to Try Around NYC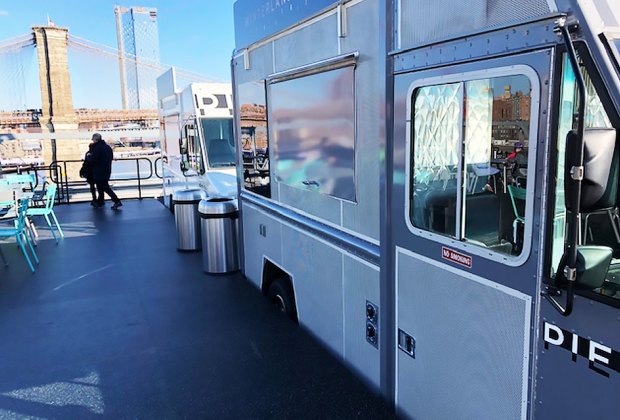 If you need some hot cocoa or a bite to eat food trucks are right near the rink.

But enough of the important stuff: how's the rink? On a sunny Sunday before Christmas, perfect skating conditions revealed a surprising lack of skaters. That will change as word gets out. The views of the Brooklyn Bridge and the harbor are pretty great. It's warmer, too—the rooftop space is bathed in sunlight, and the structures of Tank and the Skyline Hall mostly block the wind. The rink is sized like other temporary rinks, but takes the irregular shape of a pond, like two connected, oblong, and asymmetrical ovals.
RELATED: 30 Fun Things to Do with Kids in the Financial District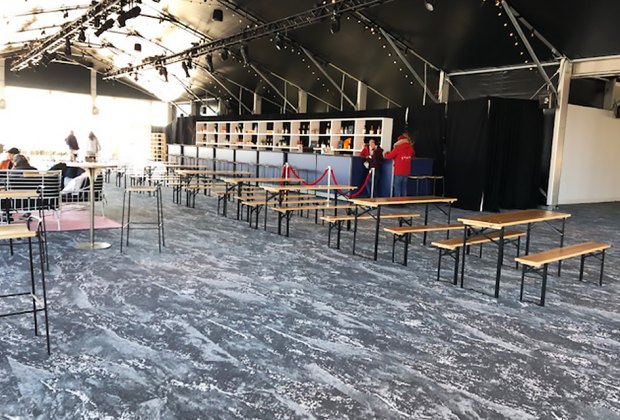 Rent your skates or chill at the tables at Skyline Hall.
The hours are generous, with skating available until 11pm on Fridays, Saturdays, and school holidays. At all times, kids under 5 skate free with a paying skater. Off-peak admission Monday-Thursday is $14 ($22 with rental), which gets you all-day skating—but crowds can reduce that allowance down to 90 minutes. Friday-Sunday and on school holidays, admission is $17 ($25 with rental). The ticketing windows are inside a small rental room with changing benches, all the more reason to buy tickets in advance for crowded times. See the Winterland Rink rental and ticket page for details (season passes, group sales, and discounts for neighborhood residents are available, too). If your little skater is really serious, check out the Winterland Skate school, with lesson options for skaters of all levels.
Winterland Rink
89 South Street South Street Seaport, Pier 17
NY, NY 10038