10 Free Things to Do in Staten Island When It's Freezing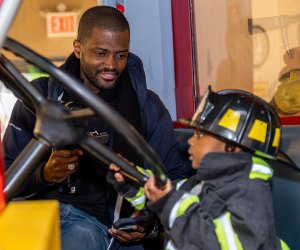 12/23/19
- By
Jessica Gorman
It's getting cold outside, and you may already be running out of ideas for how to keep boredom at bay when it's too cold for the playground. There are only so many play dates that can be arranged, and there are only so many bounce houses and ball pits in NYC. So if you're going to survive the remainder of these long, cold winter months with kids in tow you'll need a bevy of activities that won't break the bank.
Here's a look at 10 Staten Island hotspots where toddlers can blow an afternoon playing and bigger kids will stay occupied too. The best part about all of these cultural centers, museums, bookstores and libraries? They all host free days and events.

Get messy at the Science Sensory Table at the Staten Island Children's Museum. Photo courtesy of the museum
Staten Island Children's Museum
1000 Richmond Terrace, Building M
Free Wednesdays from 3pm-5pm​
Jump aboard an authentic 1941 Seagrave fire truck retrofitted for hands-on play, or crawl through a human-size ant hill in this museum's permanent exhibitions, open year-round. Kids can also see behind the walls of a two-story unfinished house, where they'll find studs, pipes, and electrical systems—they can knock over bricks with a wrecking ball, use a tool bench, and even ride on a see-saw "level." And if you visit on a Wednesday between 3pm and 5pm, it's all free. Located on the grounds of Snug Harbor, the museum offers a full calendar of kid-friendly programs and special events. Story Time and Con Edison Science Times happen daily, and this winter the museum is introducing dance sessions to their Performing Arts Studio. Children can join dancers Anjoli Chadha and Walter Rutledge during their six-month residency at the museum for dance workshops every Friday and Saturday. Visit sichildrensmuseum.org for more information.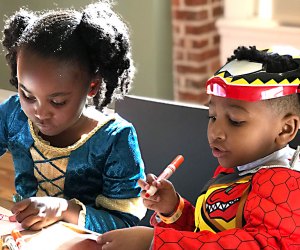 Join in a fun family art workshop! Photo courtesy of the museum
Staten Island Museum
1000 Richmond Terrace, Building A
Free workshops on Saturdays
Also located on the grounds of Snug Harbor, this museum is a good gathering spot for older children interested in science, with hands-on experiments and drop-in art workshops held every Saturday. Some of this winter's events include a Snow Globe workshop and Super Science Electricity experiment. The events are designed for children aged 6 to 12 and are FREE. Permanent on-site exhibitions include "Remember the Mastodon," which offers hard facts about fossils and extinction, and "Field Notes," which features artworks and seed histories from the Hudson Valley Seed Company. The Museum is open Wednesday through Sunday from 11am to 5pm.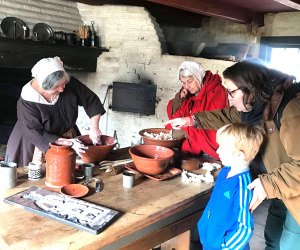 Visit Historic Richmond Town for a guided tour to discover how your recent ancestors spent the coldest months of the year! Photo courtesy of Historic Richmond Town
Historic Richmond Town
441 Clarke Avenue
Free activities on Fridays
This popular borough cultural center offers a wide variety of programming throughout the year, specializing in historic tours. But during the winter there are an array of indoor exhibitions that children can enjoy for free every Friday. An ongoing exhibit entitled Toys! examines the ways in which children learn about themselves and their world through toys and play. More than 200 of the best-loved and most fondly remembered toys of the 19th and 20th centuries are featured to illustrate that toys have long been tools for learning about life, work, and family.
Antique train sets, vintage toy soldiers, dolls and dollhouses, board games and building blocks are all included in the exhibition. A Punch and Judy puppet set from the late 19th century is on display as is a Yo-Yo and Slinky and the exhibition illustrates more recent examples of gender specific toys such as a 1992 GI Joe action figure and a Jr. Miss Beauty Set from 1960. Throughout the exhibition hands-on learning stations allow visitors to consider toys in new and different ways while experiencing the timeless joy of fun and games.
New York Public Library
The New York Public Library offers more than 93,000 programs annually, serving all age groups from toddlers to teens. On Staten Island, free programs abound at 13 different branches. Events include Baby Storytime, Open Play for Toddlers and a Teen Café for Young Adults. There are also Krafty Kid Tuesdays, Teen Video Game meet-ups and clubs for Lego lovers and 3-D Printing aficionados. Check nypl.org for the full calendar of events.
RELATED: Staten Island's 10 Best Playgrounds

The National Lighthouse Museum's mission is to preserve and educate on the maritime heritage of lighthouses and lightships for generations to come. Photo courtesy of the museum
National Lighthouse Museum
200 The Promenade at Lighthouse Point
Free for children under 12
Located on the former site of the United States Lighthouse Service's General Depot in St. George, the National Lighthouse Museum educates visitors about the history and technology of the nation's lighthouses. This self-guided experience features 2,400 square feet of exhibit space and installations tell some interesting stories about the light keepers themselves. Children under 12 are admitted free.
Greenbelt Nature Center
700 Rockland Avenue
Free monthly activities for families
The Greenbelt Conservancy, a not-for-profit organization partnering with NYC Parks to care for the Greenbelt's 2,800 acres in central Staten Island, welcomes families for a free monthly series on science this winter. Sponsored by Con Edison, Family Science Nights in the Greenbelt will focus on science topics and experiments designed for children and their guardians to accomplish together. A few short, self-guided activities will start families thinking together, followed by a full group activity. Children ages eight to 10 are welcomed with an adult chaperone. Guests can register via Eventbrite or call the Greenbelt Nature Center at 718-351-3450 for more details.
Staten Island Zoo
614 Broadway
Free Wednesdays after 2pm​
Open all winter, this eight-acre West Brighton zoo features 1,500 animals of over 350 different species, many of which are housed indoors, making for a convenient winter afternoon activity. Here, children can view an array of birds, monkeys and reptiles. A new aquarium features "walls of water" representing distinct regions of the biosphere from the Caribbean to the Arctic.
Barnes and Noble
Staten Island Mall, 2655 Richmond Avenue
Free weekend storytimes
This national book retailer features free children's events at its Staten Island Mall location all winter. Look for book readings each Saturday morning and afternoon followed by story-related activities—featured titles include The Return of Thelma the Unicorn, Grumpy Monkey, Nobody Hugs a Cactus, and How to Catch a Dragon. YA readers can join in on Friday night book club discussions, which explore compelling stories and characters from a teen's perspective.
Noble Maritime Collection
1000 Richmond Terrace, Building #8
Suggested donation; children under 10 free
This museum, which displays works by noted marine artist John A. Noble, features a rebuild of his restored houseboat studio, which the curator says is a big draw for kids. Admission is by donation but members and children under 10 are free. The museum's current featured exhibit is a Ship Model Gallery which features builders' models of famous sailing ships.
Lego Store
Staten Island Mall, 2655 Richmond Avenue
Free open play and workshops
This store is a paradise for your little builder, filled with several tables of bricks and mini figures to encourage free play. Free events are also hosted regularly (mostly on weekends) during which children are invited to build themed creations. While building is free and encouraged, parents should be aware that most kids (especially mine) find a way to turn the free visit into a pricey purchase.