Staten Island's 10 Best Playgrounds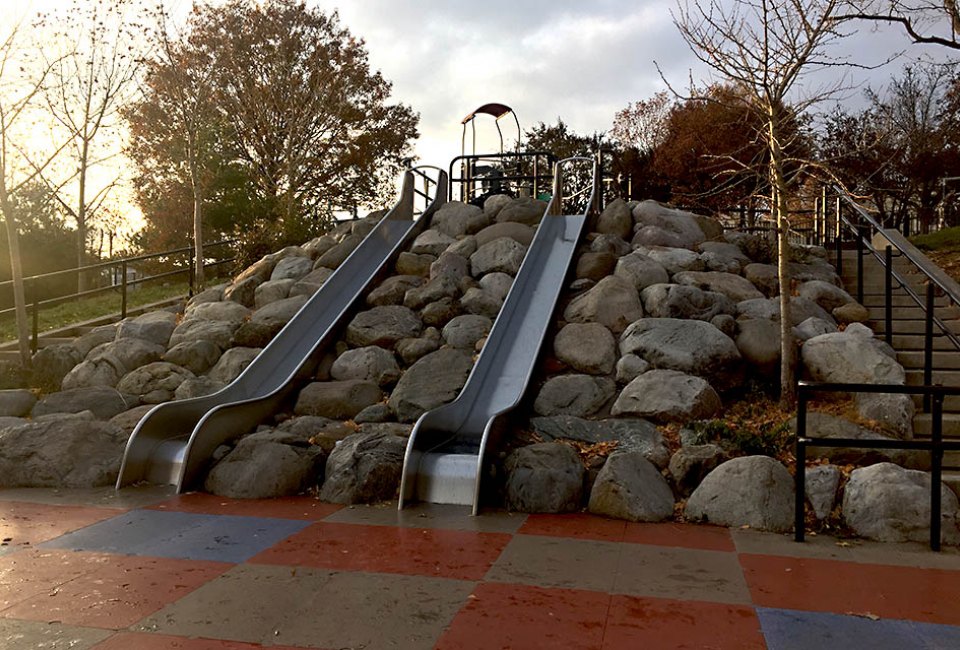 11/27/19
- By
Jessica Gorman
Staten Island takes its designation as NYC's "Greenest Borough" seriously. Dotted with over 170 parks across 12,300 acres of protected parkland, the borough boasts plenty of options for outdoor adventure, from wooded trails and kayak launches to designated areas for bird watching and horseback riding. If you really dig deep you'll even find a field reserved for model aircraft flight, and an old-fashioned carousel.
But if you're looking for a great destination playground to keep your children busy, there's certainly an abundance of those too—and many of Staten Island's best playgrounds are newly renovated and chock full of innovative and interactive play units. Here's a look at Staten Island's top 10 playgrounds—and the details that make each one so unique.
Arrochar Playground — Arrochar
Sand Lane between Major Avenue and Mcfarland Avenue
This park just benefited from a $5.1 million grant through the Community Parks Initiative, a cooperative program between the City Council and Parks, and has been upgraded with new basketball courts, state-of-the-art playground equipment, turf fields and an innovative green infrastructure that helps water recharge. Located next to P.S. 39, this colorful playground features an elaborate spray shower, swings and two play units—one geared towards toddlers and another built for children aged 5-12.​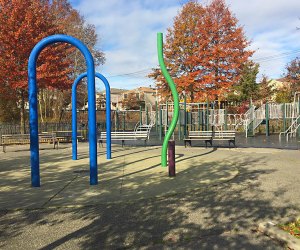 Bloomingdale Park's biggest attraction is the playground.
Bloomingdale Park — Woodrow
Ramona Avenue and Lenevar Avenue
The main entrance to this playground is located on a residential street but the park itself is backed by an expansive wooded lot that spans several acres deep. There are several football, soccer and baseball fields here as well as a dog park. But the playground is by far the site's biggest attraction, drawing kids with its large loop of slides, swings and climbing equipment. The park's centerpiece is an artistic water feature that sprays water on demand during the warmer months. A bocce court appeals to an early morning senior set (and there are signs warning children to stay off of it). Public bathrooms are open year round.​
RELATED: 14 Best Things to Do in Staten Island's Greenbelt with Kids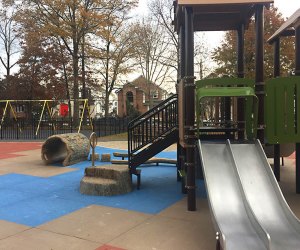 The recently renovated Lenape Park is an oasis in the midst of the expansive Conference House Park.
Conference House Lenape Park — Tottenville
Swinnerton Street and Billop Avenue
Located at the southernmost point of New York State, Conference House Park houses four historic buildings that trace the history of the borough over the course of three centuries. The Conference House, the Biddle House, the Ward House and Rutan-Beckett House all served an important background role in America's past – an unsuccessful Revolutionary War peace conference was held here on September 11, 1776 between the Americans and the English. But today there is more than just historic landmarks on this site. Lenape Park, named for the area's indigenous people, features slides and swings and serves as a sort of oasis in the midst of this 265-acre park. While charming, this recently-renovated playground is located at the center of a heavily wooded area and signs warning of deer ticks abound. The closest bathroom is an approximate 10 minute walk away.​
Dugan Playground — Oakwood
Mill Road to Weed Avenue between Tysens Lane and Isernia Avenue
This playground recently underwent a $1 million restoration which fully reconstructed the play area and added a new spray shower, new equipment, and a safety surface. Most of the playground is taken up by two baseball and softball fields but the play area is still relatively expansive, featuring swings, a seating area, and a sprinkler designed to look like a maze. Bathrooms and basketball courts are also nearby.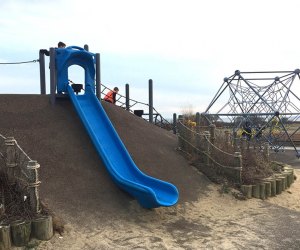 Play at the park and the beach at Great Kills Park.
Great Kills Park — Great Kills
Hylan Boulevard and Buffalo Street
Located in the southernmost section of the Staten Island Unit of Gateway National Recreation Area, Great Kills Park is where Island residents go to swim – it is the only lifeguarded beach in the borough. Filled with multi-use paths and four miles of biking and running trails, plus plenty of fishing opportunities and a marina and boat ramp, the park is a popular spring and summertime destination. There's a small playground here that features a rock-climbing wall, tall slide and cube of monkey bars. There's also plenty of sand at the playground's base if you want to bring a bucket and shovel.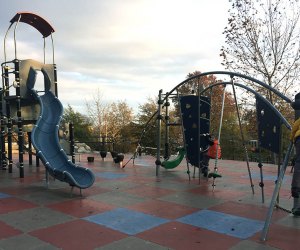 Lieutenant John H. Martinson Playground Is great for all ages, even adults!
Lieutenant John H. Martinson Playground — Annadale
Koch Boulevard and Preston Avenue
Located adjacent to Public School 55, this playground was dedicated to the memory of FDNY Lieutenant John H. Martinson of Engine Company 249, who died in the line of duty in 2008. The park, which was reconstructed in 2013, is one of the borough's most innovative, featuring two levels of play – one area for older children and one for toddlers. Two large slides separate the levels which both feature age appropriate swing sets, climbing apparatuses and twisty slides. There's also an amphitheater that is occasionally used as an outdoor classroom during the warm weather. There's basketball and handball courts as well as a water spray feature and a maze of ramps where kids can use skateboards and scooters. Two bathrooms are open year-round, and a set of exercise equipment – stationary bike, chin-up bar and a ski-like elliptical machine – are available for adult use...if you can peel the kids off first.
Miller Field Playground — New Dorp
New Dorp Lane
A former military airfield, this 187-acre park is named after James Miller, the first American aviator to be killed in action in World War I. Operated by the National Park Service, Miller Field is part of the Gateway National Recreation Area and listed on the National Register of Historic Places. There are an abundance of baseball, cricket, softball and soccer fields here, as well as a bocce court and picnic areas. The playground emphasizes climbing: There are a variety of monkey bars, a scalable lighthouse, and a web-like structure that is made for hanging around. Parents should be extra vigilant near one 12-foot-tall piece of equipment – older children will be tempted to climb to the top and getting back to the bottom is not an easy task. Visitors should also be aware that Porta-Potties are the only bathroom option here.
RELATED: Staten Island with Kids: Top 51 Things to Do for Families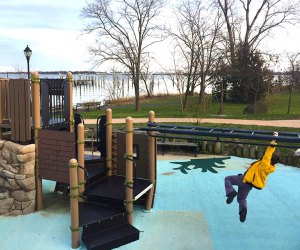 Enjoy the cool and colorful nautical Seaside Wildlife Nature Park.
Seaside Wildlife Nature Park — Great Kills
Nelson Avenue and Tennyson Drive
Affectionately dubbed the "Pirate Park" by Staten Island residents, this waterfront playground features a nautical theme complete with a large lighthouse, three-dimensional shark shaped monkey bars and massive shipwreck play feature. Kids can slide down the ship's mast pole, walk over a wobbly "plank" bridge and gaze at the ocean through a rotating periscope. Eight swings separate the big children's play area from a smaller play area for the toddler set. Here you'll find a play unit that resembles the Staten Island Ferry where kids can pretend to drive the boat, ring a bell upon its arrival, and balance on a weighted platform. The playground is surrounded by 20 acres of wilderness and a running trail is adjacent to the park if parents want to jog a few laps while the kids play. Several casual fine dining restaurants are located on Mansion Avenue at one of the park's two entrances: Cole's Dockside, Marina Café and Fiore Di Mare all feature outdoor seating and prix fixe menus with options for the kids during lunch hours.​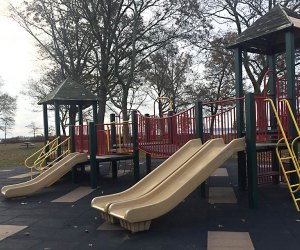 The playground and the oceanfront views are a huge draw for Wolfe's Pond Park.
Wolfe's Pond Park — Prince's Bay
Hylan Boulevard and Cornelia Avenue
The playground here is small, but locals frequent this park for its spectacular oceanfront views, peaceful location, and expansive green space. There's a network of running trails throughout the park which feature established exercise stations and posted signs on how to use them. There's also a roller hockey rink here as well as tennis and basketball courts and a second set of swings located right on the beach. Permanent bathroom trailers are available for year round use.
Willowbrook Park — Willowbrook
Richmond Avenue between Victory Boulevard and Ashworth Avenue
This protected patch of greenery is expansive and full of recreational activities. Visitors to this popular Greenbelt park can canoe across a five-acre lake, hike through several wooded areas, and drop a fishing line in the area's quiet tributary streams. But the park's Carousel for All Children is by far the highlight: This handicapped-accessible merry-go-round features 51 hand carved wooden animals which circle several hand-painted panels depicting borough scenes. The Carousel, which costs $1.50 to ride, is open to the public from May to October and can even be rented out on off-hours for private birthday parties. A smallish playground perfect for two-to-eight-year-olds sits right outside its gates. Here kids can climb and slide – but there are no swings. Bathrooms are in close proximity and there's a large pond where children are welcome to feed the ducks. But be careful, the birds are used to visitors' handouts and aggressively expect them.

Photos by the author
t Click Here to Sign Up!