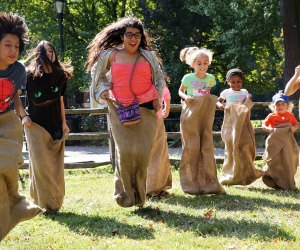 Columbus Day Weekend Things To Do with Kids in NYC: Parade, Fall Fests, Skating, Theater
Columbus Day weekend is here, and there's so much to do with kids around NYC it would take another three-day weekend to fit everything in. The annual Columbus Day Parade steps off in Midtown on Monday, of course, and there are Indigenous Peoples' Day celebrations at the National Museum of the American Indian and the Museum of the City of New York, the Brooklyn Children's Museum, and the Children's Museum of Manhattan.
This weekend also brings FREE fall festivals in full force, including the Kings County Fiber Festival, the Annual Harvest Festival in Carl Schurz Park, and the King Manor Fall Festival. Plus there's a Hip Hop Halloween Celebration at the RISE Center in Brooklyn, the Honey and Harvest Festival at the NYBG, and the annual Narrows Botanical Harvest Fest, complete with a canine costume contest.
Great kid-friendly concerts, exhibits, and shows abound, too: It's opening weekend for The Pout-Pout Fish at New Victory Theater, or you can catch an unstaged reading of a new musical, The Seven Princesses (free!). Joanie Leeds serenades little fans at Symphony Space, Angelina Ballerina takes up residence in the West Village (and we have a deal for 50% off tickets), and The Big One-Oh! celebrates the magic of turning ten. Babies can parachute into Nooma at Carnegie Hall. And don't miss La Mama Kids' Tomte, a shadow puppet performance based on a story by Astrid Lindgren.
To the delight of tiny creature fans, the butterflies are back at the American Museum of Natural History. The Rockefeller Center Skating Rink is open for the season. And football afficionados can get their game on at the Paley's Family Tailgating exhibit, complete with a live screening of the Jets v. Cowboys game on Sunday.
Read on for our top picks for the coming weekend, or check out our list of 25 Fun Things to Do on Columbus Day in NYC. Also, be sure to check our October GoList and just released Halloween Guide to help you plan out the rest of this fall. As always, our Event Calendar is full of activities and events for every day of the week.