Victorian Gardens in Central Park Is a Just-Right Amusement Park for Preschoolers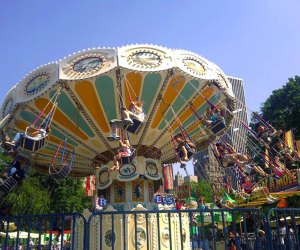 Manhattan's only outdoor amusement park, Victorian Gardens, is now open for the 2019 season. It's one of those annual summer attractions you think all New York City families know about and go to—until you realize a bunch of your friends have never even heard of it.
Victorian Gardens is especially wonderful for younger children, which is why we included it in our roundup of best theme parks for preschoolers, although elementary schoolers will enjoy themselves, too. The rides are contained in a small, enclosed space so you don't have to worry about kids wandering off (like at Coney Island), and there's little walking between attractions. Most of the rides are gentle (a few have height requirements), and there aren't any teens rushing through the crowd. Plus, you can't beat the location at Wollman Rink in Central Park, just steps from the zoo, Heckscher Playground and the carousel.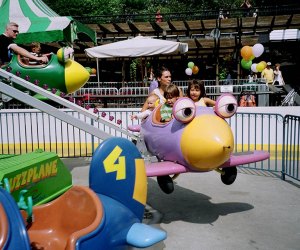 Photo by Eden, Janine and Jim/CC BY 2.0
Victorian Gardens is run by the same company that manages Luna Park in Coney Island, so there are a lot of similar rides that are all great for preschoolers, like the massive Happy Swing that seats an entire family, the Fiesta Balloon Wheel that simulates a hot-air balloon ride, and the Rockin' Tug. There's also a new ride for the 2019 season, the hexagonal Rainbowheel, a classic kid-sized Ferris wheel with rainbow balloons. While the park says its rides are good for 2- to 12-year-olds, tween thrill-seekers won't be happy here. Adults can accompany kids on the rides, but sometimes it's a tight fit.
You'll also find a handful of carnival games like Whac-A-Mole where kids can win prizes. The bad news: These games aren't included with the unlimited-ride wristband. The good news: If you and your child sit down for a game and no one else shows up, you can compete against each other, which guarantees you'll go home with a stuffed toy of some kind. (Or perhaps that's just more bad news, depending on how you feel about enlarging your kids' stuffed toy collection.)
Victorian Gardens sells amusement park staples like cotton candy, candied apples, pretzels, and more, which you can enjoy on the outdoor benches, if you can snag one. Inside the clubhouse you can buy overpriced kids' meals like chicken nuggets and hot dogs. Some people seem to sneak in their own food from home but officially, no outside food is allowed. (Perhaps it's tolerated; we've never seen anyone stopped at the door).
There's also live entertainment on weekends, performed by local entertainers like Sammie and Tudie, various magicians, and veteran circus performers like Ellie. Kids like them well enough but the shows are outside and it can get hot! Shady seats are in short supply.
A day at Victorian Gardens doesn't come cheap, but that's par for the course when it comes to amusement parks. However there are ways to maximize your money. If your child plans to do more than five rides, an unlimited-ride wristband is the way to go. Some of the rides have a height minimum of 42 inches, so if your child is shorter than that you'll need to pay to accompany them. Once kids are about 5, they should be able to do most of the rides alone. You'll also save if you visit on a weekday and it will be a lot less crowded. Party packages are also offered.
Unlimited wristbands are $17 on weekdays and $19 on weekends and holidays. Everyone taller than 36 inches also pays an entrance fee of $8.50 on weekdays and $9.50 on weekends and holidays. You can also pay by the ride at $4 each, and $5 each for games.
Victorian Gardens at Wollman Rink is located in Central Park. Enter at 59th Street and Sixth Avenue and walk north.
A version of this post was published in 2017; it has been updated.