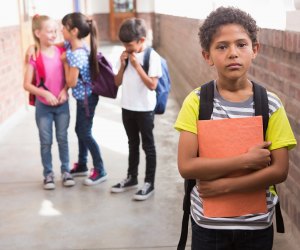 Open Letter to Donald Trump From Concerned Parents
In his victory speech President-elect Donald Trump vowed to be a "president for all Americans." Since Election Day, however, there have been an alarming number of hateful events in our nation's schools invoking Trump's name. We are now living in a country where children fear for their safety and that of their loved ones. As advocates for children and families, we, the mothers and fathers of Mommy Poppins, call on Trump to explicitly denounce all forms of hate speech, attacks, threats, and bullying that are erupting in our nation's schools and beyond.
Donald Trump, saying "stop it" isn't good enough. Your directive must be explicit, immediate, and unequivocal. There can be no room for confusion. We call on you to directly address all Americans to say hateful speech and behavior against people of any race, religion, nationality, gender, or sexual orientation is not acceptable to you or this nation.
Being leader of the free world is an awesome responsibility. Not only will you have the power to start wars and shape international policies, but you are the highest representative of the United States of America. It is incumbent that you lead by example and uphold the values of our great nation and constitution. And you must do what you can to soothe the fears and protect children who have done nothing to deserve the recent behavior thrust upon them.
In just the past week since the election the number of hateful episodes in schools has been disturbing. Racist slogans and "Make America great again" were written in a high school bathroom in Minnesota. Middle schoolers in Michigan chanted "Build the wall! Build the wall!" taunting and terrifying fellow students. In Tennessee a third grader sought counseling after being told by a fellow student that he wouldn't be allowed to see one of his two mothers now that Trump was elected. In Pennsylvania high school students celebrated Trump's victory by yelling, "white power!" There have been many more incidents occurring on college campuses as well.
Teachers, school administrators, parents, and local and national government officials will also need to do their best to handle these situations and set the tone for their communities, but it is most incumbent on you, Donald Trump, to tell America that you do not stand for or condone any form of bigotry. Tell America's children that you do not condone attacks on Muslims, gays, blacks, Latinos, or any group. Tell girls that they are valuable, strong and their bodies are not up for grabs. Reassure children that you are not going to deport their law-abiding parents in the night. Be the beacon that this nation needs to actually "unify our great country" as you professed you would.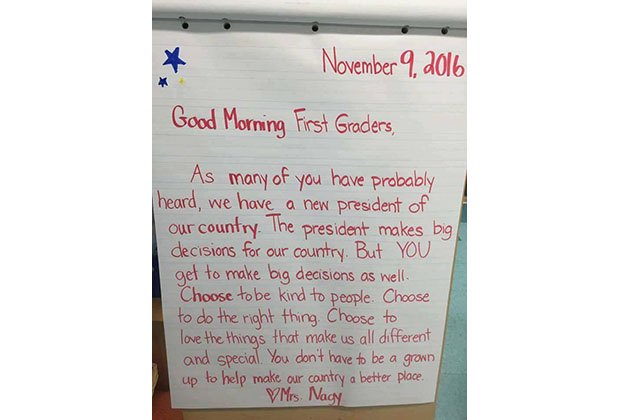 The future of our country lies in our children. Their values and future selves are being shaped by the experiences and world they live in today. In the days since the election, we've discovered hopeful signs, including wonderful educators like Mrs. Nagy in Connecticut who posted this inspiring message (above) to her first graders, reminding them to be kind. But educators can't do it alone if bigotry is condoned from the highest level.
We ask that our President-elect follow the example of Mrs. Nagy, and show the world that you will rise to the stature of your office to protect children and uphold America's best values. We will know that you are serious not just by your words. Your appointment of a diverse staff and inclusive policies will prove your commitment, but it must start now with a strong and clear message. We tell our children to use their words. Donald Trump, use yours.
Edited to add: A reader who is a middle school teacher pointed out that children are also being labeled racist for stating support of Donald Trump. The message must be that name calling and bullying of any kind are not acceptable. There is no righteous side of bullying.