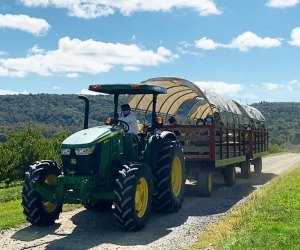 Hayrides and Fall Farm Fun for Kids in Westchester and the Hudson Valley
Hayrides are our favorite mode of transportation when it comes to fall fun, but unfortunately, the pandemic has whittled our normally robust list down to just a handful of hayrides for 2020. Still, if you can't let the harvest season pass without a hayride, we've found seven farms willing to give you a scenic, seasonal lift. These spots in Westchester and the Hudson Valley offer hayrides plus plenty of other awesome autumn activities, including apple picking and corn mazes.
For more ideas for kid-friendly fall fun, sign up for our newsletters and follow us on Facebook.
2020 update: Hayrides are running at half-capacity and filled on a first-come, first-served basis.
Take a hayride to the pumpkin patch to pick some gourds. You can also pick your own apples and get lost in a corn maze.
RELATED: Where To Go Pumpkin Picking in Westchester and the Hudson Valley

The treetop adventure park is open at Barton Orchards.
2020 update: Hayrides are available during fall festival weekends.
Not only does Barton Orchards offer hayrides, but the farm also has live music, a "fun park" with rides and attractions, pick-your-own apples and pumpkins, and an on-site taproom with craft beer, cider, and wine, and a treetop adventure park.
2020 update: Hayrides are running at Dykeman Farm, but capacity is minimal. The farmers encourage guests to walk to the orchards and catch a ride back once they've picked their bounty.
Dykeman, well known for its expansive farm stand, offers free hayrides on the weekends in October. Other fun activities include seasonal-themed photo ops, a corn pit for playing in, and a kids' play area.
RELATED: Best Places for Apple Picking with Kids in Westchester and the Hudson Valley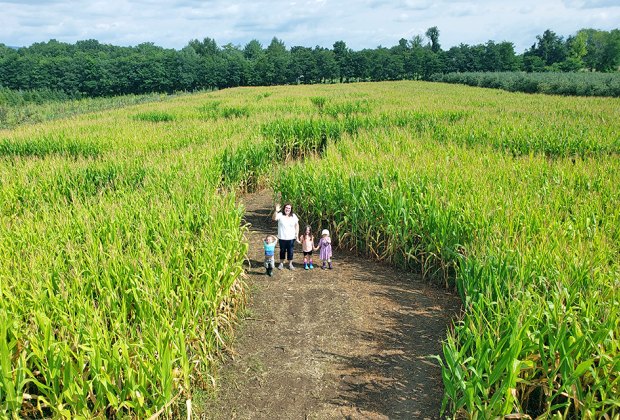 Get lost in a corn maze at Hurds Family Farm.
2020 update: Hayrides require reservations, and only two family groups are allowed at a time, spaced six feet apart. Hayrides cost $25 per family ($20 if booked online in advance).
This farm in Modena provides hayrides and more—including pedal carts, a corn maze, games, apple and pumpkin picking, and pony rides. For a super cute photo op, hop on the cow train. Visit the website before you go to see all the package deals and special offers.
RELATED: The Best Apple Cider Donuts in Westchester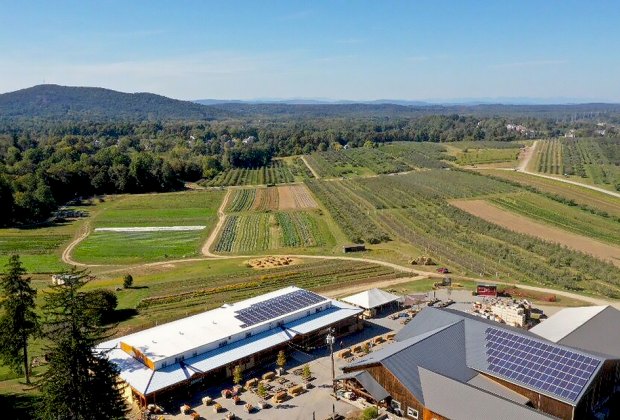 Take a hayride and visit the store, the pumpkin patch, apple orchards, and corn maze at Fishkill Farms.
2020 update: Hayrides available on weekends only, but limited to 10 people per ride; wait times will be longer than normal. Reservations are required for all visits to the farm.
Visitors to Fishkill Farms can enjoy wagon rides on weekends. During that time, the farm also has a grill on-site serving food and beverages—and of course, there are apples and pumpkins to pick. While the admission fee has been waived for the 2020 season, visitors are encouraged to donate the usual $5 fee.
2020 update: Both hayrides and wagon rides through the corn are planned for Kesicke's farm this fall, provided state guidelines allow them.
Located in the charming town of Rhinebeck, Kesicke farm runs a fall festival every weekend from Saturday, September 26-Sunday, November 1. In addition to hayrides, guest can pick their own pumpkins, enjoy apple cider doughnuts, a corn maze, and other fun activities.

Take a trip up to Outhouse Orchards in scenic North Salem to take a hayride or to get lost in a corn maze. Photo by Sara Marentette
2020 update: Outhouse Orchard requires reservations for all farm visits this season. Hayrides will be offered with limited capacity, and wagons divided into four sections to allow groups to be sat six-feet apart.
Outhouse Orchards offers hayrides on "big green tractors" with scenic views of apple trees and farmland. While you're there, pick some apples or pumpkins, and visit the corn maze. Parking on weekends is $12 and must be purchased in advance.
Unless noted, photos courtesy of the farms
This post was originally published in 2017 and has been updated since.