The Very Hungry Caterpillar Show
DR2 Theatre

NYC Easter Brunch Cruise 2023
Event Cruises NYC

Easter Fun Cruise with Egg Hunt 2023
Event Cruises NYC
Sign up for our free newsletters.
Macy's Unveils Santaland Details for 2019 Christmas Season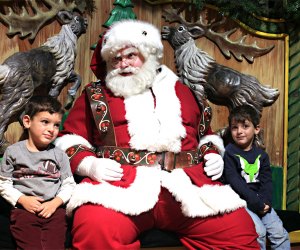 10/17/19
- By
Rose Gordon Sala
Santa is sprucing up his sleigh and getting ready to fly into New York City's very own North Pole, Macy's Santaland, where for the third year in a row, visits with Santa will be by (FREE) reservation only.
Santaland will open for the holiday season Friday, November 29, 2019, the day after the Thanksgiving Day parade, and will welcome visitors through Tuesday, December 24, 2019, Macy's revealed in a statement.
The 34th Street retailer will reinstate the reservations-only policy it implemented in 2017 as a way to cut down on the lines. (Around 170,000 people visit the NYC Macy's Santaland each Christmas season.) This year also sees the return of the popular Express Lane option. Read on for everything you need to know about visiting Santa at Macy's this year.

Walk across the rainbow bridge as part of the journey to meet Santa.
Starting on Friday, November 25, you can book your FREE reservation online to visit the 13,000-square-foot Christmas village that is Santaland. Kids will encounter elves, model trains, animatronic animals, and an overstuffed sleigh as they make their way to Santa. Gawk at the ice sculptures, Christmas trees, and more festive decor in the Enchanted Forest before crossing over the colorful rainbow bridge.
RELATED: The Polar Express and 6 More Santa Trains Near NYC

Those with reservations will meander through a magical Santaland on their way to see Santa.
For those who want to get straight to the business of handing over their wishlist, Macy's is once again offering an Express Lane. While those with a standard reservation will hang in a modest line as they traverse Santaland's sights, if you book the Express Lane (available weekdays from 2pm-9pm as well as Friday through Sunday), the kids will skip Santaland to go directly to Santa.
Pro tip for those parents who hate to plan ahead: If you find yourself at Herald Square (whyyyyy??) and decide to dash in with the kids sans reservation, there will be elves on hand who can help you book an on-the-spot reservation if any are available.
Although the experience is FREE, photo packages are extra.
Reservations open on Friday, November 25. Visit the Macy's Santaland website or call Macy's Holiday hotline for more information: (212) 494-4495.
Photos by Mike Coppola for Macy's