Liberty Science Center Sets Reopening Date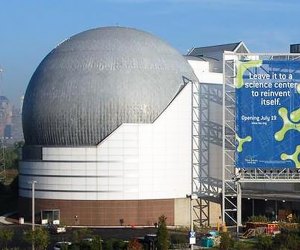 New Jersey's largest children's museum, Liberty Science Center, says it will reopen its doors this fall after a five-month temporary closure due to the pandemic. The Jersey City-based science center closed in mid-March, along with the rest of the state, to try to stamp out the growing coronavirus in New Jersey.
But even as the pandemic has eased in the state with cases and deaths plummeting from April highs, the massive, highly interactive science center stayed closed. A number of other New Jersey museums reopened earlier in July when Governor Phil Murphy gave them the OK to do so at a reduced capacity of 25 percent. Indoor venues are considered riskier in terms of transmission for the virus and were some of the last businesses allowed to reopen in New Jersey. (See a full list of NJ reopenings here.)
The science center will reopen September 5 to the general public (members can visit starting September 4) for Labor Day weekend with new social distancing measures in place, including online ticket reservations and some amenity closures.
Liberty Science Center's reopening will require online ticket purchases to reduce crowded lines and encourage social distancing as well as facilitate the reduced capacity mandate, the museum said on its website in announcing the reopening. Temperature scans will take place at the entrance and masks will be required for all staff and guests age 2 and up.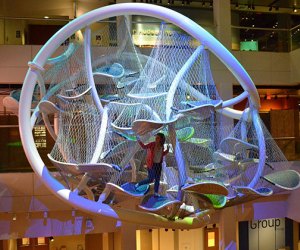 The popular infinity climber will remain closed upon the museum's reopening due to social distancing concerns.
The 300,000-square-foot education center and museum said it plans to incorporate additional cleaning protocols, particularly in high-touch areas. Its popular infinity climber, which juts out over the main floor will remain closed as will the touch tunnel for little kids because both attractions make it difficult to maintain social distancing. The museum has four floors of exhibits, almost all of which encourage kids to touch, play, and experiment with the items and science concepts. It said it plans to reconfigure some exhibits, as well as introduce new programming to "reduce contact" among guests.
It will remain open for the whole of Labor Day weekend 2020 (September 5-7), but will then operate on a Thursday through Sunday schedule (10-4pm on Thursdays/Fridays; 10-5pm on Saturday/Sunday) going forward.
The science center, which is in its 27th year of operations, has kept busy in the new remote learning environment by hosting free online programming, including planetarium shows and trivia events via its Facebook page.
All photos courtesy the Liberty Science Center