13 Beautiful Long Island Landscapes for Holiday Card Photos
It takes time and planning to achieve the perfect family winter holiday card photo — and one of the most important decisions you'll make concerns the location you choose as your backdrop. With so many beautiful Long Island landscapes, the biggest challenge you'll face when deciding where to set up your holiday photo shoot is whether to pack up the kids and head to the beach, a lighthouse, vineyard, or even the aquarium. These 14 Long Island landscapes will make for stunning and memorable holiday card photos.
Find more seasonal fun in our Holiday and Christmas Fun Guide for Long Island families, from Nutcrackers and holiday shows to Santa sightings and the best light displays.
1. Lido Beach
The stark contrast between holiday clothing and a secluded beach in fall/winter makes for a truly visually stunning photo. Lido Beach is usually quiet and less crowded than other Long Island beaches and features a boardwalk and miles of clean sand. Schedule your photo shoot for early morning or late afternoon, otherwise known as the magic hour for the beautiful light you'll catch.
If you're going for a less sandy vibe this year, consider the Lido Beach Marine Conservation Area. This 40-acre marine conservation area features indigenous plants, a scenic overlook, tidal wetlands, and, if you're lucky, you may even capture some of the area's popular waterfowl in your holiday photos. Unlike many other parks on Long Island, this one is nearly always secluded in the fall and winter and its dramatic and untouched wild scenery can't be replicated.
Lido Beach is also easily accessible by the Long Island Railroad. Take the Long Beach branch to Island Park and hop a five-minute cab ride to Lido Beach.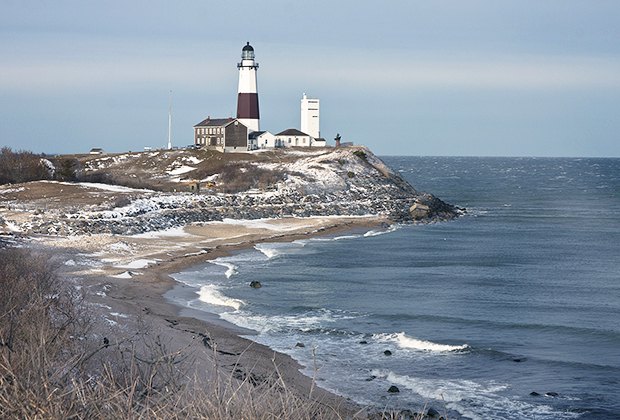 Montauk Point Lighthouse. Photo by Erik Anestad via Flickr.
2. The Montauk Point Lighthouse - Montauk
As the oldest lighthouse in New York State, the Montauk Point Lighthouse is a classic historical Long Island landscape and one that will serve as a dramatic backdrop for your holiday photos. Be sure to scout the many locations surrounding the lighthouse (including Turtle Cove, the beach just west of the lighthouse) and experiment with taking photos in a few places to see which one suits your holiday card dreams. There is an $8 fee to park in the Montauk Point State parking lot from 8 a.m. to 4 p.m.
3. Long Island Aquarium - Riverhead
Searching for a truly original holiday card backdrop? Consider posing your troops in front of the Long Island Aquarium's colorful coral reef exhibit, or if you've hired a professional photographer who has serious skill, pose beside the shark tank or inside of the butterfly exhibition. Although this popular family attraction is buzzing with visitors during the summer, it's a lot quieter in autumn, particularly after 1 p.m. on weekdays.
4. Hicks Nursery - Westbury
If your goal is to incorporate as many elements of the holiday season as you possibly can in your photo, one of your biggest challenges may be nailing a location that decorates early enough in the season. Hicks Nursery is one of the best spots on Long Island to score various plants, flowers, and garden accents for your home — and that includes winter flora. But it's so much more than that: Hick's Nursery also offers Christmas events throughout the month of November and is so festively decorated that you'll have no problem snapping a gorgeous holiday card photo in the nursery.
5. Railroad Museum of Long Island - Riverhead
Pose in front of historic train engines and give your photos a bit of nostalgic appeal that will make for amazing conversation starters. If you or anyone in your family is a history buff or is simply fascinated by locomotives, this is the ideal spot for your non-traditional holiday card photos. But hurry, the museum closes for the winter right after Thanksgiving.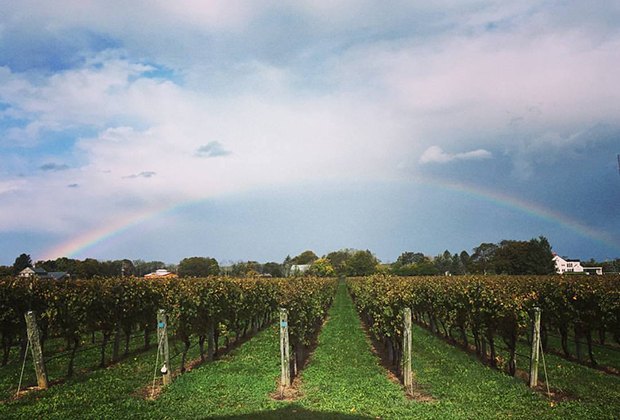 Martha Clara Vineyard. Photo courtesy of the vineyard.
6. Martha Clara Vineyards - Riverhead
As one of the most family-friendly vineyards on the North Fork, the famed Martha Clara Vineyards, which is owned by the Entenmann family, hosts regular events and boasts one of the most serene and expansive vineyards on Long Island — perfect for holiday picture taking. If you just so happen to have a pet you want to snuggle up to in your photo, you're in luck: as long as your dog is leashed and kept by your side, he or she is welcome to stroll the grounds with you.
7. Captree State Park - Bay Shore
This 340-acre state park offers a world of nautical possibilities when it comes to photo locations — from a fishing marina to a picnic area that overlooks the Fire Island Lighthouse. Make plans to take photos right before and during sunset to capture this park's landscapes at their most beautiful.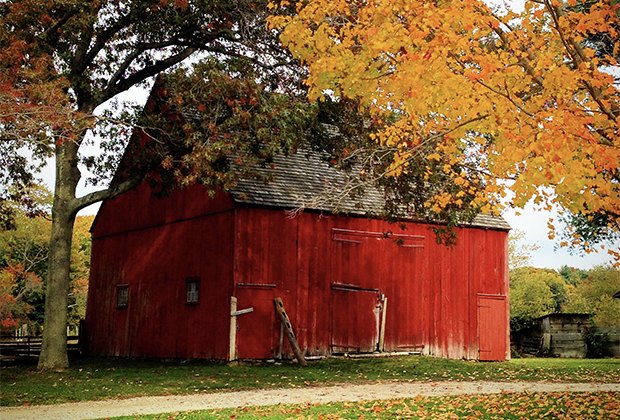 A red barn at Old Bethpage makes a nice Christmas card backdrop. Photo courtesy of OBVR.
8. Old Bethpage Village Restoration- Old Bethpage
Step back in time and capture a slice of 19th century America in your Christmas card photos by planning your photo session at this 209-acre village, which features typical rural homes, farms, and businesses of that era. Possible locations include the front of the historic Manetto Hill Church, which dates back to 1857. Be sure to check out their events calendar before you plan your trip.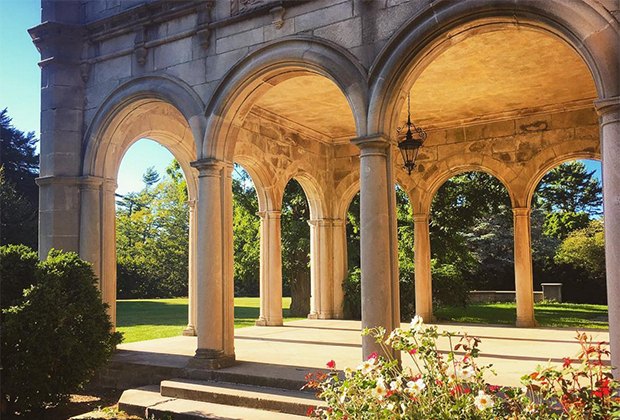 Coe Hall. Photo by Risa Del Angele via Instagram.
9. Planting Fields Arboretum State Historic Park - Oyster Bay
With 409 acres of manicured lawns, woodland paths, a Sensory Garden, and meticulously landscaped flowers and plants that exceed your fairy tale dreams, this former Gold Coast estate provides a breathtaking landscape for photos. Tour the arboretum beforehand and get a sense of the mood you want to evoke in your photos — if it's natural and serene, the Sensory Garden can't be beaten. Prefer to add a regal touch to your pictures? Pose your family in front of Coe Hall, an impressive Tudor Revival mansion. Be sure to read Planting Fields Foundation's photo policy: a permit is required for professional and posed photography including family photos.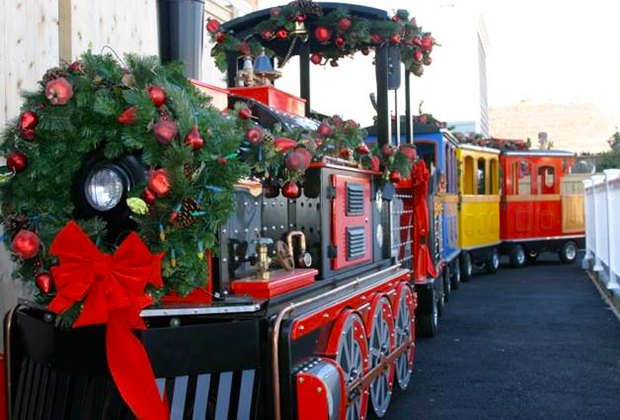 Holiday train ride. Photo courtesy of Bayville Winter Wonderland.
10. Bayville Winter Wonderland - Bayville
With an arcade, holiday train ride, ice skating, and daily visits from Santa, there is no shortage of great winter wonderland landscapes to serve as your holiday card scenery. Purchase tickets early and plan your trip at the start of the season to avoid heavy crowds and to give yourself enough time to create cards from your photos.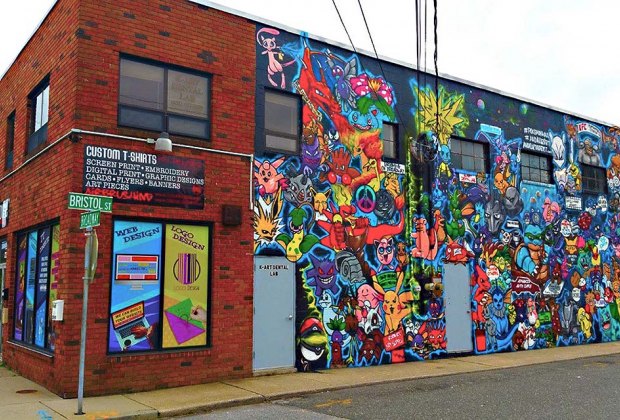 Efren Andaluz III, also known as Andaluz The Artist, showcases 151 Pokemon in his playful mural in Greenlawn. Photo courtesy of Efren Andaluz
For a holiday card backdrop that appeals to children, go (Pokemon Go) to Efren Andaluz's playful mural of 151 Pokemon located in Greenlawn. Featuring bold and colorful first-generation Pokemon, you will have no issues getting the kids to smile from ear to ear, although they may get distracted by playing the mobile game Pokemon Go, since this is a Pokestop. If your family is not a fan of Pokemon but wants a unique backdrop for your holiday card this year, Andaluz's murals brighten walls all over Long Island and New York. For the artistic family, pose with Frida Kahlo and Andy Warhol in Andaluz's Art Legends mural at Riebe's Artist Materials.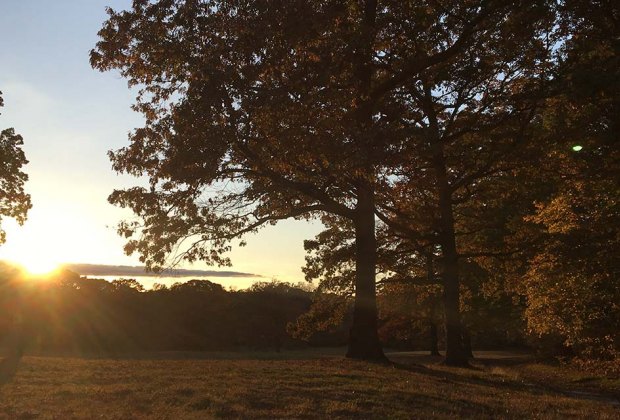 The setting sun glistens on Caumsett State Park's vast meadow and lush trees. Photo by the author
Caumsett State Historic Park Preserve spans over 1500 acres of holiday photo backdrop bliss. Located in the Village of Lloyd Harbor on a peninsula that extends into the Long Island Sound, the preserve's bountiful trees; lush, manicured lawns; rocky shores; and historic cottages and stately houses offer a variety of beautiful backdrops for an eye-catching holiday card. With over 200 species of birds and a variety of wildlife, your holiday card may have unexpected, yet welcome, photobombers. Discover when
fall foliage
is at its photo-ready best by checking I Love New York's
Fall Foliage Report
. Bring your bikes to take full advantage of the park after the holiday shots are done. The park's extensive trails are predominantly flat and smooth, perfect for the new or learning-to-ride bike rider. Parking fees vary depending on the day, time, and season: check the website for details. Advanced
photography permits
are required for any commercial photography including more than one camera, additional staff, or props. Permits are obtained by calling the New York State regional permit office.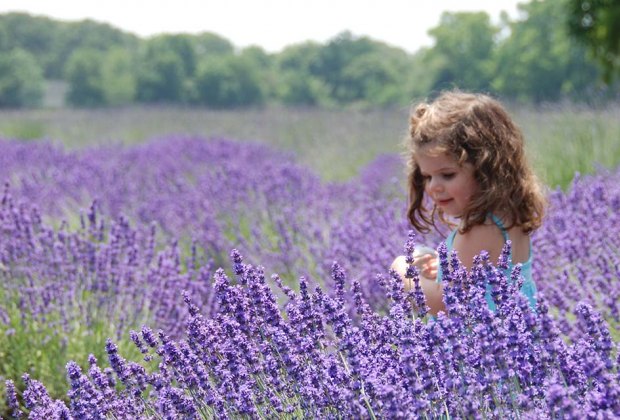 Lavender in full bloom saturates this idyllic holiday card backdrop at Lavender by the Bay in East Marion. Photo courtesy of Lavender by the Bay
Lavender by the Bay, owned and operated by the Rozenbaum family in East Marion since 2002, is a setting that is sure to please visually and aromatically. With 17 acres and over 80,000 lavender plants, there is no room for fidgeting children and stressed parents during this holiday card photo shoot. Families will get the perfect shot while everyone breathes in the calming scent of lavender and smiles serenely. The
North Fork
farm's lavender typically bloom the first two weeks of July and there are smaller blooms in mid-June and mid-September. Check the Lavender by the Bay
Facebook page
for bloom updates. During the bloom, there is a $9 fee to enter on weekends and national holidays and a $7 fee on weekdays. Photography is encouraged; however, for photo shoots with a professional photographer, staged photo shoots, or photo shoots with props contact Lavender by the Bay to schedule an appointment and learn more about
site fees
. Once you've captured the perfect family holiday card shot, get a head start on holiday shopping and visit Lavender by the Bay's farm store for whimsical lavender sachets, aromatherapy items, and more fragrant gifts.
Additional reporting by Molly England