Santa Returns to Macy's Santaland For In-Person Visitors in 2021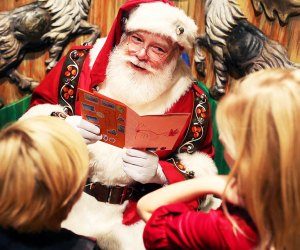 The first gift of the holiday season has arrived, and it's a big one: Santa Claus is landing his sleigh on 34th Street and again taking visits in-person at Macy's Santaland in the heart of NYC at Macy's Herald Square flagship store. If you want to share your wish list with him, though, take note: Reservations are required for all Santaland visits in 2021.
Read on for details on this trademark, must-do, only-in-NYC experience and mark your calendars: Macy's Santaland opens for the season on Friday, November 26, 2021.
Guests can once again stroll through the enchanted wonderland on Macy's eighth floor, boarding an imaginary train for the choo-choo ride to Santaland, where they'll meander through a winter wonderland and past Santa's overflowing sleigh full of gifts before delivering their wishlists to Santa himself.
Safety will be top of mind, beginning with the reservation requirements. The reservation systems open at 5:30am daily and allows guests to book a session with Santa up to five days in advance. Santaland closes for the season on Christmas Eve.
All city guidelines for indoor masking and social distancing will be followed, and visits will look slightly different than Christmases past. Once visitors reach Santa's house, they'll find Jolly Old St. Nick sitting behind his work desk, awaiting their wishes. After a brief conversation, visitors can pose for their Santa photo-op.
If you're uncomfortable visiting in person, Macy's Santaland at Home will be available online once again. Guests can arrange for a virtual visit online from Friday, November 26-Friday, December 24, 2021, complete with an immersive tour of Santa's workshop, a Santa selfie, and of course, a chance to share holiday wish lists.
Another seasonal teaser: Visitors to Santaland at Macy's 34th Street location will be able to enjoy its holiday windows, which promise an animated display with a reindeer star, helping Santa spread holiday magic.