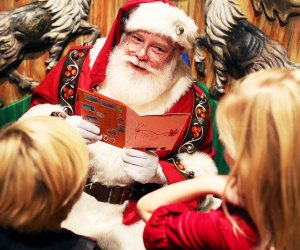 Macy's Santaland Goes Virtual for Socially Distant Santa Visits in 2020
For the first time since 1861, Santa won't greet pint-sized visitors at Macy's flagship location in New York City this holiday season. The beloved Santaland instead transforms into a virtual experience. Santaland festivities have also been canceled at the chain's Chicago and San Francisco locations.
While Santa still plans to take his star turn in the reimagined Macy's Thanksgiving Day Parade, the department store is keeping the safety of kids and Kris Kringle at heart by shifting his wish-collecting duties to virtual visits via Macy's Santaland at Home, which launches Friday, November 27, and runs through Thursday, December 24.
Macy's Santaland at Home aims to capture the magic of the in-store experience and deliver it to the masses. Regular visitors—who number in the hundreds of thousands annually—are sure to recognize the costumed elves who greet them before climbing aboard the train for the journey to the North Pole. From there, Santa's helpers take virtual visitors on a tour of Santa's Village and his workshop. Fun, interactive games add to the experience before Jolly Old St. Nick makes an appearance.
RELATED: Macy's Thanksgiving Day Parade Faces Big Changes in 2020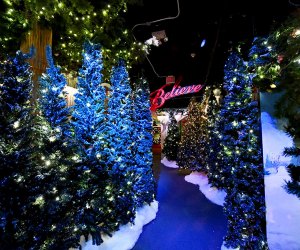 You might not be able to walk Santa's forest in 2020, but his friendly elves are ready and waiting to give you a virtual tour.
A pre-recorded Santa interaction is the grand finale, with little ones prompted to share their wishlists before snapping a selfie with Santa. Up to three siblings can visit with Santa at a time. Parents who desire a diverse Santa are given that option when they sign on. Their permission is also needed to access the interactive games, and their help required to download the FREE Santa selfie once the visit is over.
One bright spot for New Yorkers, though: Macy's iconic holiday windows will still shine in 2020. A holiday highlight since 1874, this year's windows are meant to say thank you to first responders, essential workers, those who have marched for equality, and everyday New Yorkers who have endured the pandemic with "grit, good humor, and hopeful spirit." Filling the large windows along Broadway, the "Give, Love, Believe" themed display lights the night from Thursday, November 19, through Friday, January 1, 2021.
All photos courtesy of Macy's