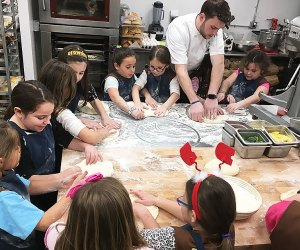 The Best Cooking Schools for Kids on Long Island
If you can't seem to fry up cutlets without a few mini-folks scrambling into the kitchen, you might have some teeny chefs on your hands.
Here are some of the best cooking schools for kids on Long Island, where little cooks can hone their skills under the direction of experts. And while you're exploring creative corners, check out these 10 drop-in art locations for Long Island kids and our LI classes and enrichment guide.
The Best Cooking Schools For Kids in Nassau County
A La Carte — Lynbrook
One Saturday each month, grown-ups and kids can works together in themed classes focusing on fundamentals such as phyllo, crepes, or homemade pasta. In addition, A La Carte offers weeklong courses at the beginning and end of summer, where children can create indulgences such as deviled eggs, cheese puffs, and risotto. Plan your child's birthday party here and guests can make their own chicken piccata, tacos, or spaghetti and meatballs for dinner, as well as a heavenly dessert. Sign up for its newsletter to find out about monthly specials.
Celebrations in the Kitchen — Hicksville
Brilliant bakers ages 6 and older will get a tasty kick out of classes such as Classic Cupcake Baking and Decorating, where kids can experiment with icings, candies, and confections for only $39.99 per class. They even get to take home 10 cupcakes each. Tots ages 3 and older will love decorating 15 to 20 of their own cookies with colored sprinkles and chocolate chips. Host a party where kids can make pizza, doughnuts, or cookie candy cottages. You can even choose a theme such as Princesses or Ninja Turtles.
The Flour Shoppe Cafe — Massapequa, Rockville Centre
While best known for its artisan breads and farm-fresh salads, The Flour Shoppe Cafe also offers cooking and baking sessions for adults and kids. Chefs-in-training create a meal and a homemade bread or pastry, which they can bring home along with the recipe. Kids' groups have mastered treats like pizza and chocolate baguettes. Each two-hour session for juniors includes dinner and unlimited cane sugar fountain drinks. Call the cafes to sign up for a class, or schedule a private session.
Toddler Chefs — Port Washington
Offering hands-on cooking classes to kids ages 2 to 12, Toddler Chefs incorporates puppet music, stories, and bubble fun into its culinary classes. Custom kids' cooking classes are held at its kitchen in Port Washington, and include scrumptious options such as Chinese dumplings, crepes, and ravioli. For birthday parties, Toddler Chefs will come to your home and bring tables, chairs, aprons, and a themed cooking project of your choice.
The Well-Seasoned Chef — Garden City
Located on New Hyde Park Road in Garden City, The Well-Seasoned Chef offers elegant parties and top-notch classes for culinary kids. Birthday boys and girls can choose from homemade pizzas with toppings, a mangia menu featuring fresh pastas and handcrafted ricotta, or a piquant fiesta with handmade tortillas and marinated chicken. Summer sessions introduce kids to knife skills, baking, grilling, and plating. And don't forget to sign up for the affordable cupcake decorating classes for kids ages two and up. This course includes homemade ice cream and a personal pan pizza!
What's Cooking — Oyster Bay
Situated on Oyster Bay's charming Main Street, What's Cooking allows kids to sign up for a series of 10 classes at a time that can be attended weekly or monthly. Kids learn basic skills, including how to use a hand mixer and mandolin, as well as etiquette and nutritional lessons. During a 75-minute session, each junior cuisiner creates a main dish, side dish, and dessert, bringing home a copy of the recipe and food to share with the family. Older kids sometimes go "off recipe" and season and taste while they simmer. What's Cooking offers mommy-and-me classes for teeny tasters ages 2-4; junior chef courses for ages 4-7; great chef experiences for ages 8-11; and international cooking for ages 11-15. Kids also love its themed birthday parties, which include cupcakes with professional icing bags and personalized goodie bags to take home.
The Best Cooking Schools For Kids In Suffolk County
The Baking Coach — Amityville and Huntington
The Baking Coach offers weeklong summer sessions for kids, supplying them with recipes for appetizers, bread making, frozen desserts, candy making, and more. To apprentice their parents in learning fundamentals such as crescent roll appetizers, basic cake decorating, and basic fondant decorating, kids 9 and younger only pay a $25 sharing fee.
RELATED: Great STEM Classses for Long Island Kids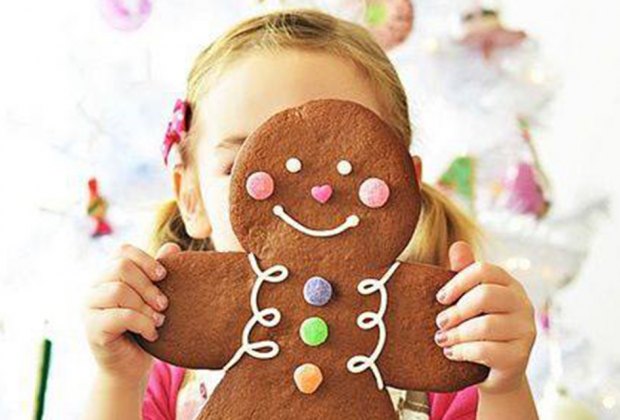 Kids can decorate your own masterpieces at Gingerbread University.
Gingerbread University — Riverhead
Toddlers, kids, teens, and even grown-ups can walk into Gingerbread University at any time and pick out a seasonal gingerbread cookie. They are given a tutorial on how to use an icing bag, and receive a diploma as well as extra candy from the on-staff ginger elves. Call ahead for information on birthday party packages, including pizza, invitations, and a private room.
Sur La Table — Lake Grove
This nationwide cooking shop offers themed courses including bake shop fundamentals and a Kids' American Road Trip. Each summer, check out the School's Out For Summer: 5-Day Series For Kids. Junior chefs will learn about making pizza from scratch and carnival classics. Cooking With Confidence: 5 Day Series For Teens will have your budding cuisinier filling ravioli, making s'mores with a blow torch, and grilling burgers. While some classes fill up fast, others can be purchased at discounts of up to 60 percent if you keep your eye on the Sur La Table website. If getting out and about is tricky with a family, check out its online cooking classes such as Pizza 101.
Photos courtesy of the shops/cooking schools