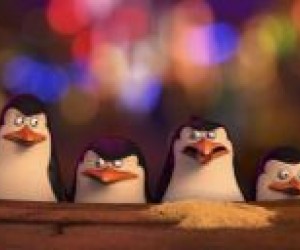 Penguins of Madagascar Parent Movie Review. Oh, and some real penguins, too.
As a big fan of kids' movies and an even bigger fan of small flightless birds who wear tuxedos, I was very happy that my family was invited by DreamWorks Animation and 20th Century Fox to an event that highlighted both. A morning spent at the Bronx Zoo would have been cool enough, but followed by a private advance screening of the new Penguins of Madagascar movie? That's my kind of family fun. Read on for my review of the film, and some real live penguins as well.
We spent a lovely morning (yes, I'm using the word "lovely" despite the icy rain) hanging out in the famous Bronx Zoo, wearing Penguin hats and taking photographs with oversized, wandering Skipper, Rico, Private and Kowalski characters (my kids' favorite part of the day). After getting an adorable penguin painted on each of their faces, my kids and I headed off to a private showing and feeding of the zoo's impressive colony of Magellanic penguins. We learned that these flightless birds can "fly" underwater at speeds of up to 15 mph! It was fun to see real penguins in action (and feed them with some seriously stinky fish) before the talking ones took up the rest of our afternoon.
Penguins of Madagascar (PG) picks up where the Madagascar movies left off, following the antics (and humble beginnings) of the original franchise's second bananas. The film has a promising beginning with a funny "nature show" filming premise, and then follows the penguins' growth and subsequent initiation into international espionage. The 3D action is nonstop and my kids (aged 9 and 10) were digging it, but actually got a little overwhelmed at times at the jumping around of locales and action sequences. Since the visual aspect of the film is probably the best thing about it, I'd spend the extra couple of bucks to make sure you see it in 3D, but be aware that it might be a bit much for younger kids, and the smallest kids could be a mite unnerved by the villain, Dr. Octavius Brine, a shape-shifting scientist who turns out to be an embittered octopus in disguise, bent on destroying the entire population of adorable penguins who stole his zoo thunder. For adults, though, John Malkovich's truly amusing turn as Brine is one of the best parts of the movie.

My kids and I have been fans of Skipper, Kowalski, Rico and Private since they popped their heads up out of the ground in the first Madagascar and delivered their classic line, "Cute and cuddly, boys, cute and cuddly," so we mostly enjoyed the film and appreciated the one-liners. However, in a season of films that please both children and parents (see our reviews of The Lego Movie, Big Hero 6, and Muppets Most Wanted), the storyline and writing of Penguins take a back seat to the special effects, making this Madagascar more bells and whistles than substance.