Throw a Wild Party at one of the City's Zoos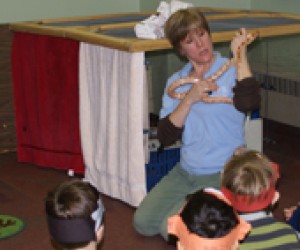 If you've got an animal-crazed kid, it's time to consider a zoo party. From the Bronx to Staten Island, each of the five boroughs has a zoo ready to host your next fete. The absolute best thing about a zoo party is the live animals who get to celebrate with you in the party room. We celebrated my son's fifth birthday at the Prospect Park Zoo where we were delighted to host an albino corn snake, a rabbit and a hissing cockroach for the kids to learn about and touch (well...no one touched the cockroach.)
Read on for the skinny on the party packages at each of the city's zoos, from budget-friendly to over-the-top all-inclusive, there's a party for every animal lover out there.
Prospect Park Zoo – Prospect Park
450 Flatbush Avenue
A birthday party at the Prospect Park Zoo includes an arts & craft project plus face time with some of the zoo's residents. You'll receive invitations, goody bags and zoo admission for up to 36 guests. WCS and Prospect Park Zoo members receive a discount on party packages. Parents supply refreshments, paper goods and beverages.
Bronx Zoo – Belmont
2300 Southern Boulevard
Chances are your little animal lover has been to the Bronx Zoo, but has he ever celebrated a birthday there? The zoo's birthday party packages include food, a private room, close encounters with small animals, party games and activities, and a tour of the Congo Gorilla Forest.
Queens Zoo – Flushing Meadows Corona Park
53-51 111th Street
The Queens Zoo currently offers two birthday party packages, the least expensive is $500 for 25 participants for two hours. Guests celebrate in the Wild Room near the sea lion exhibit where they will hang with a zoo educator and some animal friends. Guests are responsible for refreshments and paper goods, while the zoo provides invitations, goody bags, a craft project and small gift for the birthday kid. All guests receive zoo admission, too. WCS members receive a discount on party packages.
Staten Island Zoo – West Brighton
614 Broadway
The Staten Island Zoo's package includes two hours in the Zoo's party room (located in the Cafe) where a zoo educator will introduce guests to three animals; two will be touchable. The birthday kid gets a choice of a story read-aloud, game or craft project before pizza is served. The zoo provides pizza, juice and paper goods while parents are responsible for the cake. Once the party wraps up inside, kids are given a token for the Conservation Carousel and can enjoy all the zoo animals for the rest of the day.
Central Park Zoo – Upper East Side
64th Street and Fifth Avenue
For a truly spectacular experience, the Central Park Zoo offers all-inclusive parties which start at $5000. That steep price includes a costumed character waiting to greet your guests, animal encounters, time spent preparing treats for zoo animals and a cupcake-decorating bar. There are a variety of different packages and price points, including the option for the birthday kid to feed the sea lions, too!
We've got plenty of other ideas for animal-loving kids to celebrate their special day and tons of great party info for everyone in our Party Guide.
This post originally published in February 2012.