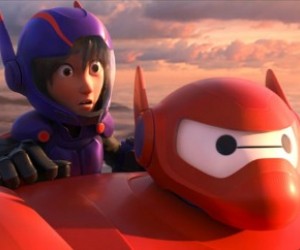 Disney's Big Hero 6: Parent Movie Review & Kid Reactions
Disney is really on a roll. After the amazing success of Frozen last winter, the studio has created another lovable animated movie that is sure to be a huge hit with kids and adults alike.

Big Hero 6 is the story of a boy, Hiro, and his robot Baymax, a charming plus-size goof turned butt-kicking justice machine. Along with their band of faithful friends, Hiro and Baymax embark on an action-packed adventure to solve a life-changing mystery.

There's a lot to love about Big Hero 6. Mommy Poppins partnered with the New York International Children's Film Festival on a pre-screening and you can see the enthusiastic reactions of some of the school-aged kids in this video. But parents should also use caution before taking little kids as the film definitely earns its PG rating. Here's what you need to know to decide if Big Hero 6 is right for your family.
Like many animated Disney protagonists, Hiro Hamada is an orphan who lives with his older brother and a checked-out aunt. But Disney adds a shocking twist to this tale. After establishing Hiro's reliance on and love for his sibling, the older brother is killed in a massive explosion. While it's not graphic, the blast is realistic and scary, and several small children were left crying.

Later, in a Gravity-like space scene, Hiro loses yet another surrogate parent, which caused the very youngest audience members to cry a second time. Spoiler: It turns out OK.

Overall, however, the message of Big Hero 6 is positive. Hiro is a prodigy "maker" and engineer who uses his exceptional intelligence to solve his problems. When he discovers his brother was killed due to the greed of his own mentor, Hiro initially seeks vengeance, but ultimately realizes that's not the best solution.

Smarts are celebrated in Big Hero 6. When Hiro and his pals are being defeated by the villain, he asks them all to think of different ways to look at the problem so they can find a new approach. Once they do, they are victorious.

While most of the main characters are male, two of the brilliant inventors in the group are female. Although I think they're a little less fully realized than their male counterparts, at least they hold their own in the brains department.

Of course the animation is incredible and my kids appreciated that the 3D was particularly good. Unlike some movies where it feels gratuitous, there are several 3D sequences in Big Hero 6 that use the technique to full effect. I literally felt my stomach drop out from under me in one action scene.

There's an emotional depth and subtlety to the story that is unusual for children's films. Hiro must navigate some fairly complicated struggles, face his own demons, and learn that revenge is not the best way to deal with anger and loss. Of course the exciting action and charming characters are what will sell tickets, as they should. Baymax is like a cuddly animated version of Robert Downey Jr.'s Iron Man. He's strong and powerful on the outside, but a lovable goofball on the inside. It's impossible to resist him, and I predict schoolyards will soon be full of children parroting his catchphrases and mimicking his signature moves.
OUR LATEST VIDEOS