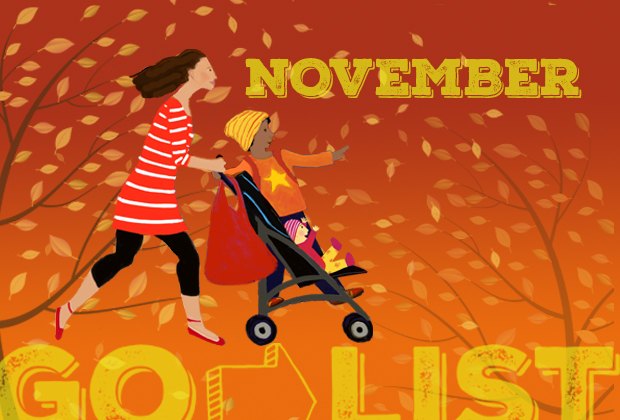 November GoList: The Best Things to Do with Long Island Kids
Say what you will about November, but few months are more, well, American. Our national celebration of thanks bonds citizens from Port Washington to Port Jefferson and from Manhasset to Montauk.
Long Islanders this month will vote in regional elections, honor our veterans, eat some turkey, maybe watch some football, and perhaps even engage in that all-American sport of Black Friday shopping. Who needs Amazon when you've got Roosevelt Field, right?
November heralds the arrival of the holiday season, but before rushing into Christmas, New Year's, and the dead of winter, why not take a few moments to contemplate the majesty of the calendar's 11th month. Grab a sweater, go for a hike, bear witness to the foliage, compete in a turkey trot, and remember all that we love about our overcrowded, traffic-strewn piece of island real estate. We at Mommy Poppins will be right there with you.
Here are our picks for the best in family entertainment in November. Our Long Island Events Calendar offers exciting family options as they develop throughout the month, and our Fall Fun Guide will keep you and your family moving right up until that first day of winter.
Here we go.
Remember, you can always sign up for our FREE newsletters to get posts like this delivered to your inbox.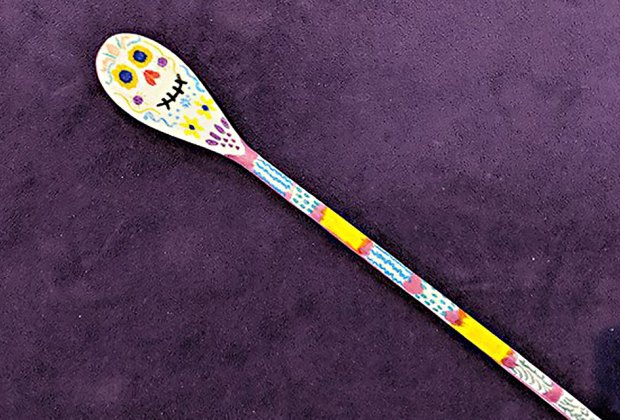 Add your own sugar skull designs to a wooden spoon to commemorate Dia de los Muertos at the Long Island Children's Museum. Photo courtesy of LICM

Dia de Los Muertos – Garden City
Saturday, November 2
Right on the heels of Halloween comes Dia de Los Muertos (Day of the Dead) at the Long Island Children's Museum. Kids can learn about the traditions of this Latin American holiday of celebration and remembrance, and commemorate it with a unique project.
Diwali Festival of Lights – Stony Brook
Sunday, November 3
Celebrate the Hindu festival of lights at the Ward Melville Heritage Organization's Education and Cultural Center. Enjoy a procession of lights, cultural dance and drumming and an opportunity to introduce your children to new traditions.
Long Island Comic Book Expo — Melville
Sunday, November 3
Enjoy superheroes, cosplay, vendors, toys, light-saber training, and more at this day of family fun at the Huntington Hilton.
I Love Chocolate Fest — Melville
Saturday, November 9-Sunday, November 10
Who doesn't love chocolate? Head to the Walt Whitman Shops for a celebration of all things chocolate. Enjoy more than 70 exhibitors, live music, a chocolate doughnut eating contest, chocolate spirits and beer for adults, inflatable rides, and more.
Jungle Bob at Quogue Wildlife Refuge — Quogue
Saturday, November 9
Join the wildlife educator as he brings the East End's natural world to life with snakes, lizards, turtles, crocs, frogs, toads, and more. You might even meet a tarantula spider. Kids will be introduced to their habitats, diets, defense mechanisms, and more.
Parade of Flags — Mount Sinai
Monday, November 11
Pay tribute to all who have served our nation on Veterans Day at Heritage Park. More than 100 flags are paraded, representing the nation, the 50 states, territories, local municipalities and more. Kids will love a historical review of our nation's history as seen through these colorful flags.
Disney on Ice: Mickey's Search Party — NYCB Live's Nassau Coliseum, Uniondale
Thursday, November 21-Saturday, November 30 (no shows November 25-28)
Children can hit the road with Mickey Mouse and his pals for a high-octane adventure. Twists and turns await as Mickey, Minnie, and Goofy embark on an exciting ride to some favorite Disney destinations, including Motunui with Moana, the Pride Lands with Simba, and a larger-than-life carnival with Woody and his pal Forky.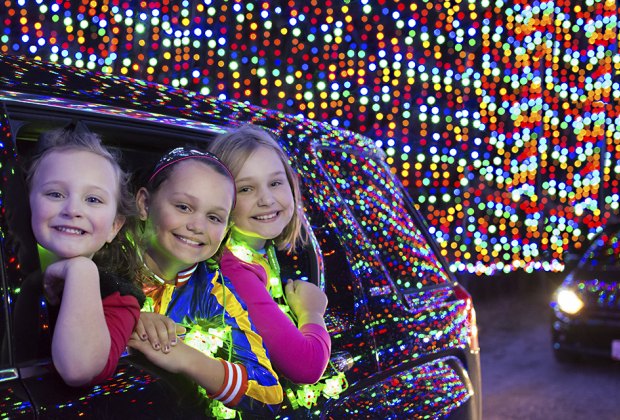 The holiday spectacular Magic of Lights returns to Jones Beach State Park, lighting up the night. Photo courtesy of Magic of Lights
Magic of Lights — Jones Beach State Park
Friday, November 22-Saturday, January 4
This holiday lights spectacular returns to the state park. Enjoy a two-mile drive amid seasonal music, lights, digital animations, hot cocoa, smores, and, of course, Santa. On Tuesdays, cars can drive through a second time for FREE.
Native American Feast — Glen Cove
Saturday, November 23-Sunday, November 24
Gather at Garvies Point Museum and Preserve for this celebration of Native American culture. Enjoy pottery making and fire building displays, traditional cooking. Treat yourself to Garvies' famous popcorn soup Rain or shine.
Turkey Trots — Islandwide
Thanksgiving Day, Thursday, November 28
These seasonal fundraisers are held in Garden City, Massapequa, Oyster Bay, Montauk, Blue Point, Huntington, and elsewhere. Come out and burn off some calories before the grand feast. Most races have a separate children's division.
Thanksgiving Weekend Children's Theater — Islandwide
Friday, November 29-Sunday, December 1
Had enough of Black Friday shopping? Why not unwind with the kids at a theater production then? On Thanksgiving Weekend, enjoy productions in Bellmore, Merrick, Syosset, Babylon, Northport, and elsewhere.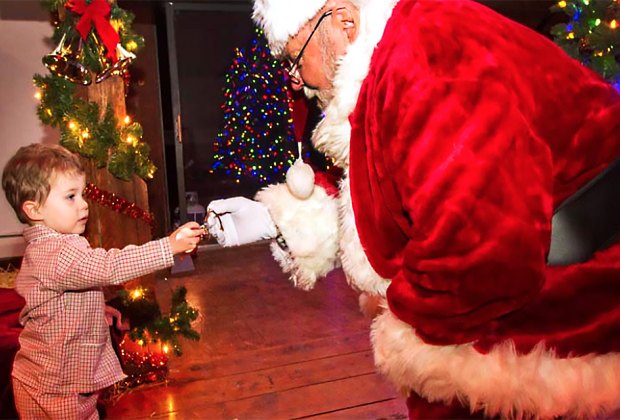 Get the Gift of Christmas from Santa on a Polar Express Trolley Ride in Riverhead. Photo courtesy of the North Fork Trolley
Polar Express Trolley — Riverhead, Southampton
Friday, November 29-Saturday, December 22
All aboard beginning Thanksgiving weekend. Join the train at the North or South Fork stops and enjoy Liam Neeson's reading of The Polar Express. Afterward, enjoy cocoa and cookies with Santa. Children (and parents) are encouraged to attend in pajamas for a truly authentic holiday experience.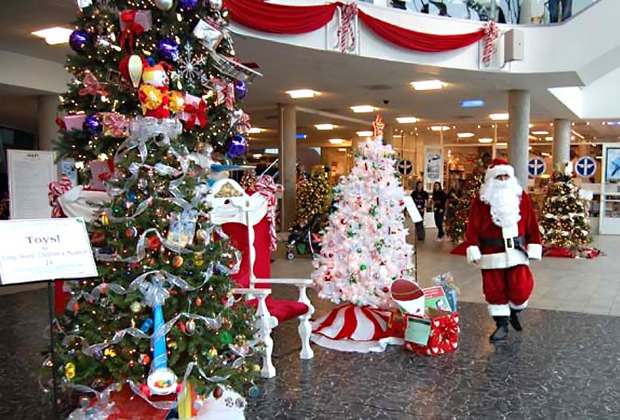 Festival of Trees — Garden City
Friday, November 29-Sunday, December 1
Enjoy a gingerbread village, a display of Christmas trees, and even FREE ice skating at the Cradle of Aviation Museum. By the way, the museum is just down the road from Roosevelt Field mall if you need a break on Black Friday.
Winter Wonderland — Wantagh
Saturday, November 30
Irish step dancing in late November? Why not? Kids also can enjoy vendors, raffles, music, holiday gifts and decor, tree lighting, a visit from Santa, ad more as the Nassau community celebrates the arrival; of winter and the holiday season.
Tree Lightings — Islandwide
Saturday, November 30-Sunday, December 1
Deck the halls at these first-of-the-season tree trimmings at the Vanderbilt Mansion in Centerport; the Fire Island Lighthouse; and, of course, the Montauk Point Lighthouse. Meet Santa, and at Montauk Point enjoy caroling, pony rides., refreshments, and more.
TMB Model Train Club Open House — Islandwide
Saturday, November 30-Sunday, December 1
Just in time for the holidays, the TMB open house indulges every train fan's fantasy. Kids can view a 4,000-square-foot model railroad layout with 10 trains running on 19 scale miles of track, including three scale miles of an underground subway system, a fully operational logging line, and the famous train layout that was featured in the Blue Comet episode of The Sopranos TV series.
RELATED: Our guide to family fun on Long Island
RELATED: 100 things to do with kids on LI before they grow up